MOLLY SCOTT began the European U23 Athletics Championships with a bang this morning when she ran a brilliant PB of 11.49 to qualify for tonight's semi-finals of the 100m. That time was enough for second place in her heat behind Great Britain's Kristal Awuah. Tonight's semi-finals are due off around 6.30pm Irish time. A live stream for the event can be seen here.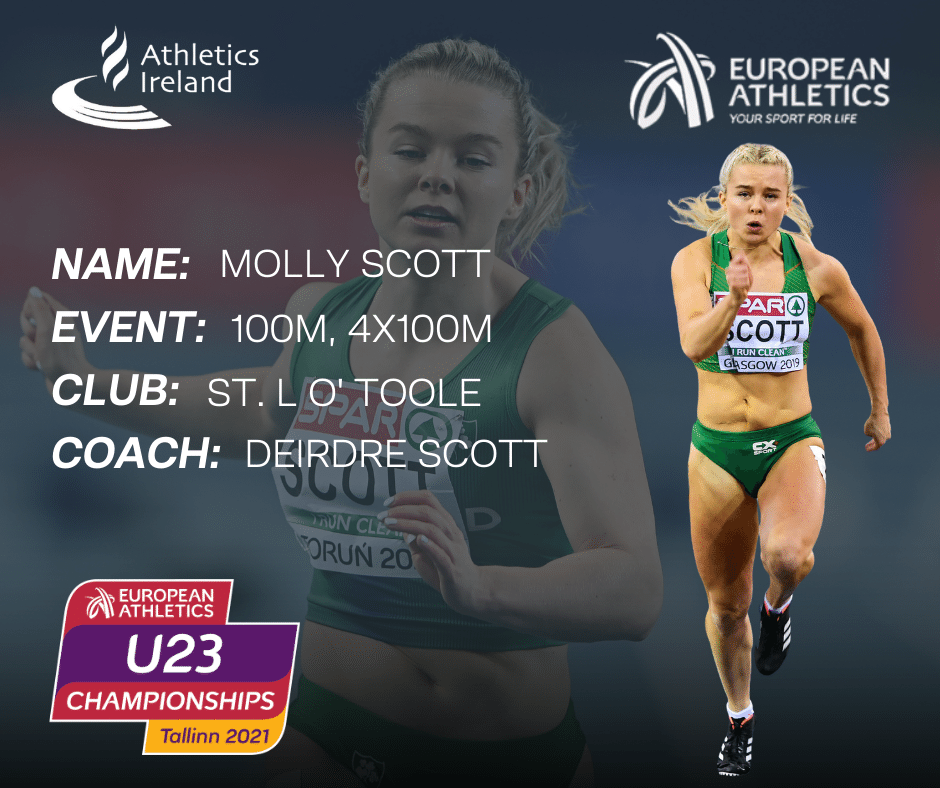 Before leaving for Tallinn, the St Laurence O'Toole sprinter spoke to Kieran Murphy.
LAST week when the Irish team was announced for the European Under 23 Track and Field Athletic's Championships Molly Scott tweeted as follows.
"Selected for the 100m & 4×1 at the European u23s in Estonia! Fun fact..thanks to my coach I have competed at every age group World and European championship I've been eligible for since I was 16. Of course the dream is to make an Olympics, but it's not my time yet. #paris2024."
Accompanying the tweet is a fabulous photograph of Molly and her mother and coach, Deirdre. The athlete is embracing her mother as they sit on the terrace in what is presumably the Santry venue in Dublin.
The photograph and the tweet speaks volumes. After a year which had many ups and downs the athlete is in a good place now. Her silver medal in the recent Irish championships was her second ever fastest time for the distance and according to RTE pundit, Derval O'Rourke, it was the best race of the weekend. Then came her selection on the Irish under 23 team.
Her selection and her silver medal in an excellent time have off-set disappointments incurred along the way.
In June her hopes of a place in the Tokyo Olympic's was dashed when the Irish team of Sarah Lavin, Sarah Quinn, Kate Doherty and Molly herself finished tenth overall in the World Athletic's Relay Championship. Their time of 44.53 was just outside the qualifying Olympic qualifying mark but their 10th position overall was good enough to get Ireland into the World Championships in Oregon next year.
In March, she was fiercely unlucky not to make it through the first round of the 60m qualifying heats of the European Indoor Championships where her time would have seen her progress in three out of the five heats.
"If I had been in another heat it would have been different. I did a lot to make it to that championship and as soon as I was finished I parked it and moved on. I ran 7.36 there and I have to be running 7.2 to make semis and finals. That was a really good lesson for me. I said I was not going to run European indoors again if I am not running 7.2."
These setbacks have been put to bed now. She is looking forward to Estonia.
"I actually think I could get to a higher level with more work, going in the right direction and getting more help with people where I would be at a better level. I feel I have broken through this year and am running a little faster. I am happy it is translating on to the track because at the start of the season I had a few rough races after my exams when I was fatigued. I wasn't showing what I could do," she says.
"Obviously the Olympics are happening in a few weeks and I am not going. I am in the top 90s but would have to be in the top 60s to go."
She points out the qualifying system for going to the Olympics is unfair. (She wouldn't be alone in thinking this).
"The ranking system is so biased. I hope it is not there in three years' time for Paris. It is completely flawed. Originally to qualify for the Olympics you needed an A and a B standard. Now you have to have five times and the best five times gives you a ranking number.
"They are all based on what race you compete in. If you have an agent to get you into a better meeting say I run 11.5 in Ireland and another athlete gets an agent who gets them into another meeting say in France with higher points. If we run the same time they get much higher points.
"The simplest way to explain it or sum it up. Your Leaving Certificate points depends on whatever school you sit the exam in. It is classless, it is biased. Some are going to the Olympics based on times from 2019 and they haven't ran fast this year.
There are people who have made the automatic qualifying time but it is very hard. A couple of athletes from Ireland who are automatic and other athletes have gone through the ranking system. Some have the contacts, others don't. At the end of the day you need a fast time to get in to these meetings but it is not fair."
Earlier in the year Molly and her coach decided not so much to part company but to go down a different route. The athlete went to train in Waterford with a new mentor, Shane McCormack. He also trains Phil Healy who recently claimed her 14th national title. After a few months, Molly realised the move wasn't for her but she says it was something she had to do.
"I don't have any regrets. I am glad I went. It was definitely a learning experience. I think my Mam got a break and a couple of months away from coaching. I think she really needed that break and gave her time to reflect. She said she missed coaching," Molly explained.
"I feel fine about it now. It didn't work out and I had to come back and get myself together again. I feel I am in a better place now than I was in January."
So now the under 23 Europeans beckon.
"I have my Mam, who is my coach, to thank for that for getting me ready. This is my last underage one and I want to go out on a high.
"I definitely want to medal. I have to make it to the final first and that is the hardest bit. Again, I am not ranked high. I am probably in the 20s or 30s. I am aiming for a top-three. I have to run a PB, have to peak but I definitely think that is in me," Molly emphasises.
Away from athletes, unlike so many sports people, the Hacketstown lady doesn't have any favourite soccer team which she follows. Instead she remembers being called from the garage to watch the 2008 100m Olympic final in Beijing.
"I remember Shelly Anne Fraser Pryce from Jamaica. I still remember watching that and saying, wow that is what I want to do. That is what I want to be in."
The dream is still on. After that she has a passing interest in tennis and Wimbledon.
"To be honest I am having a lonely summer training and studying (the Bar exams in August) but I am quite happy with it," she notes.