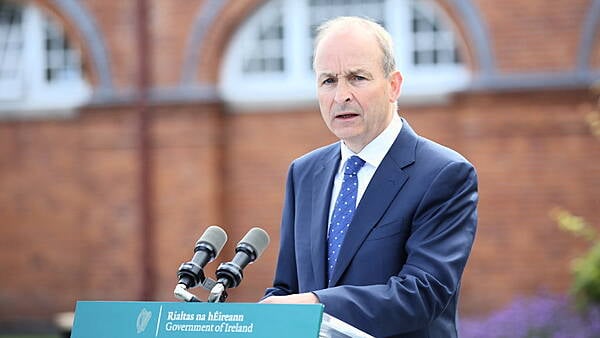 By David Young, PA, Vivienne Clarke
Updated 10.45am
The Government has warned of a "severe shortage" of state accommodation for arriving Ukrainian refugees.
Taoiseach Micheal Martin confirmed on Thursday that Gormanstown Army Camp in Co Meath will open on Monday to house Ukrainian refugees and deal with the backlog arriving into the country.
Amid worsening overcrowding at the transit centre at the Citywest hotel complex in Dublin, new arrivals who do not have alternative accommodation already arranged are being asked to remain at Dublin Airport overnight and into Thursday.
Refugees fleeing Ukraine who had to sleep on mattresses and the bare floor of the old terminal building at Dublin airport on Wednesday night said they were grateful for a place that was quiet.
Margarita Kalinichenko, a volunteer with the Ukrainian Action Group, told RTÉ radio's Morning Ireland that people who arrived on Wednesday slept on the floor in the old terminal building at the airport.
Ms Kalinichenko said she was told of about 150 people for whom there was no accommodation as Citywest was now at capacity. Some slept on mattresses while others were on the bare floor, she said.
"They are very grateful for the place to be quiet at the moment, and they're not demanding or something. They're very grateful for what they have. But they slept on the bare floor yesterday."
This situation was not different from conditions for refugees arriving in Poland and Germany. People coming from Ukraine had been warned about the lack of accommodation in Ireland.
"They have all the options in front of them and they need to decide where it is better to go".
Delays
Fiona Hurley of the Irish Refugee Council has called for a "whole of Government" response and a long term plan to the issue of refugees arriving from Ukraine.
Speaking on RTÉ radio's Today with Claire Byrne show, Ms Hurley said that the issue needed to be "more than just the remit" of the Department of Children. As the war in Ukraine looked like it would continue for some time, a long term plan was necessary, she added. Ms Hurley acknowledged there were delays in "actualising" offers of accommodation from the public, in such cases she urged people to get in touch with the Refugee Council. The numbers arriving had been anticipated and discussed by the Government earlier this year, now it was necessary to put plans in place to ensure that facilities could be provided.
"They will need to have a place to go, they will need homes."
There was a need for quicker processing times and individual assessment of people's cases, she said. In some cases it was taking two years for refugees to get their first interview.
Ireland has taken in around 40,000 refugees fleeing the war in Ukraine – the majority of them women and children.
Asylum seekers from other countries also continue to seek sanctuary in Ireland through the International Protection Service.
Government efforts
The Taoiseach is to hold talks with other ministers on Thursday to discuss the situation as the Government attempts to put alternative accommodation arrangements in place.
"Ensuring the security, health and safety of people who are fleeing Ukraine has been, and remains, a top priority for the Government since the Russian attack began in February," a Government statement said.
"Most of the people arriving in Ireland are women and children.
"This effort has involved, inter alia, all relevant Government departments and offices, local authorities, the Defence Forces and state agencies such as Tusla (Child and Family Agency) and the HSE (Health Service Executive).
"Over the past number of weeks there has been a very significant increase in the number of people seeking access to the International Protection Service (IPS) and this is causing a severe shortage of available accommodation for both people arriving from Ukraine and international protection applicants.
"This is also causing overcrowding in the Citywest Transit Hub.
"Incoming arrivals overnight will remain in Dublin Airport if they do not have an alternative source of accommodation.
"Government is working intensively to put alternative arrangements in place with immediate effect.
"The Taoiseach is meeting with relevant ministers tomorrow to discuss the situation and review the current policies and processes."