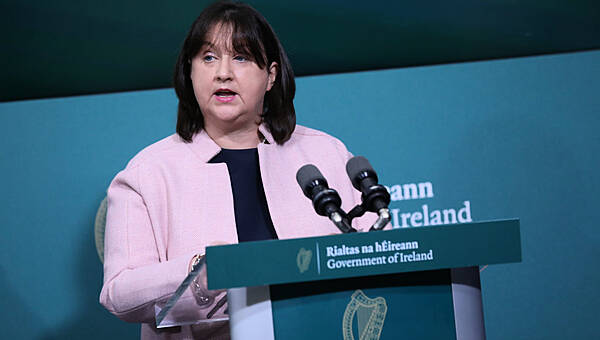 By Gráinne Ní Aodha and Cate McCurry, PA
An incident where cow dung was thrown at two Galway TDs represents a chipping away at democracy in Ireland, one of the TDs involved has said.
Minister of State for Disability and Galway TD Anne Rabbitte and Fine Gael TD Ciarán Cannon were attending a public meeting on Wednesday evening about local opposition to permission being granted to build a biogas plant.
A man who spoke at the meeting then threw excrement at the two politicians, in an incident which has been roundly condemned by politicians.
So an idiot goes to the bother of putting excrement (human or animal, yet unknown) into two bags and throws one at me and one at Anne. All part of the job you might say, but I can understand why fewer people want this job. #politics https://t.co/3XS9EvL98y

— Ciaran Cannon (@ciarancannon) January 4, 2023
An Garda Síochána confirmed they were investigating "all the circumstances" relating to the incident.
Mr Cannon, a former minister, said the attack was "unprecedented" in how "premeditated" it had been, with items prepared to throw at public representatives.
"There was one gentleman at the very beginning of the meeting took it upon himself to launch into a tirade, essentially accusing minister Anne Rabbitte and I of being culpable in granting this planning permission," he told RTÉ Radio's News At One.
"And then proceeded to take two bags of what I now know was cow dung out from his pocket, walked over to me, threw one at me, then as he returned to his place in the room, threw the other at minister Anne Rabbitte.
"And then he left the meeting, and then returned shortly thereafter to stand in quite close proximity to minister Rabbitte for the remainder of the meeting."
Those attending were "stunned into silence", Mr Cannon said.
He added that the incident had given him cause for concern for the "whole profession of politics".
"There is no other profession – be it teaching, carpentry, accounting or engineering, whatever – whereby the very fact that you chose a career or profession in politics, that somehow this becomes the norm and this becomes acceptable within society as a whole," he said.
"While last night wasn't a particularly serious incident, it is part of a cumulative chipping away at our democracy at, I would argue, a very precious part of Irish democracy, whereby our public representatives, our ministers, our Taoiseach, our Tánaiste, can move safely and freely about our towns and our villages, and I think that's under threat."
Mr Cannon said that while the meeting had continued following the interruption, many people had approached Ms Rabbitte after the meeting to share their concern and solidarity with her.
Mr Cannon also said there was a level of toxicity and aggression towards politicians on social media which could spread.
"So it almost legitimises that the gentleman felt last night he would do nothing unusual or indeed unacceptable in making his feelings known in that nature," he added.
Ms Rabbitte said the incident had left her fearing for her safety.
She told Galway Bay FM: "The legs were taken right from under me as far as I was concerned and I actually had dry mouth. I could not put words together at that point.
"I tweeted as I felt I had to ventilate my anger at what was unfolding personally to me and how I felt.
"I didn't feel good about it."
She said she had worried for her personal safety as she left the room on Wednesday night.