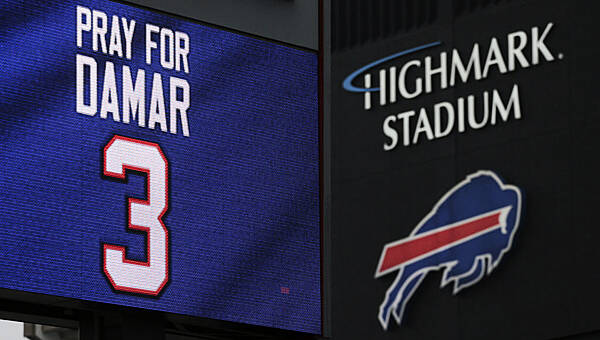 By PA Sport Staff
Buffalo Bills safety Damar Hamlin has shown "remarkable improvement" and appears to be "neurologically intact" after suffering a cardiac arrest during Monday's NFL game against the Cincinnati Bengals.
The Bills released the update on the 24-year-old's condition in a brief statement on Thursday, a day after Hamlin's uncle Dorrian Glenn said his nephew had to be resuscitated twice after colliding with Bengals wide receiver Tee Higgins.
"Per the physicians caring for Damar Hamlin at the University of Cincinnati Medical Center, Damar has shown remarkable improvement over the past 24 hours," the statement read.
— Buffalo Bills (@BuffaloBills) January 5, 2023
"While still critically ill, he has demonstrated that he appears to be neurologically intact.
"His lungs continue to heal and he is making steady progress. We are grateful for the love and support we have received."
Speaking to CNN on Wednesday, Glenn said: "His heart had went out so they had to resuscitate him twice.
"They resuscitated him on the field before they brought him to the hospital and then they resuscitated him a second time when they got him to the hospital.
"I'm not a crier, but I've never cried so hard in my life. Just to know, like, my nephew basically died on the field and they brought him back to life."
Bills players and staff were seen praying together on the field as an ambulance took Hamlin to hospital.
His team-mates were given a standing ovation by fans and NFL commissioner Roger Goodell soon announced that the game had been postponed following the incident.
The NFL said the fixture will not be finished this week but added that the Bills' clash against the New England Patriots on Sunday is still scheduled to go ahead.
The incident sparked a surge in support for a charitable campaign set up by Hamlin two years ago to purchase toys for children in need.
Donations to the Chasing M's Foundation Community Toy Drive had passed £6million at 1600GMT on Thursday.