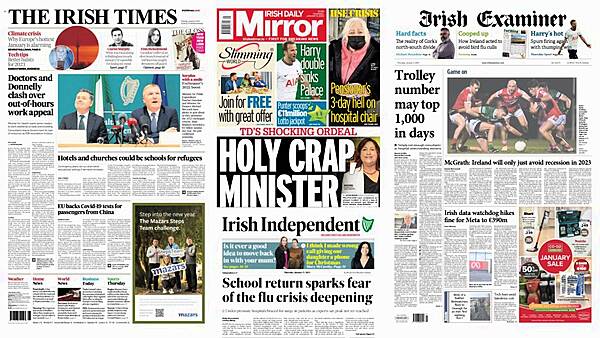 By PA Reporter
The hospital overcrowding crisis continues to dominate coverage in Thursday's papers.
The Irish Times reports that senior doctors clashed with Minister for Health Stephen Donnelly on Wednesday after he asked them to work weekends over coming weeks to help deal with the crisis in hospital emergency units.
Up to 1,000 patients could be treated on trolleys on a single day in the weeks ahead as hospitals grapple with increasing pressures, according to the Irish Examiner.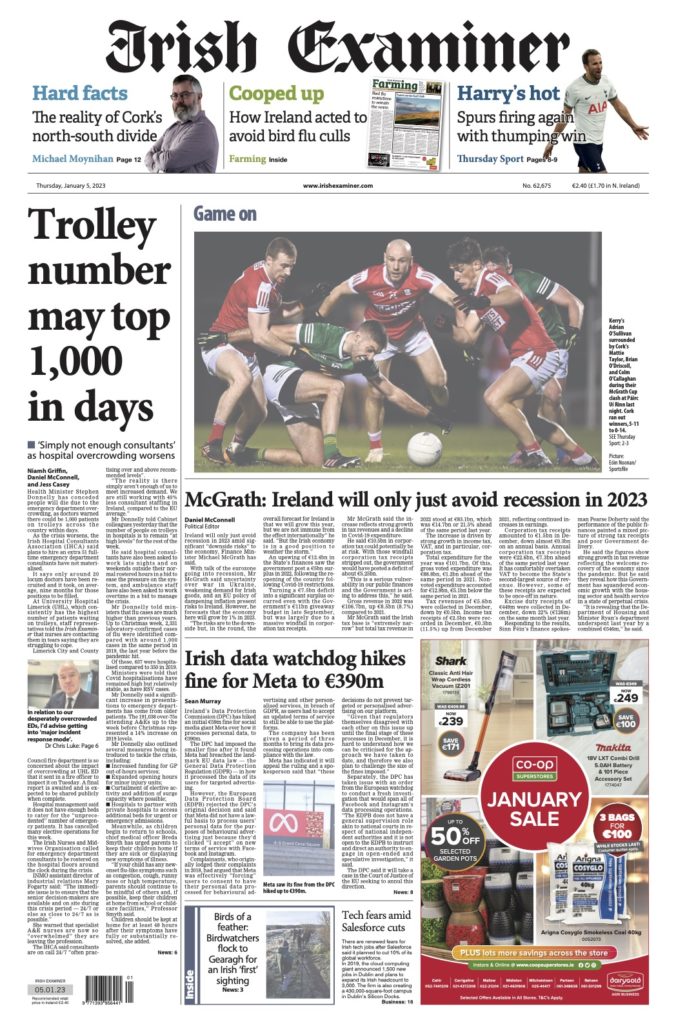 The Irish Independent says hospitals are bracing for a further surge in patients as health experts warn that the flu season has yet to reach its peak.
The Irish Daily Mail reports that a British investment fund could buy thousands of acres of rural Ireland to help Coillte meet its climate targets.
The Irish Daily Mirror has the scoop on poop being thrown at two Government TDs.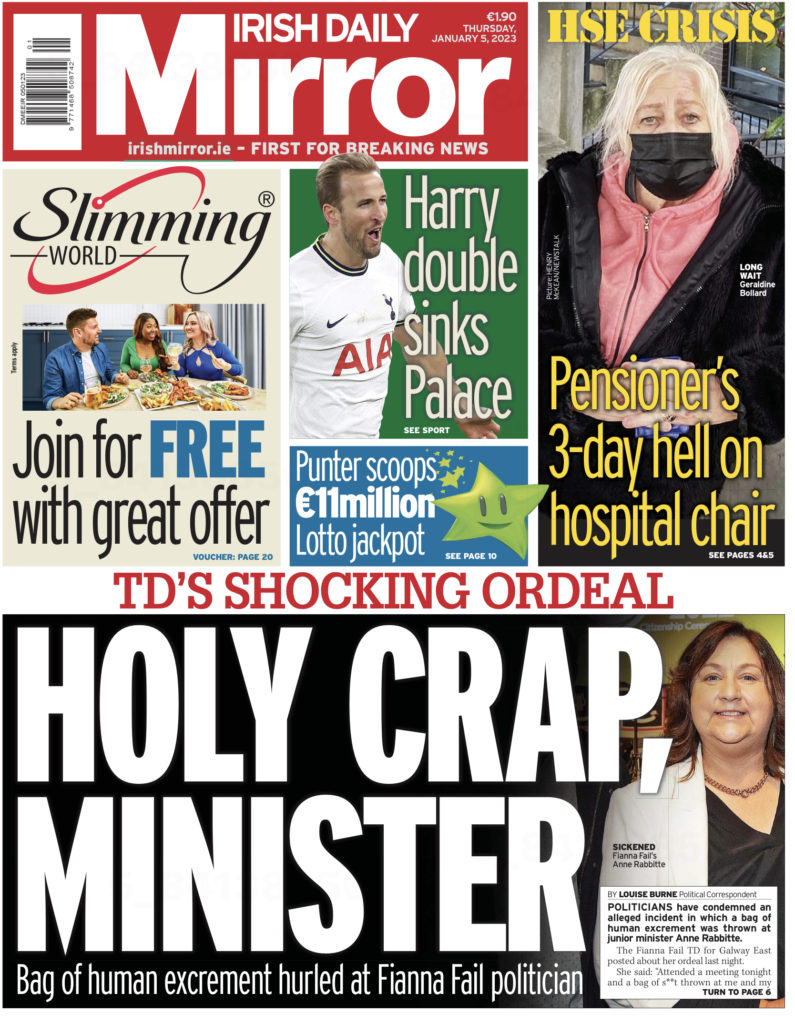 The Northern Ireland Ambulance Service is examining eight incidents of delayed response where deaths are involved, the Belfast Telegraph reports.
Many of the British front pages lead with prime minister Rishi Sunak's pledge to fix the health service.
The Daily Express, the Daily Mail, the Daily Star, The Times, the Financial Times and The Independent all carry the PM's plan to restore Britain and its health sector.
Front page – Rishi: Judge me on my pledges to fix Britain @RishiSunak #TomorrowsPapersToday https://t.co/SiBNLSQ3S1 pic.twitter.com/u1oPXLyDyE

— Daily Express (@Daily_Express) January 4, 2023
Thursday's @DailyMailUK #MailFrontPages pic.twitter.com/7xWnaBmQ6m

— Daily Mail U.K. (@DailyMailUK) January 4, 2023
Thursday's front page unveils a 'cunning plan' 😐https://t.co/vfFo7jXNxr#tomorrowspaperstoday pic.twitter.com/yzy6IJkgZA

— Daily Star (@dailystar) January 4, 2023
Times: Strike law lets bosses sack workers and sue unions #TomorrowsPapersToday pic.twitter.com/BGPMBUGLI5

— George Mann 🫧⚒️🫧 (@sgfmann) January 4, 2023
Just published: front page of the Financial Times UK edition Thursday January 5 https://t.co/mQr64xM9Qw pic.twitter.com/VZOgCW6G30

— Financial Times (@FinancialTimes) January 4, 2023
independent digital front page: Sunak fast-tracks pay talks to end NHS strikes #TomorrowsPapersToday pic.twitter.com/xmgxmbyfOk

— George Mann 🫧⚒️🫧 (@sgfmann) January 4, 2023
The i adds that the NHS has been forced to send patients to hotels to ease bed blocking.
Thursday's front page: NHS sending patients to hotels to ease bed blocking#TomorrowsPapersToday

Exclusive by @DavidParsley50: https://t.co/Kq7OefFuvB pic.twitter.com/kRdJzxOHX9

— i newspaper (@theipaper) January 4, 2023
The Daily Mirror covers the crisis with a story about a father who died waiting for an ambulance on Christmas Eve after three 999 calls, with his daughter blaming the government and not health staff.
Thursday's front page – Tory hospital scandal #TomorrowsPapersToday https://t.co/M7NWgcs393 pic.twitter.com/zRN1YDtdCV

— The Mirror (@DailyMirror) January 4, 2023
Meanwhile The Guardian reports the British government has accused a company linked to Conservative peer Michelle Mone of supplying defective gowns that could have compromised the safety of patients had they been used in the NHS.
Guardian front page, Thursday 5 January 2022: PPE gowns in £122m order 'not safe for use in NHS' pic.twitter.com/c8ktYvQ5Ha

— The Guardian (@guardian) January 4, 2023
Elsewhere, The Daily Telegraph splash has Labour leader Keir Starmer's vow to voters not to "get its big government chequebook out again" if it wins the next election.
The front page of tomorrow's Daily Telegraph:
'Starmer: We're no longer the party of big spending'#TomorrowsPapersToday

Sign up for the Front Page newsletterhttps://t.co/x8AV4Oomry pic.twitter.com/VsiZ8G7lVu

— The Telegraph (@Telegraph) January 4, 2023
And The Sun features a story about a pregnant woman who gave birth on Christmas Day while dressed as the Virgin Mary.
Sun: #TomorrowsPapersToday pic.twitter.com/bcuvAwlXKB

— George Mann 🫧⚒️🫧 (@sgfmann) January 4, 2023