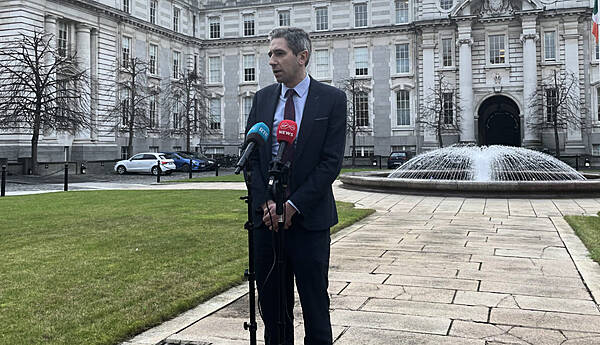 By Gráinne Ní Aodha, PA
An attack on public representatives is "an attack on our democracy" and such incidents will be "pursued with the full rigour of the law", Minister for Justice Simon Harris has said.
Mr Harris was speaking after Garda Commissioner Drew Harris said he was taking any attacks on a public representative "extraordinarily seriously".
It comes after Minister of State Anne Rabbitte and Fine Gael TD Ciaran Cannon had cow dung thrown at them during a public meeting in Gort, Co Galway this week.
The incident is being investigated by An Garda Siochana and has been roundly criticised.
Gardaí are to also make themselves available to members of the Oireachtas to offer security advice.
Speaking outside Government Buildings on Friday, Mr Harris said that "ensuring that public representatives can go about their business on behalf of their constituents in a free and safe way is absolutely essential".
So an idiot goes to the bother of putting excrement (human or animal, yet unknown) into two bags and throws one at me and one at Anne. All part of the job you might say, but I can understand why fewer people want this job. #politics https://t.co/3XS9EvL98y

— Ciaran Cannon (@ciarancannon) January 4, 2023
"One of the great strengths of the political system in this country has always been accessibility to public representatives.
"I'm very satisfied, from my conversation with the Commissioner, that he takes these matters extraordinarily seriously," he said, adding that any such case "will be pursued with the full rigour of the law".
"[The Commissioner] and his team have made themselves available to the houses of the Oireachtas to provide advice to any member of the Oireachtas in relation to their own security situation or any concerns that they may have.
"And he will be reiterating today to Garda divisions the importance of that, should a member of the Oireachtas approach gardaí for any advice."
Mr Harris added: "Any assault or attack on anybody in this country is utterly unacceptable and, without commenting on any individual case, that has to be the starting premise for any discussion.
"Of course, any attack on a public representative is not just an attack on an individual, but is also an attack on our democracy, an attack on people going about serving their constituents.
"It's very important for every member of the Oireachtas to know that if they have any concerns in relation to their own security or safety or that of their staff or family, that local gardaí are in a position to provide advice and support and I would really reiterate that point today.
"It's also very important for people to know that any such incident, that any attack, that any assault, will be treated extraordinarily seriously by An Garda Síochána.
"The Commissioner, in his conversation with me this morning, was extremely adamant in relation to that.
"It is a core part of democracy, of a free society, that people can move around safely, that people can do their work safely, that people can live their lives safely, that people can feel safe as they go about their job.
"And of course, when the person doing that job is a public representative, it's not just an attack on them but is an attack on democracy."
He added: "Gardaí are very much aware of this issue, are very much aware of the importance of protecting individuals but also of protecting our democracy.
"Such behaviours can't be tolerated and that any incident that is in breach of the law will be pursued rigorously."
In recent years, protests have been held outside the homes of ministers, including Taoiseach Leo Varadkar and Minister for Health Stephen Donnelly.
In September 2020 a smoothie was thrown over Mr Varadkar in Dublin's Merrion Square, which was subsequently investigated by An Garda Síochána.
In 2019, Sinn Féin TD Martin Kenny's car was burned out after he spoke in support of accommodating asylum seekers in Ballinamore, Co Leitrim.
In September last year a man drove a car into the gates of Mr Kenny's home at 2am, in what the justice spokesman called a "distressing and traumatic" incident.