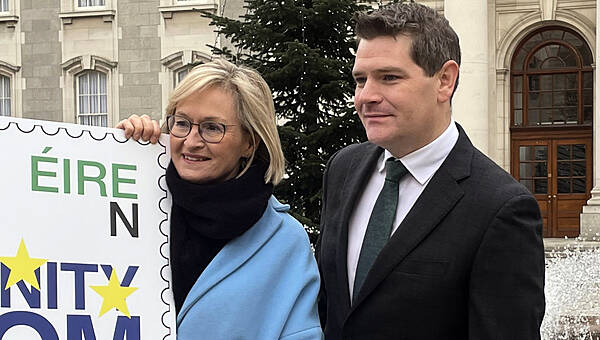 By Gráinne Ní Aodha, PA
EU Commissioner Mairead McGuinness and Minister of State Peter Burke have launched a stamp to mark 50 years since Ireland joined the European Communities, the precursor to the EU.
An Post's first stamp of 2023 was unveiled by Mr Burke, who took over as Minister for European Affairs from Fianna Fáil TD Thomas Byrne as part of the coalition's reshuffle in December.
Ms McGuinness, European Commissioner for Financial Services, Financial Stability and Capital Markets Union, shook hands with her Fine Gael party colleague Mr Burke as he arrived for the launch at Government Buildings in Dublin.
The stamp concept, by Irish designer Ger Garland, is based on the stars of the EU flag and the six fundamental values of the EU: human dignity, freedom, democracy, equality, rule of law and human rights.
Only nine of the 12 stars from the current EU flag are visible to symbolise the number of members of the EC in 1973.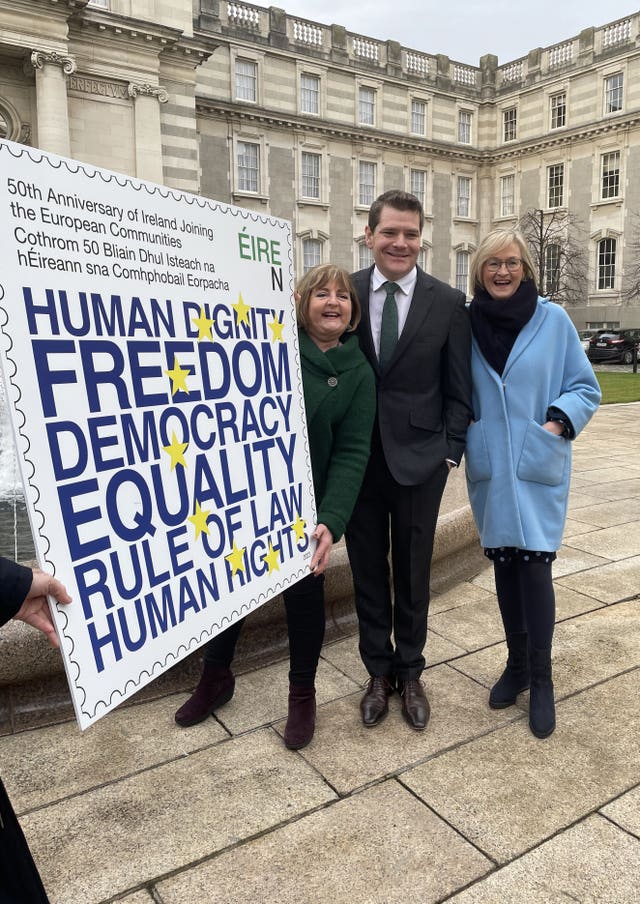 Mr Burke said he was "delighted" that An Post is marking 50 years of the EU's impact on Ireland.
"Stamps are a small but tangible part of everyday life and this stamp will serve to remind us all of the many ways the EU has impacted on our own everyday lives – from economic growth, to environmental protection, to gender equality and equal pay legislation, to climate, energy, travel and peace," he said.
The new stamp and a first day cover envelope is available online and at selected post offices including the GPO.
An Post has also decorated a number of postboxes around Leinster House, Government Buildings, Iveagh House and Europe House to mark the anniversary.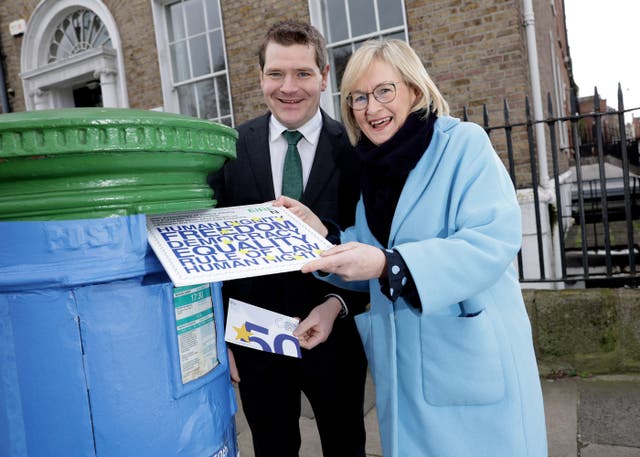 The Department of Foreign Affairs is leading a programme of events this year to mark when Ireland joined the EU's precursor in 1973.
This followed a referendum held on May 10th, 1972 when 83 per cent voted to join the European Communities.
Despite Ireland's closest neighbours voting to leave the EU in 2016, current polling shows that Irish support for EU membership remains at similarly high levels, with a Red C Research poll recording 79 per cent of people agreeing that EU membership has a positive impact on their lives.
In December, European Commission President Ursula von der Leyen addressed a joint sitting of the Houses of the Oireachtas in Dublin to mark Ireland's 50 years in the European Union.
"I do not feel like I have travelled to the edge of our union because, while that may be true geographically, Ireland lies at the heart of Europe in every other way," Ms von der Leyen told TDs and senators.
"This is a country of proud Europeans. Today, all other Europeans look up to Ireland because you show Europe's best face, innovative and inclusive, loyal to your history and traditions, open to the future and the world."