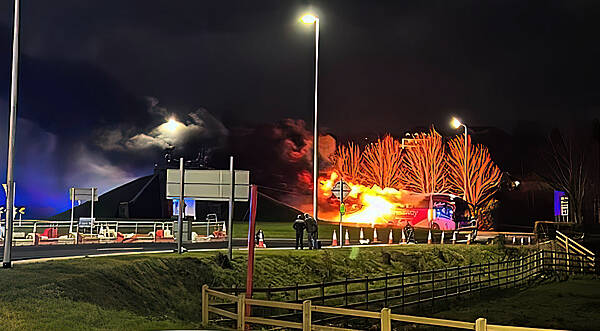 Stephen Maguire
Fifteen passengers on a Bus Éireann Expressway coach service were evacuated after a fire broke out on Thursday evening.
The bus caught fire on the outskirts of Letterkenny, Co Donegal, at the Dry Arch Roundabout at around 8.30pm. There were no reports of injuries.
Eyewitnesses said it appeared the fire started at the rear of the bus. They also said the driver of the bus was standing along the road.
A woman who saw the incident said: "We were driving past it and all you could see was this huge fire in the distance and we suddenly noticed it was a bus on fire.
"It was pretty frightening. Hopefully nobody was injured. The fire brigade and gardaí were there pretty quickly but there was a huge traffic tailback."
Shocking scenes from Letterkenny as Bus Eireann bus goes on fire. Thankfully reports are that no one has been injured and once again well done to our emergency services. https://t.co/niI6pZ3R6z

— Pearse Doherty (@PearseDoherty) January 5, 2023
Gardaí and other emergency services attended the scene of the incident. The road was immediately cordoned off to allow the fire service to extinguish the blaze.
Sinn Féin TD Pearse Doherty praised the emergency services and said the incident was "shocking".
In a statement to The Irish Times, Bus Éireann said: "This is an exceptionally rare occurrence in our fleet and will be thoroughly investigated. We'd like to thank the emergency services, our driver and passengers for their rapid and effective response. Passengers have been accommodated to continue their journey to Dublin on another vehicle."