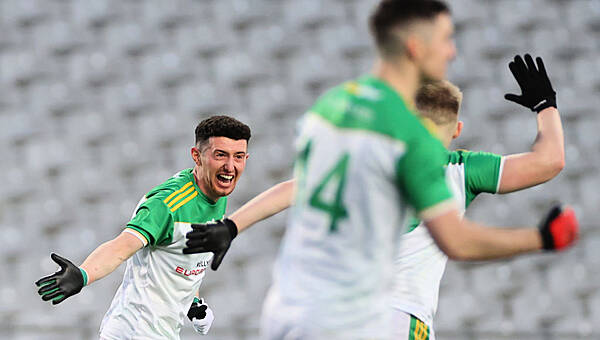 Updated: 5.10pm
Late charges from both Kerry's Kerrin O'Rahillys and Galway's Moycullen were not enough to deny Dublin champions Kilmacud Crokes and Derry's Glen from claiming their spots in the All-Ireland Senior Club Football Final.
In the first of the Croke Park double-header, Crokes ran out a 1-14 to 0-14 win after Hugh Kenny provided the crucial goal early in the second half.
However, their work was far from over at that point as the Kerrymen pushed to the final whistle attempting to claw their way back.
There was no glittering start to the day's opener, as the sides traded points for the opening 15 minutes, until the Stillorgan men stretched their heads ahead after four unanswered points coming from Kenny, Shane Horan, Shane Cunningham and Dara Mullins.
At the close of the half, O'Rahillys rallied to cut their deficit back to two points, 0-8 to 0-6, after a subdued Shane Walsh added a free for Crokes.
35 nóim@KCrokesGAAClub 1-09@korgaa 0-07

Cúl deas faighte ag Hugh Kenny le haghaidh na Crócaigh!

Kilmacud Crokes start their second half with a goal! 👌
#GAABEO #TheToughest @GAA_BEO | @officialgaa | @AIB_GAA

BEO/LIVE AR @TG4TV pic.twitter.com/78wSTzBVxC

— Spórt TG4 (@SportTG4) January 8, 2023
The second half brought the excitement as the Leinster champions got into gear, heightened by Man-of-the-Match Kenny's goal in the 35th minute.
Just beyond the 40-minute mark, O'Rahillys found themselves seven points adrift as the Dubliners well and truly hit their purple patch.
However, a steady stream of points had the Munster kingpins on the right track, and the sharpshooting of Jack Savage kept his side in touch when Kilmacud seamed to be running out of steam.
With Crokes conceding a slew of scorable frees, O'Rahillys were back within three points as the game ticked into the red.
Despite their best efforts, O'Rahillys' hopes were eventually dashed when Mullins cleared a chance on goal to bring the final whistle and see Crokes through to their latest All-Ireland club final.
31 nóim@WattyGrahamsGAA 1-06
@maighcuilinn 0-04

Cúl lua sa dara leath tuillte ag an Ghleann!

Tiarnan Flanagan kicks off the second half with an early goal for the Glen!👌
#GAABEO #TheToughest @GAA_BEO | @officialgaa | @AIB_GAA

BEO/LIVE AR @TG4TV pic.twitter.com/9Wku2fdrKx

— Spórt TG4 (@SportTG4) January 8, 2023
The second semi-final was an equally well-matched encounter as Glen held their nerve in the closing minutes to take the win on a scoreline of 1-11 to 0-12.
Almost as if taking inspiration from Crokes' post-half-time display, a goal from Glen's Tiernan Flannagan made all the difference, affording them breathing room that would prove critical in the dying minutes.
Moycullen captain Dessie Conneely put in a monumental shift to claim eight points, all from the placed ball, while Peadar Ó Cuaig supplied two impressive points either side of the break.
However, despite the Galway men's best efforts, the Glen defence rarely faltered, especially near the close when Moycullen's two point deficit saw them pushing desperately for a goal.
The midfield partnership of Emmet Bradley and Conor Glass once again was focal for the Derry outfit, in addition to a Man-of-the-Match performance from Danny Tallon, which proved too much for the Galway champions to overcome.
Kilmacud Crokes and Glen will now meet in the All-Ireland Senior Club Football Final in Croke Park on Sunday, January 22nd as part of a double-header with the All-Ireland Senior Club Hurling Final between Ballyhale Shamrocks and Dunloy Cuchullains.