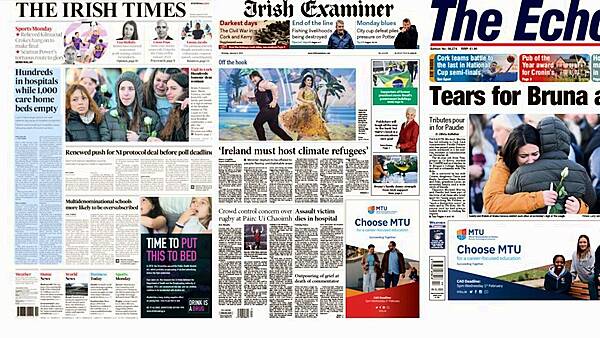 By PA Reporter
Monday's front pages focus on the vigil in Cork for Brazilian woman Bruna Fonseca who died on New Year's Day in the city. Ireland's struggling health system is also under the microscope as well.
The Irish Times lead with the news that about 1,000 nursing home beds lie empty across the State, according to a new survey.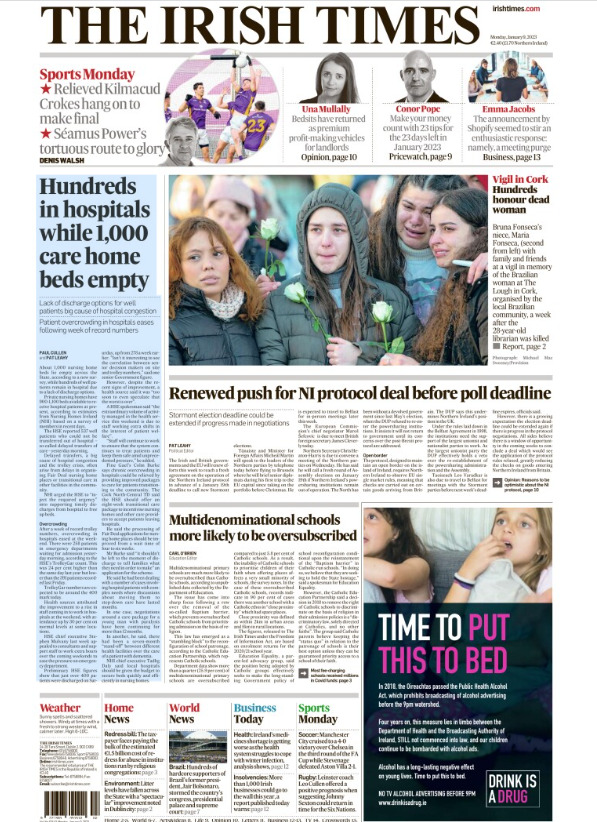 The Irish Examiner lead with a piece which says the asylum system will have to be expanded to include a new category for people fleeing the effects of climate change.
The Echo also lead with the vigil for Bruna Foncesca in Cork who was remembered as a 'beloved daughter and sister'.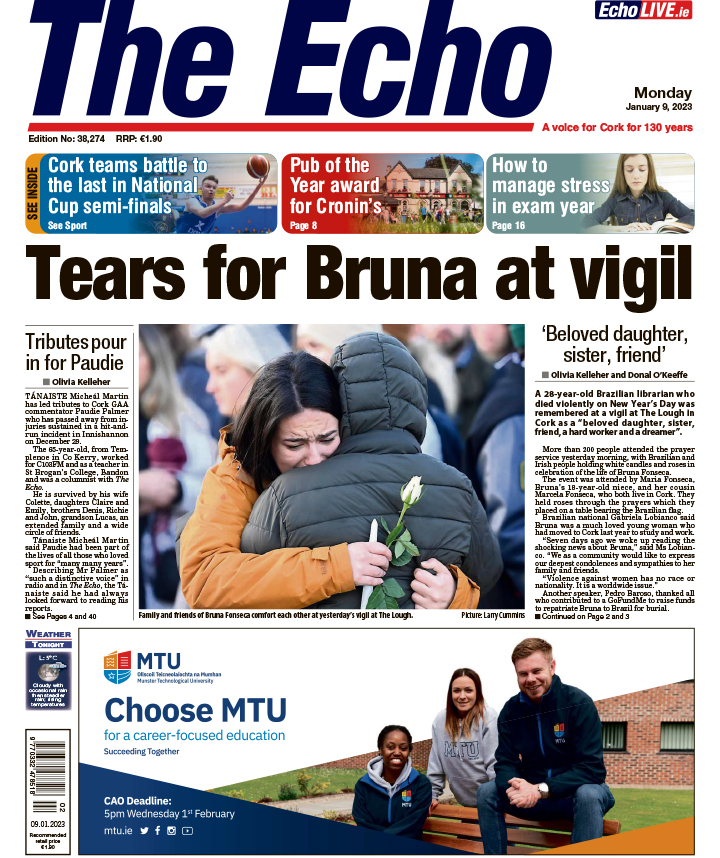 Morning readers. Stay with @BelTel for all your breaking news. Here's a look at the front page of the Belfast Telegraph this morning. To read the full newspaper on your device, go Premium +➡️https://t.co/WfXEtzkTSl pic.twitter.com/KLik09yYev

— Belfast Telegraph (@BelTel) January 9, 2023
Meanwhile, the Monday papers focus on the first of Harry's interviews promoting his new autobiography.
The Daily Telegraph leads on an accusation from Harry that the Prince and Princess of Wales stereotyped the Duchess of Sussex.
The front page of tomorrow's Daily Telegraph:

'William and Kate stereotyped Meghan, claims Prince Harry'#TomorrowsPapersToday

Sign up for the Front Page newsletterhttps://t.co/x8AV4Oomry pic.twitter.com/t36mOStW1m

— The Telegraph (@Telegraph) January 8, 2023
The duke's comments that royals are "complicit" in Meghan's pain are featured on The Times and the Daily Mail.
TIMES: Royals were complicit in Megan's pain, says Duke #TomorrowsPapersToday pic.twitter.com/6AIMixZLzO

— Neil Henderson (@hendopolis) January 8, 2023
MAIL: Harry: My family helped drive out Meghan #TomorrowsPapersToday pic.twitter.com/7iy8GZGotU

— Neil Henderson (@hendopolis) January 8, 2023
The Sun and the Daily Express focus on Harry saying that he and his wife did not call his family racist, instead explaining he believed they held "unconscious bias".
Tomorrow's front page: Harry sensationally says he and Meghan never accused Royals of being racist despite bombshell claim over Archie's skin https://t.co/PVIGFU5GwZ pic.twitter.com/xrIAhf50Xf

— The Sun (@TheSun) January 8, 2023
Monday's front page: Harry finally admits Royal Family is not racist #TomorrowsPapersToday https://t.co/b22cYn0i37 pic.twitter.com/1dQCTTgrSG

— Daily Express (@Daily_Express) January 8, 2023
Meanwhile, Metro focuses on the King's apparently calm state of mind amid the reporting of his son's new book.
Tomorrow's Paper Today 📰

NOT A SPARE IN THE WORLD

🔴Charles greets crowd as Harry hits out on TV #tomorrowspapertoday pic.twitter.com/Q3VoqvVWHj

— Metro (@MetroUK) January 8, 2023
Elsewhere, The Independent and The Guardian report the Prime Minister has prompted "optimism" over talks with NHS workers by signalling the Government may be willing to concede on pay.
Tomorrow's @independent front page #tomorrowspaperstoday To subscribe to the Daily Edition https://t.co/XF8VnDpHYF pic.twitter.com/7xx29Ky6iC

— The Independent (@Independent) January 9, 2023
Guardian front page, Monday 9 January 2023: PM looks at one-off cash offer to end nurses' strike pic.twitter.com/ukPHPmKTLE

— The Guardian (@guardian) January 8, 2023
The Daily Mirror reports the PM will not reveal whether he has a private doctor, while the i writes that a quarter of adults in A and E are there because they could not see a GP.
Monday's front page: One rule for the Rishi.#TomorrowsPapersToday https://t.co/Et0VlgXFR9? pic.twitter.com/ySzOckBfQ7

— The Mirror (@DailyMirror) January 8, 2023
Monday's front page: Quarter of adults go to A&E as they can't get GP appointment

Exclusive by @singharj and @PMGallagher1

Full story here: https://t.co/hGjUK0VRyz pic.twitter.com/K8I0ti2V0w

— i newspaper (@theipaper) January 8, 2023
Bolstered military ties between the US and Japan are front of the Financial Times.
Just published: front page of the Financial Times UK edition Monday January 9 https://t.co/t1EoZhihMn pic.twitter.com/7LFtrOSdH6

— Financial Times (@FinancialTimes) January 8, 2023
And the Daily Star reports balding may be cured by the discovery of a "cave-man gene".
Monday's front page: Yabba dabba hairdo #TomorrowsPapersToday https://t.co/nmzTEDEfL3 pic.twitter.com/dhGycOHUJc

— Daily Star (@dailystar) January 8, 2023