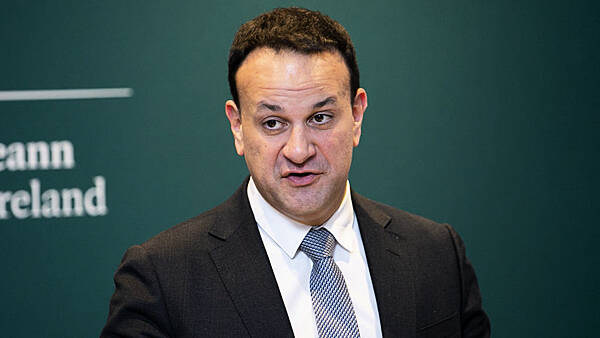 By Gráinne Ní Aodha, PA
The Taoiseach has said that "it makes sense" to increase the housing targets due to Ireland's growing population and the war in Ukraine.
It comes after the government held a housing conference where stakeholders including developers, approved housing bodies and charities discussed ways to tackle the housing crisis.
Despite a raft of housing policies, there have been five consecutive months of record homelessness figures and spiralling house prices.
Average private rents doubled in the 10 years to 2021, and in recent months there has been evidence of a slowdown in the number of housing commencements, threatening a hit to future supply.
The Government has warned that it faces a challenge to tackle the severe shortage of housing, exacerbated by a slowdown during the pandemic, a rise in the cost of materials due to inflation, and the surge in asylum seekers this year.
Speaking at Government Buildings in Dublin, Varadkar said that the conference was being held in order to "delve deep and dig deep into housing" at the very start of his second term as premier.
On how to reduce the number of people in emergency accommodation, Mr Varadkar said: "There were lots of concrete proposals and lots of good ideas. I think it's fair to say that there wasn't unanimity on those ideas.
"Some people suggested the eviction ban being extended, others wondered that there could be negative consequences to that. Some people argued for prioritising people who are in emergency accommodation and social housing, others pointed out the negative consequences and unintended consequence that can arise from that.
"So I think it's fair to say that a lot of ideas were put forward, but there wasn't enough unanimity around what could be done."
Increasing supply
He also said that "nothing is off the table" to try and increase supply and bring down the rising homeless figures.
He added: "We want to see us turn the tide on rising homelessness this year, we want to see the numbers fall, and fall sustainably in 2023 and 2024.
"I don't want anyone to doubt that the political will does not exist to solve this problem. Everyone in government is very much appraised by how important this issue is to our constituents, our peer groups, our family and friends.
"We know that it is our responsibility as a government to turn this around and the political will is there to do it. Unlike five, six, 10 years ago, the money is there to do it too – housing budget this year is 4.5 billion (euro).
"We understand the extent to which it's holding the country back in so many different ways. I'm very much determined to make 2023 a year of action and a year of delivery when it comes to housing."
The Government's Housing for All plan sets out to provide 28,000 homes in 2023, excluding student accommodation.
Ministers have said repeatedly that they expect to exceed their target of 24,600 homes for 2022; despite the fact that these targets are based on population figures from the 2016 census.
The government has admitted previously that closer to 40,000 homes a year is needed to meet demand, significantly above the target of an average of 33,000 homes a year between 2021 and 2030.
Speaking to reporters on Tuesday, Housing Minister Darragh O'Brien said the event was "very informative".
Affordable homes
When asked about his comments that there was a chronic shortage in the delivery of private, social and affordable homes in the 10-12 years previous, Mr O'Brien said "it's not an implicit criticism at all" of the Fine Gael government in office at the time.
"If you look at 2015, the capital budget in housing was 400 million, while this government, this coalition government, has a budget of 4.5 billion this year, that's how significant this increase is."
Mr Varadkar added: "It's just a simple statement of fact. There was a period, and I was in government during that period for most if it anyway, between 2010 and 2015/2016, where there was under-investment in everything, not just housing, in public infrastructure in general… because the country was in a major recession."
Mr Varadkar said that the fall in commencements in recent months "will impact on the number of new homes being built in 2024", and part of the purpose of meeting was to discuss these issues.
"There are a number of reasons why it's happening, partially because interest rates are going up, the cost of finance has gone up, and we're going to try and find ways, as government, to de-risk that so that those developments can get under way."
He also said that he "certainly never took the view" that co-living developments were going to be the solution to the housing crisis, and that it was seen as "an option for people who don't want to house share".
Mr Varadkar also said that he would be focusing on the national development plan, the cost-of-living crisis, and the Northern Ireland protocol.