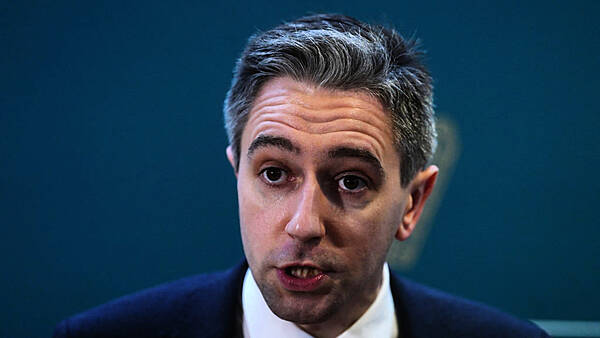 By Gráinne Ní Aodha, PA
An incident outside a shelter for migrants in Ballymun was "intimidation" and not a protest, according to Justice Minister Simon Harris.
Videos emerged over the weekend of a crowd of people outside a building in Ballymun where families were living, chanting "get them out", with one person holding a sign saying "Ireland is full".
"We've to be very careful calling these protests. In my mind, that's not what they are.
"In my mind, when people turn up outside a building that is providing temporary shelter to people, including women and children, and start saying things like 'shout to get them out, out, out, out', that's not a protest, in my view. In my view, that's intimidation.
"In my view, it is not in any way, shape or form reflective of the communities in which these accommodation facilities are in."
Mr Harris praised Dublin Lord Mayor Caroline Conroy, a Ballymun native, for showing "excellent leadership on this".
"She very clearly and articulately made the point about, of course, the importance of working with communities, of course, the importance of keeping communities informed, of course, the importance of providing information, but not allowing anybody to hijack the viewpoints of a community."
Ms Conroy said the scenes were "embarrassing" and "upsetting", and she believed the protests had been orchestrated, adding: "It's not what we're about in Ballymun."
"It is a statement of the blinding obvious that there are certain individuals who travel from one part of our country to the next part of our country to the next part of our country," added Mr Harris.
He said he was aware that gardai are taking these matters "very seriously".
"As Minister of Justice, my primary responsibility is to ensure the safety of all individuals in this country and that includes safety of people who have come here seeking refuge under the international protection agreement."
Mr Harris said that in response to the 70,000 people from Ukraine who have arrived in Ireland since last February, communities have "embraced" them and held demonstrations in solidarity.
"I think there's a balance to this. I'm not willing to go down a road where I suggest that the so-called protests are in any way reflective of the broader scenario," he said.
Speaking at the same event, Minister for Public Expenditure Paschal Donohoe confirmed that his department was in discussions about how to fund security for parliamentarians, after cow excrement was thrown at two TDs at a public meeting in Galway.
"Anything that needs to be done to strengthen the security that is available to members of the Oireachtas will be made available," Mr Donohoe said.
"When we talk to the Oireachtas regarding changes that will need to be made, members of the Oireachtas will need to know how much funding will be available, under what circumstances and how this will be done. And this is what we're engaging with."
Great news that @WeAreTUDublin has been approved to progress to the next stage of development under the Technological Sector Strategic Projects Fund (TSSPF). Expansion of this kind will hugely benefit students, help address skills shortages& positively impact Cabra & D7 pic.twitter.com/rsegevemzP

— Paschal Donohoe (@Paschald) January 11, 2023
Mr Harris and Mr Donohoe were at the launch of a sustainable building centre on the campus of Technological University Dublin (TUD).
The project will see the multi-disciplinary teaching facility at TUD's Broombridge campus used for students in architecture, engineering and construction.
The proposed new building is to accommodate 1,400 people learning key climate skills such as retrofit, low-carbon technologies, modern methods of construction and energy efficiency.
"It is anticipated that its creation would be a beacon for sustainability and climate action, creating a retrofit hub in one of the largest residential areas requiring retrofit in the city," Mr Harris said.
The minister for Further and Higher Education, Research, Innovation and Science is overseeing the Justice portfolio while Helen McEntee is on maternity leave.