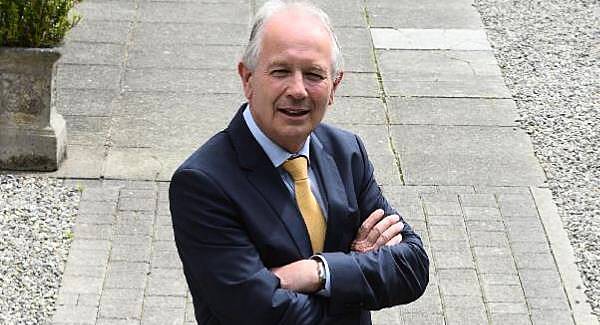 Olivia Kelleher
GAA commentator Paudie Palmer who passed away from injuries he sustained in a crash in West Cork had the gift of joy and put as much effort and enthusiasm in to his coverage of a match "in some unknown village" as he did to the "Senior Hurling Final," his requiem mass has heard.
The 65-year-old commentator with C103/96FM died on January 8th at Cork University Hospital. His passing followed a ten-day fight for life in the aftermath of a collision which occurred at Dunkereen Crossroads, near Innishannon on December 29th, 2022.
Poignantly, mourners at St Mary's Church in Innishannon heard that Paudie, who was also a retired teacher and a columnist with The Echo newspaper, had loved every minute of what was to be his last Christmas with his first grandchild, Lucas Pádraig, who was born last September.
His daughter Claire told the hundreds who had gathered for the funeral that her father had adored the newborn.
"Dad was looking forward to this year for so many reasons but being able to see his grandson Lucas grow and learn made his day. And that has now been robbed from us and him.
There has been a piece of all three of us lost forever more. Dad although you cannot be with us anymore you can rest easy knowing that your three girls will be well minded having such as close-knit family rallying around us.
Know that we loved you so very much and were proud to call Paudie Palmer our Dad. Sleep tight, all our love, your three girls. "
'Unassuming character and presence'
Chief celebrant Fr Finbarr Crowley said that the biggest talent of the late Paudie was that he instinctively grasped the importance of celebrating "the smallest and biggest [sporting] victories".
He said that the local community and beyond had been in shock since the accident happened just days after Christmas.
Fr Crowley emphasised that Paudie always had time for people.
"He made the world a better place to live in by his unassuming character and presence. His greatest gift was that he didn't realise the impact he was having on peoples lives. It was a natural instinct for Paudie to be there for people."
He described Paudie as having a multitude of gifts including the palpable sense of joy he brought to his commentating.
"Whether it was for C103FM from some unknown village in Co Cork or senior hurling final it made no difference to Paudie or his listeners, because we all lived the excitement.
"Above all, what Paudie got was that sense of community. The joy that a small village could celebrate a victory the same as the biggest club in Ireland could celebrate a victory.
"I don't think he realised what it did for every single community."
Meanwhile, Fr Crowley said that Paudie had taught for over 40 years at St Brogan's College in Bandon where he was extremely well thought of by students and staff.
He thanked Paudie's widow, "the love of his life" Colette, and the couple's two adult children for allowing him the freedom to indulge his passion for GAA.
Paudie's brothers Johnny and Denis also spoke movingly of their eldest sibling. Johnny thanked Colette and his two nieces for being a tower of strength to Paudie when he was diagnosed with a serious illness in 2019.
"When Paudie got the awful news on March 19th that he was ill while it was devastating Colette and his precious girls walked every step of that hard road with him. They were a crucial part of his healing process."
He said that over the last 12 to 15 months, Paudie was back doing things he loved.
Love for family
Denis Palmer thanked the thousands of people who had queued in the rain to attend the removal of his brother on Tuesday night.
"We received an overwhelming amount of support to Paudie and how he was loved by all. It has been a huge comfort to us during these difficult days.
"Unfortunately he died tragically. However, today, let's focus on the extraordinary life of Paudie. There are so many words to describe Paudie — witty, patient, selfless, generous with his time, positive, optimistic, a true rogue, non-judgemental and a good listener. But the words that sum him up the most are family orientated. Family was everything to him."
Mr Palmer is survived by his wife Colette, his daughters Claire and Emily, his brothers Denis, Richie and John, his grandson Lucas Pádraig, his extended family, former colleagues at St Brogan's College and a wide circle of friends in the sporting world.
The native of Kenmare, Co Kerry was the uncle of Claudine Keane, who is the wife of former Republic of Ireland international Robbie Keane. The couple were in attendance at the mass, where Claudine said a prayer of the faithful.
Other attendees at the mass included Bishop Fintan Gavin of the Diocese of Cork and Ross, GAA stars Sean Og O'hAilpin and Alan Quirke, Munster GAA Council PRO Bob Ryan, author Alice Taylor and C103/96FM Managing Director, Kieran McGeary.
In moving scenes prior to the mass the flag covered coffin of Mr Palmer was carried from the centre of Innishannon to the church in relay by honour guards from various GAA clubs and St Brogan's College. Following the mass burial took place in the adjoining cemetery.
A 33-year-old man has appeared in court charged in connection with the hit-and-run incident in which Mr Palmer sustained his injuries in Innishannon on December 29th last. He will appear before Bandon District Court again on January 19th next.