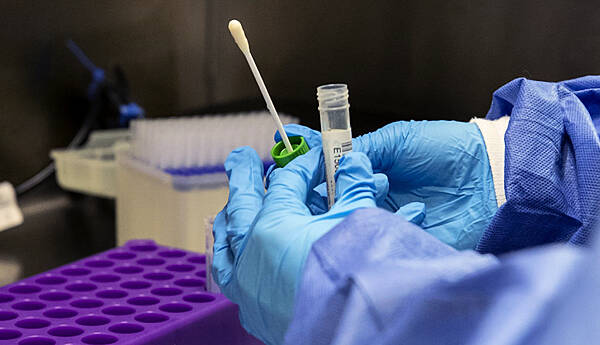 Vivienne Clarke
Updated 10am
A new, highly transmissible variant of Covid-19 is likely to become the dominant strain in Ireland, immunology expert Professor Kingston Mills has warned.
Prof Mills told RTÉ Radio's Morning Ireland that the new variant XBB.1.5, also known as 'Kraken', was quite different from Omicron, but vaccines will still offer protection, especially the "bivalent variations".
The Professor of Experimental Immunology at Trinity College Dublin urged people who have not yet been vaccinated to do so and to get the booster.
Fewer than five cases of the 'Kraken' strain have been detected in Ireland so far, but it was spreading rapidly in the US where it was already becoming the dominant variant, he said.
"It's already in Ireland and the rest of Europe at a low level here right now, but it will increase and it's likely to become the dominant variant here as well.
"The big issue around it is that it's quite different to Omicron. People who've got infected with the original Omicron are less likely to be protected through immunity generated," Prof Mills cautioned.
Flu vaccine
Meanwhile, parents are also being urged to bring their children to get the nasal flu vaccine, which also provides some protection against Strep A infection.
Winter flu cases have soared in recent weeks, with the Director of Public Health at the HSE's National Immunisation Office, Dr Lucy Jessop, confirming that 700 children under the age of 15 have been admitted to hospital with flu this winter.
Speaking to Newstalk Breakkast, Dr Jessop added that research in the UK indicated that the flu vaccine also offers some protection against Strep A, infections of which saw an increase late last year.
Dr Jessop said the nasal flu vaccine for children was very easy to administer and was available through GPs, pharmacies and some walk-in clinics at vaccination centres.
Overall, there had been a good uptake of the vaccine among cohorts considered to be at higher risk, such as the elderly and those with weakened immune systems, with 1.1 million doses administered so far this winter.
Among the over 55s, there was 75 per cent uptake, she added.
Uptake of booster Covid vaccines was also good, with 78 per cent of over 65s availing of the second booster and 44 per cent having received the third booster.
Dr Jessop stressed that vulnerable groups are being protected, but it was a matter of concern that others who were now eligible were not coming forward.
She pointed out that the booster vaccines contained better protection against new variants, adding it is important for people to avail of it as there remained a lot of Covid in the community.
For those who had not yet taken the vaccine or received the first booster, it is not too late, she said, urging them to come forward and also get the flu vaccine.