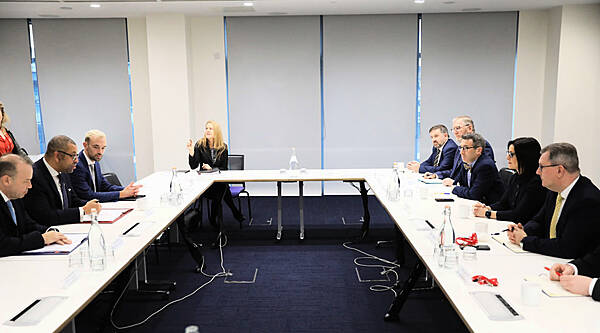 By Jonathan McCambridge and Rebecca Black, PA
Sinn Féin dramatically withdrew from roundtable talks with Foreign Secretary James Cleverly over the Northern Ireland Protocol, after party leader Mary Lou McDonald was "excluded" from attending.
The Belfast talks, which included Northern Ireland Secretary Chris Heaton-Harris and also focused on the Stormont powersharing crisis, were overshadowed by the row.
Ms McDonald accused the British Government of "Tory petulance" and said the situation was "bizarre and unprecedented".
But unionist representatives instead suggested it was a diplomatic issue and that Mr Cleverly could not meet Ms McDonald, who is the leader of the opposition in the Republic, ahead of meeting his counterpart in Ireland.
This is a time for inclusive, good faith engagement. It is regrettable & bizarre that the British Govt chose to exclude the leader of Sinn Féin from today's party leaders meeting. I remain determined to work constructively with all to get the Executive & Assembly working for all

— Mary Lou McDonald (@MaryLouMcDonald) January 11, 2023
The two Government ministers had been expected to meet representatives of all the main parties in Northern Ireland to discuss the impact of the post-Brexit protocol.
Instead the meeting went ahead with the unionist DUP and UUP and the cross-community Alliance party present.
The nationalist SDLP joined Sinn Féin in refusing to attend.
Ms McDonald spoke to the media in Belfast while the talks were taking place nearby in the city.
She said: "We are in a very important time when progress needs to be made on the issue of the protocol, on getting the executive back up and running, getting the Assembly into action and ensuring people have government.
Comment on British government exclusion of Sinn Féin President Mary Lou McDonald from today's roundtable meeting with the British Secretary of State and Foreign Secretary ⬇️https://t.co/48idxV71HV

— Sinn Féin (@sinnfeinireland) January 11, 2023
"We had hoped to make progress on those issues at today's leaders' meeting.
"I travelled for that meeting because I believe it is an important meeting and bizarrely, and in an unprecedented way, the British Government choose to seek to exclude the leader of Sinn Féin from a leaders' meeting.
"The whole thing is absolutely bizarre and unacceptable.
"We need politics which is civil, which is based on respect, which recognises the democratic mandate and the responsibility of every party including Sinn Féin."
She added: "We had a chance this morning to mark progress, to exchange views, to be constructive, to work together, to listen to each other.
This is a time for inclusion, dialogue and engagement. There is serious and urgent work to be done. This is a time for mature and civil politics. There's no room for bad faith and petulance from the British government.

— Michelle O'Neill (@moneillsf) January 11, 2023
"But rather than having that kind of meeting, a kind of British Tory petulance has emerged. I think that is a terrible shame."
Sinn Féin Stormont leader Michelle O'Neill in a tweet accused the British Government of "bad faith".
A UK Government spokesman said: "This meeting is for Northern Ireland politicians to talk through issues around the Northern Ireland Protocol with SOSNI and the UK Foreign Secretary.
"The leader of Sinn Féin in the Assembly (Michelle O'Neill) was invited and remains invited.
"Her attendance is a matter for Sinn Féin but she was not excluded."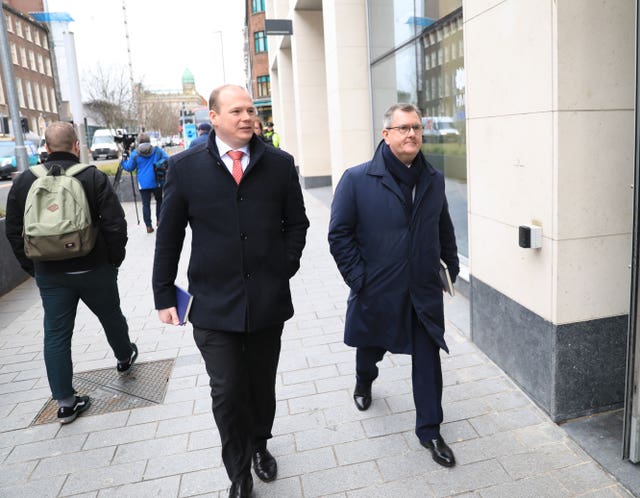 Speaking after the meeting, DUP leader Sir Jeffrey Donaldson said he did not want to get drawn into the row, but that no party had been excluded.
He said: "That is a matter between the Northern Ireland Office and Sinn Féin.
"My understanding is the NIO didn't exclude any party.
"There was an issue around the protocol of Mary Lou McDonald meeting the Foreign Secretary ahead of the Foreign Secretary meeting his counterpart in Dublin.
"That is not a matter for me. I am not going to get drawn into this.
"It is better when all parties are at the table. I want to see all parties in Northern Ireland putting their views across, particularly to the Foreign Secretary.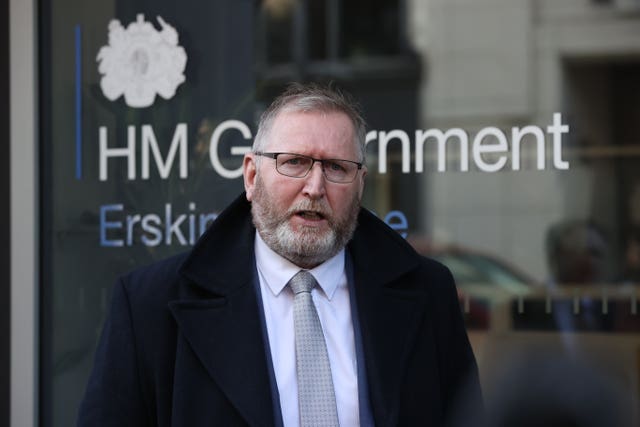 "I hope next time the parties will be back at the table."
Sir Jeffrey said he believed Mr Cleverly recognised that any deal on the protocol had to be acceptable to unionists.
He said: "This was an invaluable opportunity for us to put forward our concerns about the ongoing negotiations.
"They talked about getting a deal that works for everyone and works for Northern Ireland, and I think that is fundamentally important, they recognise a deal with the EU which doesn't work for unionists just isn't going to fly.
"It was good we had the opportunity to input our views on how the negotiations should go forward and on the areas that need to be addressed in the negotiations."
Ulster Unionist leader Doug Beattie said he pushed for more input from local politicians in the negotiations between the EU and the UK Government over the protocol.
He said: "We need to be in a position that if they are going to agree something, we have the ability to say that is not going to work.
"That is a red flag and I made that point quite strongly to the Foreign Secretary."
Devolution in Northern Ireland has been in flux since last February when the DUP, the region's largest unionist party, withdrew its first minister from the ministerial executive in protest at the protocol.
The party has made clear it will not allow a return to powersharing until radical changes to the protocol are delivered.
It claims the treaty has undermined Northern Ireland's place within the United Kingdom by creating economic barriers on trade entering the region from Great Britain.
However, earlier this week progress between the EU and the UK on post-Brexit data-sharing was hailed as a positive step in ongoing talks to find a solution to the row.
Mr Cleverly and Mr Heaton-Harris are also due to meet business groups as part of their efforts to understand the impact the protocol has had on trade.
Speaking earlier, Mr Cleverly said: "I am listening to the concerns of people and businesses in Northern Ireland and am keenly aware that the current situation isn't working.
"We need to address those issues with the protocol that risk and undermine the place of NI in the UK."