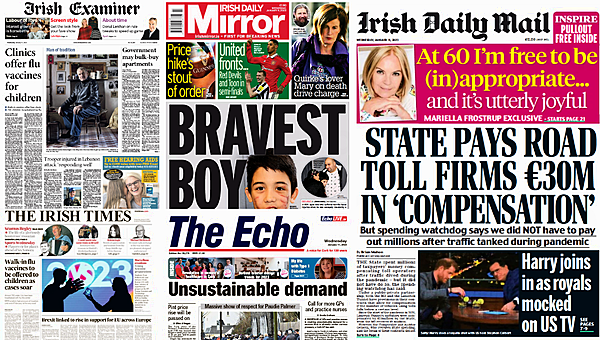 Price increases, continuing pressure on the health system, and 'compensation' for road toll firms are among the front-pages stories on Wednesday.
The Irish Times and the Irish Examiner reports the HSE will offer flu vaccines to children at clinics as "cases soar", while inflation takes its toll in Post Offices and pubs as the cost of both stamps and pints are due to increase.
The Examiner also reports the Government "may bulk-buy apartments".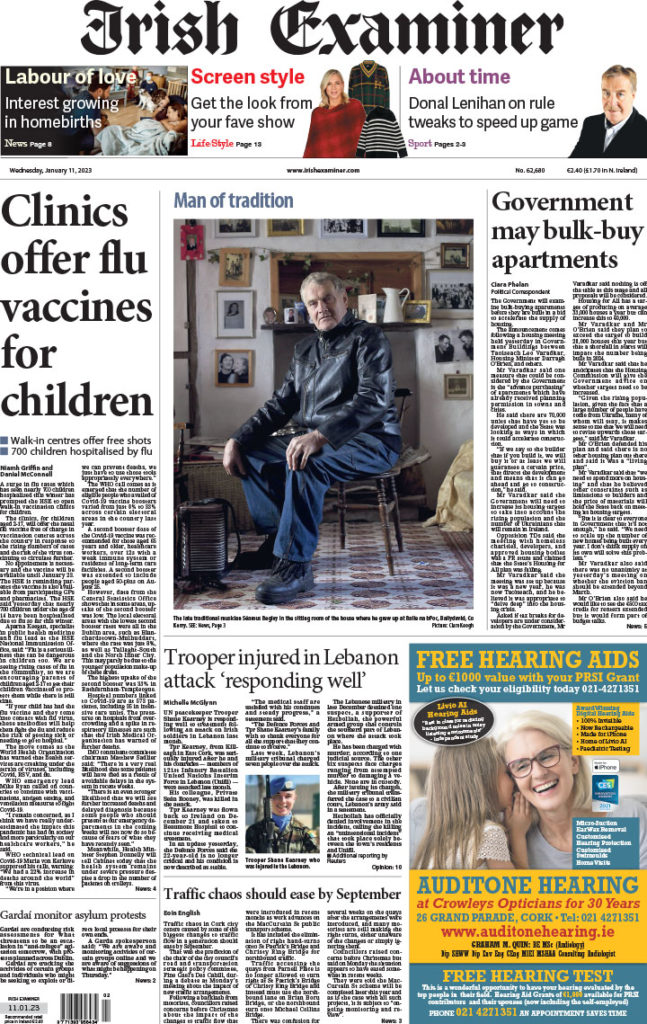 The Echo leads with calls for more GPs and practice nurses amid "unsustainable demand", while the Irish Independent says patients are "stuck" in hospital for over six months due to the lack of suitable step-down care.
Good morning, here is the front page of today's Irish Independent pic.twitter.com/4oiYqxzM9L

— Independent.ie (@Independent_ie) January 11, 2023
Both the Irish Daily Star and Irish Daily Mirror carry images of a young boy who sustained serious injuries in a dog attack in Co Wexford, who has now returned home after weeks in hospital.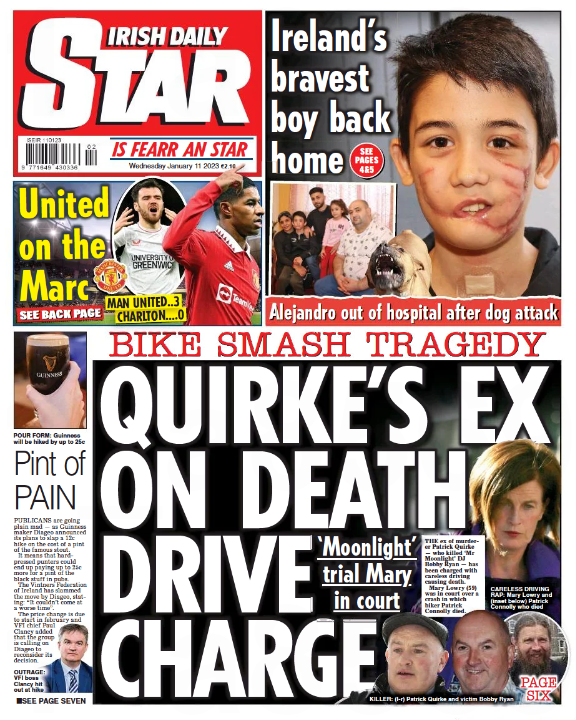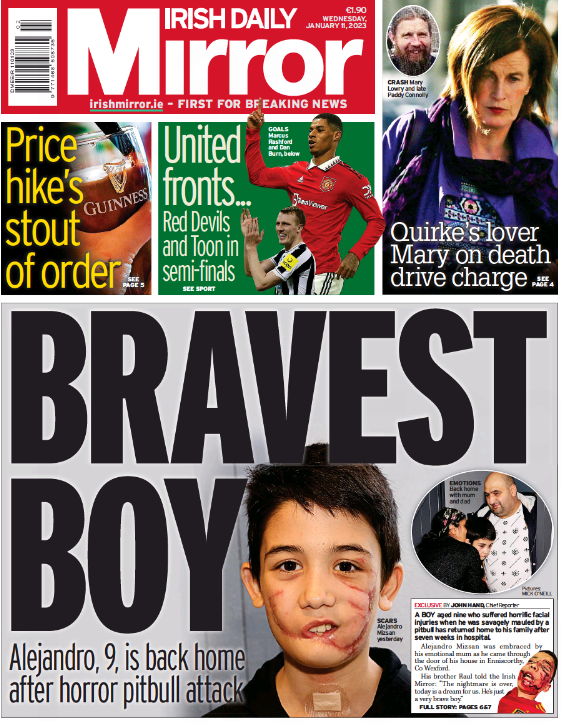 Finally, the Irish Daily Mail reports the States is paying road toll companies €30 million in 'compensation' as traffic volumes slumped during the Covid pandemic.
In Britain, the front pages cover death, illness and machinations in the halls of power.
NHS delays are blamed in analysis by The Times which shows 50,000 more people than normal died over the past 12 months.
TIMES: 1000 excess deaths each week as the NHS buckles #TomorrowsPapersToday pic.twitter.com/cahP0EXkBf

— Neil Henderson (@hendopolis) January 10, 2023
The same number of people – a record, up from 30,000 just two months earlier – are forced to wait more than 12 hours for treatment in accident and Emergency Departments each week, according to leaked data given to The Independent.
Our front page tomorrow @Independent #TomorrowsPapersToday

EXCL by @Rebeccasmt on the crisis in NHS A&E care pic.twitter.com/qpNbAvEOLl

— Alastair Jamieson (@alastairjam) January 10, 2023
Nurses urge British prime minister Rishi Sunak in the Daily Express to "do a deal for Britain" to prevent a two-day strike next week that could cripple the health service.
Tomorrow's front page: Nurses: Clock is ticking Rishi…Do a deal for Britain #tomorrowspapertodayhttps://t.co/aUE74rJfSj pic.twitter.com/qlnOcgGdIo

— Daily Express (@Daily_Express) January 10, 2023
The i, meanwhile, reports the British government is considering new laws which could stop up to six million UK workers from going on strike.
Wednesday's front page: Millions of workers face new strike ban as ambulance staff walk out #TomorrowsPapersToday

Latest by @HugoGye: https://t.co/lNnIasGygJ pic.twitter.com/HYoEli89yJ

— i newspaper (@theipaper) January 10, 2023
Britain's business secretary Grant Shapps is quoted by Metro as proposing the laws aimed at keeping ambulance, fire and rail services running during industrial action because "common sense tells us we need minimum safety levels".
Tomorrow's Paper Today 📰

A STRIKE AGAINST STRIKES

🔴 Shapps and unions lock horns over industrial disputes #tomorrowspaperstoday pic.twitter.com/jrLWThmd4w

— Metro (@MetroUK) January 10, 2023
Unions have reacted to the anti-strike bill with a coordinated "day of action" involving strikes and rallies, says The Guardian, while the Daily Mail reports Labour will block the new laws.
Guardian front page, Wednesday 11 January 2023: Angry unions plan day of action over anti-strike bill pic.twitter.com/PnH5T4cSUC

— The Guardian (@guardian) January 10, 2023
MAIL: Labour Opposes Life-Saving Law To Curb Strikes #TomorrowsPapersToday pic.twitter.com/vJ7qJxB2sm

— Neil Henderson (@hendopolis) January 10, 2023
Former prime minister Boris Johnson is accused in the Daily Mirror of "sponging off billionaires" by living rent-free in a Tory donor's £20 million home.
Wednesday's front page: Johnson living in £20m home for FREE#TomorrowsPapersTodayhttps://t.co/MSZwHqOq4y pic.twitter.com/TFiIKkotRB

— The Mirror (@DailyMirror) January 10, 2023
The Daily Telegraph has US Federal Reserve head Jerome Powell saying central banks should avoid wading into social issues, while the Financial Times reports Goldman Sachs has started its biggest cost-cutting drive since the financial crisis.
The front page of today's Daily Telegraph:

'Saving the planet is not our job, says Fed chief'

Sign up for the Front Page newsletterhttps://t.co/x8AV4Oomry pic.twitter.com/dN97Y7UXNx

— The Telegraph (@Telegraph) January 11, 2023
Just published: front page of the Financial Times, UK edition, Wednesday 11 January https://t.co/gysGaPOdun pic.twitter.com/lmYCbJarUl

— Financial Times (@FinancialTimes) January 10, 2023
And the Daily Star carries the story of a ticket inspector who quit his job on the buses and used his redundancy payout to become an Elvis impersonator.
Wednesday's front page: There's a guy works down the bus depot swears he's Elvis#TomorrowsPapersToday https://t.co/1v0B6Vsh6y pic.twitter.com/u37O6Y5A1I

— Daily Star (@dailystar) January 10, 2023