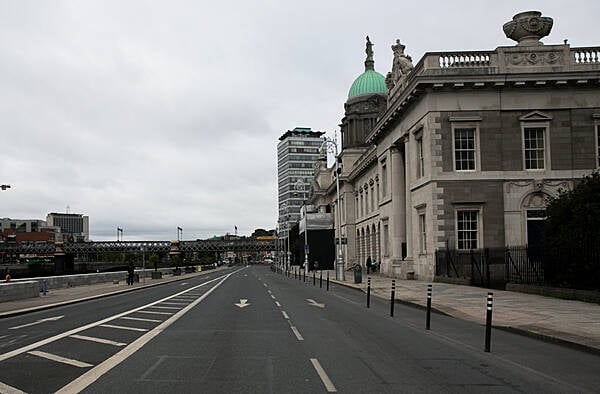 High Court reporters
The Court of Appeal has been urged to substantially cut a €124,000 award made last year to a man who was knocked off his bike in a cycle lane by a bus.
Gearoid O'Daly (38), a bank lending officer of Heuston South Quarter, Dublin, sued Bus Éireann and driver Declan Sheridan over the incident as he was travelling along the cycle lane at Custom House Quay, Dublin, on June 8th, 2016.
Bus Éireann denied liability and claimed contributory negligence in that it argued Mr O'Daly failed to look at where he was going.
Mr O'Daly fractured his wrist and suffered abrasions and bruising. He claimed he developed chronic long term pain subsequently and he underwent numerous treatments to try to deal with it.
Last April, the High Court's Mr Justice Michael Hanna awarded him €124,000 saying he accepted Mr O'Daly's evidence.
Medical experts
The judge also said there was a sharp division between each sides' medical experts about ongoing chronic pain which Mr O'Daly said he suffered for years after the accident. However, he said he preferred the evidence of Mr O'Daly's pain specialist.
On Thursday, Bus Éireann urged a three-judge Court of Appeal to cut the award to between €30,000 and €40,000.
Gerard O'Herlihy, solicitor for the bus company, said he accepted Mr O'Daly had fractured his elbow and suffered some bruising which he described as"the usual thing if you were knocked off your bike by a bus".
But in this case there was the "unusual situation" of what the High Court judge described as the "chasm between what happened and what he suffered" and the "medically unexplained" pain he said he subsequently suffered from, Mr O'Herlihy said.
'Appalling state'
Mr O'Daly underwent 15 MRI scans and he had been assiduous in claiming special damages "for everything under the sun", he said. Yet, throughout it all he continued to work despite the fact that he claimed to be in "an appalling state", he said.
It was his client's case that the appropriate award for his injury was somewhere between €30,000 and €40,000, he said.
Michael Byrne SC, for Mr O'Daly, argued the award should stand. His claim for special damages should also stand because there had been no suggestion Mr O'Daly had not undergone the various treatments he underwent, counsel said.
He had injuries of a physical nature but these ultimately did not give him as much trouble as the widespread body pain syndrome, he said.
"This was a 33-year-old man minding his own business, very fit, but now he is never pain free. His life is enormously disrupted in trying to deal with these things", counsel said.
The Court of Appeal reserved its decision.