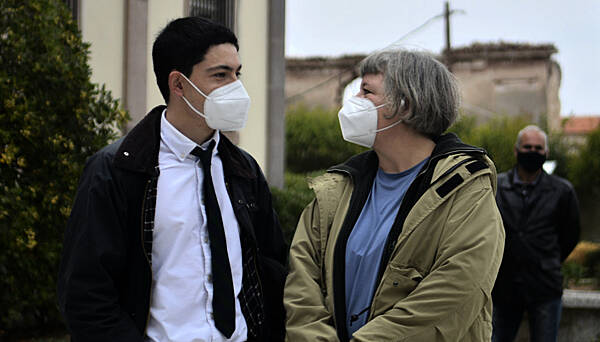 Vivienne Clarke
Updated: 3.45pm
Sean Binder said he has "mixed feeling" following a judge's decision to annul some charges against him and 23 other people who were involved in a migrant rescue operation on the Greek island of Lesbos.
Speaking to RTÉ's News at One, the Kerryman said: "Right off the bat I am very happy that I can no longer brag about being a supposed spy.
"That is excellent news, but at the same time this isn't necessarily justice. Justice would have been having a trial four years ago and being found not guilty, whereas now what is happening is that we're not getting to a trial because the prosecution has made so many errors at a trial that became impossible within the statute of limitations."
He confirmed the charges were dropped at the request of the prosecution, who had "suddenly become aware that one cannot issue an indictment without a that the defendants understand and you have to clarify what exact charges you're bringing forward".
"All of this was missing and there was no correlation between exactly what spying is in the Greek penal code and what we were accused of," Mr Binder explained, adding the prosecution's position became untenable.
He added he is unsure of the felony charges he still faces after the judge's annulment on Wednesday, as "the prosecution hasn't been illuminating us".
"We worry that the statute of limitations for the felonies, which is another 15 years, will be exhausted before we get any sense of what exactly the intend to charge us with," he said.
The defendants deny all the charges and argue they were trying to help people whose lives were at risk.
'Massive holes' in the case
Earlier, MEP Grace O'Sullivan has welcomed the judge's decision.
Speaking to RTÉ Radio's Today with Claire Byrne show, she said it was "a good move for Sean".
The message was that there were "massive holes" in the case with a lack of translation of many documents and a lack of clarity against whom specific charges were being made.
"He will now be able to move forward," she said.
Lawyers for Mr Binder and the other defendants are continuing to argue that the other charges should also be dropped. "This was Step One today," she explained.
Ms O'Sullivan said there was a sense of relief, and it now looked like Mr Binder would be able "to walk away".
The charges had been political and were intended to instil a climate of fear among those helping refugees, she said, adding the whole case was misguided and highly contentious.