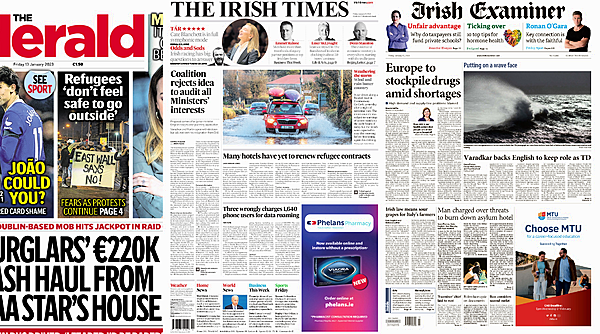 By PA Reporter
The fallout from Damien English's resignation as a junior minister, a new report on the housing market and anti-asylum seeker protests are some of the stories carried on Friday's front pages.
The Irish Times reports that the Government have rejected suggestions fresh assurances should be sought from Ministers that all of their property interests and declarations are in order.
The Irish Examiner reports that the European Commission is planning to stockpile drugs, with over 200 medicines unavailable to Irish patients, amid warnings from the HSE that flu numbers will continue to rise. The paper also reports that Leo Varadkar has backed Damien English to retain his role as a TD.
The Irish Independent also reports on Damien English's resignation: he won't face any further sanctions, according to the paper's lead story. The paper is also reporting on the new survey from the Society of Chartered Surveyors.
Good morning, here is the front page of today's Irish Independent pic.twitter.com/zdhpaHRbSm

— Independent.ie (@Independent_ie) January 13, 2023
The Herald leads with a story about a major burglary in Enniscorthy, Co Wexford, and anti-refugee protests in Dublin on Thursday.
The Echo reports on the latest figures on HAP availability in Cork.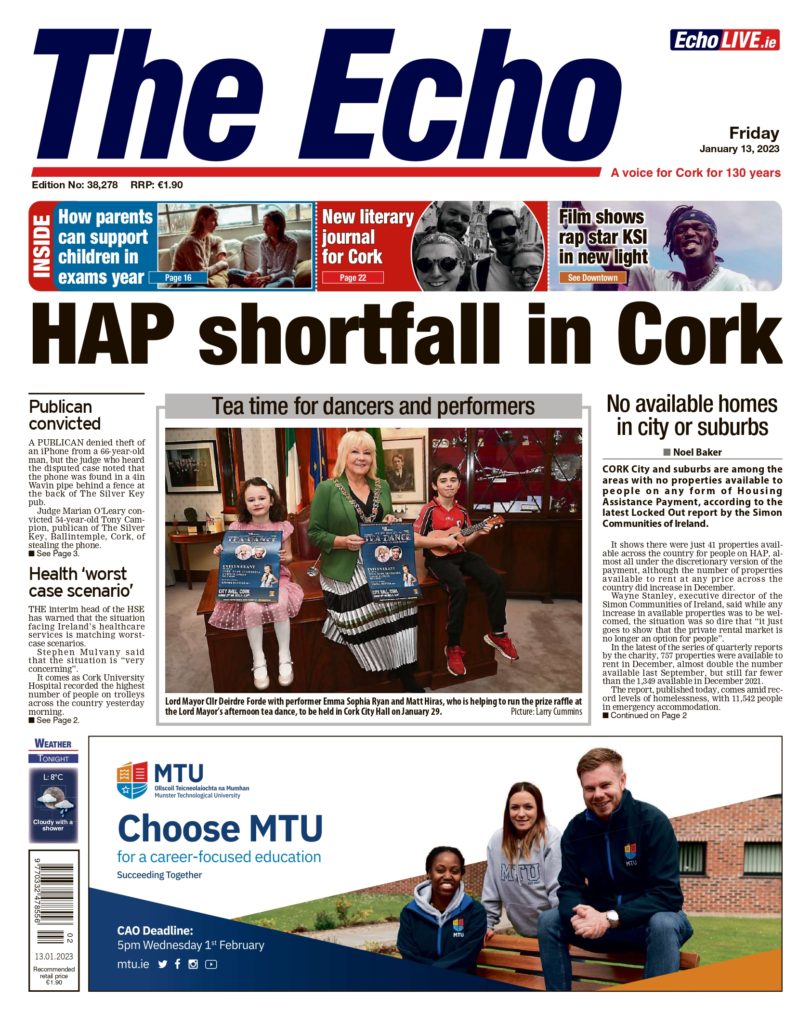 In the UK, the NHS, statins and partygate are among the topics across the front pages.
The Guardian leads on an exclusive report that Health Secretary Steve Barclay has conceded to an increased pay offer for NHS workers, while The Independent splashes a "special investigation" into sky-rocketing A&E waiting times.
Guardian front page, Friday 13 January 2023. Barclay privately admits he must increase pay offer to NHS workers pic.twitter.com/eUR03nAByx

— The Guardian (@guardian) January 12, 2023
INDEPENDENT SPECIAL INVESTIGATION: 'Mayhem' in A&E #TomorrowsPapersToday pic.twitter.com/7EpYBeWu4R

— Neil Henderson (@hendopolis) January 12, 2023
A move to offer "life-saving statins" to millions more Britons is front page of the Daily Express, The Times and the Daily Mail.
Friday's Front Page: Life-saving statins for 25m Brits https://t.co/66M5TEZ0vE#TomorrowsPapersToday pic.twitter.com/aonPfJmydr

— Daily Express (@Daily_Express) January 12, 2023
TIMES: Millions more offered chance to take statins #TomorrowsPapersToday pic.twitter.com/TZiErSjzKY

— Neil Henderson (@hendopolis) January 12, 2023
MAIL: Hand out Statins on demand, doctors are told #TomorrowsPapersToday pic.twitter.com/kre0tdquIP

— Neil Henderson (@hendopolis) January 12, 2023
Witness quotes on the front page of Metro allege two couples working for Downing Street had sex at a lockdown party.
Tomorrow's Paper Today 📰

SEX AT NO.10 COVID PARTY

🔴 Downing St rocked by more lockdown claims#tomorrowspaperstoday pic.twitter.com/B8prlqTugh

— Metro (@MetroUK) January 12, 2023
A Government review of net zero policy on the front page of The Daily Telegraph recommends new gas boilers should be banned within a decade.
TELEGRAPH: Net zero plan to ban gas boilers in a decade #TomorrowsPapersToday pic.twitter.com/BVKPwCDNV3

— Neil Henderson (@hendopolis) January 12, 2023
Up to a dozen firefighters who fought the Grenfell Tower blaze have been diagnosed with cancer, according to the Daily Mirror.
Friday's front page: Grenfell agony#TomorrowsPapersTodayhttps://t.co/2SFh2aLe2O pic.twitter.com/i33FfqyNL3

— The Mirror (@DailyMirror) January 12, 2023
The i reports 34 homeless children have died in England in the past three years.
Friday's front page: 34 homeless children die in England in three years

From @Victoria_Spratt: https://t.co/2wupJCua3r#TomorrowsPapersToday pic.twitter.com/xnYjxMdCR0

— i newspaper (@theipaper) January 12, 2023
The Sun reports the Princess of Wales said "talking therapies don't work for everyone" while at an engagement in Liverpool yesterday.
On tomorrow's front page: Kate shares thoughts on 'talking therapy' during hospital visit with Williamhttps://t.co/2JSz5vdCzm pic.twitter.com/DERv3ObreD

— The Sun (@TheSun) January 12, 2023
US President Joe Biden is facing an investigation into sensitive files from the Obama administration that were found in his garage and a former office, according to the Financial Times.
Just published: front page of the Financial Times, UK edition, Friday 13 January https://t.co/PjyDhgDUAw pic.twitter.com/PYPnh6Bnhr

— Financial Times (@FinancialTimes) January 12, 2023
And the Daily Star says a university study has confirmed that men who drive fast cars often have "inadequate genitalia".
Friday's front page – 'Totally Official'https://t.co/HwgngxzVTM pic.twitter.com/ECU5VG2yqv

— Daily Star (@dailystar) January 12, 2023