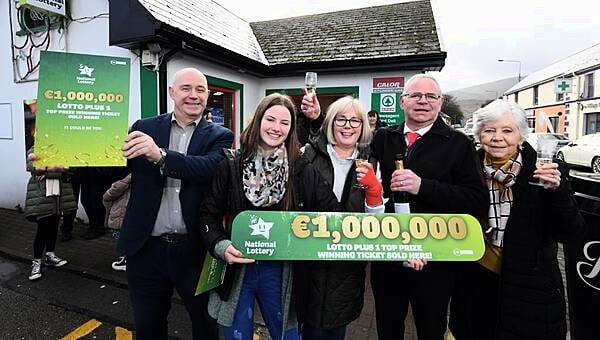 James Cox
The National Lottery has appealed to Lotto players in the village of Castlegregory on the Dingle Peninsula in Co Kerry to check their tickets following Wednesday's (January 11th) Lotto Plus 1 win of €1 million.
Celebrations are already underway at Lynch's Country Store on Strand Street in the centre of Castlegregory village which sold the winning Quick Pick ticket for the Lotto Plus 1 top prize win.
Store owner Micheál Lynch was "ecstatic" to receive the call from the National Lottery following Wednesday's draw. "Anytime that you see the National Lottery number popping up on your phone, you know it's going to be good news," laughed the Kerry retailer.
"Our customers have had a recent run of good fortune with Lottery prizes in the store, but this million euro win puts the icing on the cake. Just before Christmas, our own staff syndicate won a €50,000 EuroMillions prize, so we know what the winning feeling is like."
"We're hopeful that the winner is a regular customer as the village itself is very quiet this time of year with very little tourists or passing trade. The whole town will be out celebrating today and whoever the winner is, we wish them every bit of luck with this life-changing prize," he added.
A spokesperson for the National Lottery has also urged players in Kerry to check their Lotto tickets to see if they have become Ireland's third lottery millionaire of 2023.
"It's been a flying start to the New Year with three brand new lottery millionaires made already. We are still waiting for the winner of Wednesday's €1 million Lotto Plus 1 top prize to come forward so we are encouraging all of our players to check their tickets carefully. If you are the lucky winner, make sure to sign the back of the ticket and contact our Prize Claims Team on 1800 666 222 or email [email protected] and arrangements will be made for them to claim their prize."
The winning numbers in Wednesday's Lotto Plus 1 draw were: 8, 11, 26, 27, 38, 45 and the bonus was 43.