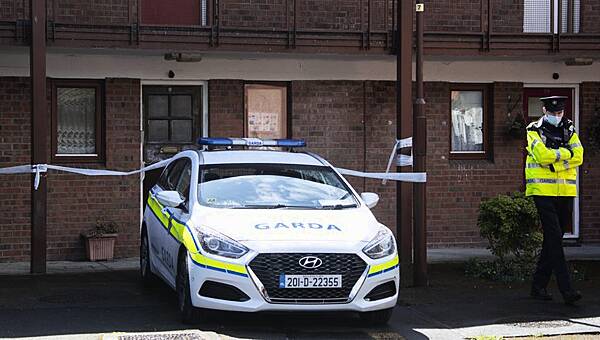 Fiona Magennis
A witness has told a murder trial jury of the moment he found a vulnerable pensioner, who had been hacked to death with an axe, "covered in blood" in the victim's own sitting room.
James Ellis told the Central Criminal Court on Friday that he found the body of Kwok Ping Cheng (76) in his sheltered accommodation on the morning of April 29th, 2021 at around 10am.
He told prosecution counsel, Anne-Marie Lawlor SC, that he would call to the pensioner's home about three or four times a week to check on him because he was a vulnerable person.
"I knocked and the door opened. I pushed through and I shouted: 'Kwok Kwok, it's Jimmy'," the witness said.
Mr Ellis said there was no answer and he thought the pensioner might be sleeping.
However, as he entered the apartment, he saw Mr Cheng in the sitting room "covered in blood". He said he called out to him again but "I knew he was dead".
"As I backed out, I could see the place was ransacked. I said a quick prayer and called the emergency services," he added.
State Pathologist Dr Heidi Okkers also gave evidence in the trial on Friday afternoon, stating Mr Cheng suffered multiple broken bones and wounds that exposed his skull and underlying bones.
She said the most severe injuries were the scalp lacerations which were most likely caused by an axe that had been shown to her at the scene.
Under the influence
Oliver Doran, with an address at Sophia Housing, Cork Street, Dublin 8, has pleaded not guilty to the murder of Mr Cheng at Robinson's Court, Cork Street, Dublin 8, between April 28th and 29th, 2021.
The jury has heard that the 24-year-old told gardaí he killed the pensioner in his own home with an axe but said he could not remember much of what had happened because he was under the influence of an intoxicant.
Mr Cheng was originally from China but had lived in a flat in Robinson's Court for several years.
Opening the trial for the prosecution on Friday morning, Ms Lawlor told the jury of nine women and three men that they will view CCTV footage of what the prosecution says are the relevant movements of Mr Doran in the hours leading up to Mr Cheng's death.
She said the prosecution will say that on April 28th, Mr Cheng went back to his home shortly after 7pm and no one apart from Mr Doran goes into his home until the following morning.
Counsel said CCTV footage will show that at about 9.50pm a person who counsel contend is Mr Doran is seen entering the property through a rear window. She said footage will then show him leaving the home about an hour and a half later before returning at 1.03am and staying for 11 minutes.
Ms Lawlor said the victim, who was known to friends as Chinese George, lived in sheltered accommodation at Robinson's Court. Mr Doran lived about 100 yards away at Sophia House on Cork Street.
The case against Mr Doran, counsel said, is that he murdered Mr Cheng, killing him with an axe and leaving him to bleed on the floor of his home causing his death sometime between April 28th and 29th, 2021.
Ms Lawlor said Mr Doran was interviewed by gardaí following the pensioner's death and the jury will hear evidence that the accused told investigating officers he killed Mr Cheng with the axe he had brought from his own home.
"He indicates that he doesn't remember a lot of what occurred because he had taken an intoxicant," she added.
Intent
Ms Lawlor said the jury will also hear that Mr Doran accepts he caused the death of Mr Cheng with an axe he took from his own home, that he fled the next day and that he initially went to Northern Ireland and then to England.
The court will also hear that the accused disposed of certain items including clothing, a hammer, a hat and a jacket.
Ms Lawlor said the court will also hear evidence of DNA found on the axe matching both the deceased and the accused.
Counsel told the jury that murder involves two elements, causing the death of a person and intending to do that or intending to cause them harm.
"That's very much in broad brush strokes," she said, adding the prosecution's job is to prove that Mr Doran killed Mr Cheng, that he intended to do it or that he intended to cause him serious harm.
"This is a case where you'll be called upon to decide if a case of murder is laid out. You have to assess whether the person accused caused the death, whether he intended to cause death or to cause serious injury," she said.
"This isn't a case where someone was struck by a plastic bottle – the inevitable outcome of striking someone multiple times with an axe is to cause death or serious injury."
Ms Lawlor said the jury must also determine that if a person is voluntarily intoxicated what baring, if any, it has on whether the prosecution has established intent.
She said one of the things the jury will be directed on is inference.
Pathologist evidence
Dr Okkers told the jury that Mr Cheng's cause of death was hypovolemic shock due as a result of blood loss due to multiple injuries.
The pathologist said Mr Chengs suffered numerous injuries including scalp lacerations and blunt and sharp force trauma to the limbs, with no other contributing factors.
Outlining her findings from the postmortem, Dr Okker's told Ms Lawlor that Mr Cheng had multiple traumatic injuries including chop wounds, incise wounds, lacerations, bruises and abrasions.
The pensioner also had multiple chop injuries, abrasions and bruises on his forearms and hands in keeping with defence injuries.
Dr Okkers said a chop wound is usually inflicted by a heavier weapon like an axe or a machete.
In addition, there was a fracture of the jaw and the left tibia caused by blunt force trauma, most likely the blunt end of the axe or by kicking or punching, she told the court.
Dr Okkers agreed with Ms Lawlor that while Mr Cheng displayed signs of liver cirrhosis and coronary artery disease, these were not the cause of his death.
She said his left forearm and his left lower limb between the knee and the ankle were broken, there was a chop wound above the right ear exposing the bone, and at the left angle of the mouth exposing the underlying teeth and jaw.
A v-shaped full thickness laceration measuring 4cm was found on his forehead. She said a full thickness laceration is one which goes straight through the skin, exposing the skull in this case.
A number of other lacerations and bruises were identified on Mr Cheng's face and further lacerations and abrasions were identified on the back of his head, Dr Okker's said.
A haemorrhage and underlying bruising associated with scalp lacerations were found during an internal examination, she added, as well as deep tissue haemorrhage in his back.
Dr Okkers said her conclusion was that Mr Cheng had multiple traumatic injuries including chop wounds, incise wounds, lacerations, bruises and abrasions.
She said his cause of death was as a result of hypovolemic shock due to multiple traumatic injuries including scalp lacerations and sharp force injuries.
The trial continues on Monday before Mr Justice David Keane and the jury.