The Government planning to go ahead with consultant contracts without an agreement from doctors and murder investigations in Dublin are among the topics on Saturday's front pages.
Government will give the green light to proposed consultant contracts without approval from doctors, according to The Irish Times.
Damien English is facing further questions about his properties, after resigning as Minister for State, the Irish Examiner reports.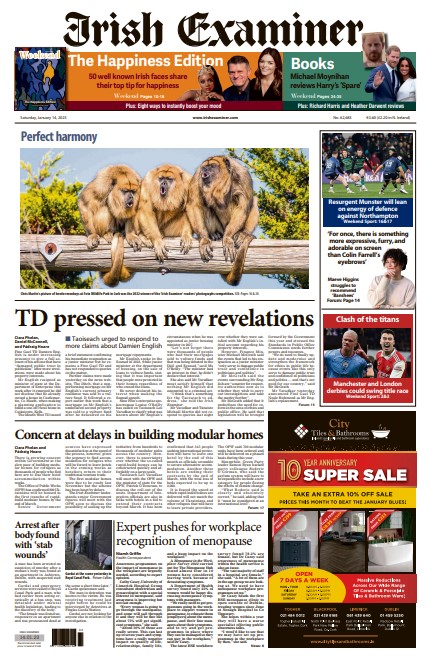 The Irish Independent, Irish Daily Star and The Herald lead with stories on murder investigations in Dublin.
Our bumper weekend edition includes two great @IrishStarSport pullouts, @starchicmag and Healthy You 2023 mag pic.twitter.com/xdFJ7PgKjP

— Irish Daily Star (@IsFearrAnStar) January 14, 2023
The Irish Sun leads with a story on musician John Lydon's wife being rushed to hospital.
Today's front page of The Irish Sun pic.twitter.com/8wdJWpxly3

— The Irish Sun (@IrishSunOnline) January 14, 2023
In the North, the Belfast Telegraph leads with an interview with broadcaster Stephen Nolan.
The UK's Saturday papers are led by a celebrity's passing and the discovery of a breakthrough treatment for dementia.
The Guardian and Daily Express report researchers have found hormone replacement therapy (HRT) may help prevent Alzheimer's disease in women at risk of developing the condition.
Guardian: HRT may cut risk of dementia in women #TomorrowsPapersToday pic.twitter.com/dhoNMWDkFt

— George Mann 🫧⚒️🫧 (@sgfmann) January 13, 2023
Tomorrow's front page: HRT drugs may help fight to halt Dementia #TomorrowsPapersToday https://t.co/7V4EeRO1hw pic.twitter.com/fLlKfd6Ben

— Daily Express (@Daily_Express) January 13, 2023
Meanwhile, the Daily Mirror and Daily Star Saturday both lead with the death of Lisa Marie Presley, with the former claiming the only child of Elvis "died of a broken heart" and was still grieving the loss of her son after he died in 2020.
Saturday's front page: Lisa Marie 'died of broken heart'.#TomorrowsPapersToday https://t.co/n0vmyC9xZ2? pic.twitter.com/uOhJcUDsC9

— The Mirror (@DailyMirror) January 13, 2023
Saturday's front page: The curse of Elvis#TomorrowsPapersTodayhttps://t.co/hW70jbS2Gx pic.twitter.com/ggsXuKlHAv

— Daily Star (@dailystar) January 13, 2023
The Times leads with a warning from the head of the NHS that the system is "over-reliant" on foreign staff.
Times: We need to train more doctors, says NHS chief #TomorrowsPapersToday pic.twitter.com/tGLPwdF6sR

— George Mann 🫧⚒️🫧 (@sgfmann) January 13, 2023
The iweekend carries an interview with UK shadow health secretary Wes Streeting, who says reforming the health service could take a decade.
iWeekend front page: Labour: NHS too often run for doctors, not patients#TomorrowsPapersToday

Latest by @HugoGye: https://t.co/J0SxVyUySr pic.twitter.com/ZZ3SsY0Rhh

— i newspaper (@theipaper) January 13, 2023
Elsewhere, the Duke of Sussex has told The Daily Telegraph he has enough material to write a second memoir, having edited out revelations about his father and brother from his book Spare because "they wouldn't forgive me".
🗞️ The front page of Saturday's Daily Telegraph:

'There's enough for another book – I cut memoir in half to spare my family'#TomorrowsPapersToday

Sign up for the Front Page newsletterhttps://t.co/x8AV4Oomry pic.twitter.com/PWpg3DiEnl

— The Telegraph (@Telegraph) January 14, 2023
A dog walker was mauled to death by a pack of seven dogs she was paid to walk, according to the Daily Mail.
Saturday's @DailyMailUK #MailFrontPages pic.twitter.com/NAhJ1JZZID

— Daily Mail U.K. (@DailyMailUK) January 13, 2023
The Independent says senior military figures have criticised plans for Boris Johnson to visit Ukraine.
Tomorrow's @independent front page #tomorrowspaperstoday To subscribe to the Daily Edition https://t.co/XF8VnDpHYF pic.twitter.com/LtLdFAHmpV

— The Independent (@Independent) January 14, 2023
The Sun reports Noel Gallagher and his wife Sara McDonald are divorcing after 22 years together.
On tomorrow's front page: Noel Gallagher divorcing wife Sara after 22 years together – and split could spark Oasis reunion with brother Liamhttps://t.co/6m8mtMGR1o pic.twitter.com/x7ut6DaIgr

— The Sun (@TheSun) January 13, 2023
And the FT Weekend leads with the economy growing by 0.1 per cent in November.
FT weekend: Signs of growth lighten gloom and make rate rise more likely #TomorrowsPapersToday pic.twitter.com/lhNZlyF2Pd

— George Mann 🫧⚒️🫧 (@sgfmann) January 13, 2023