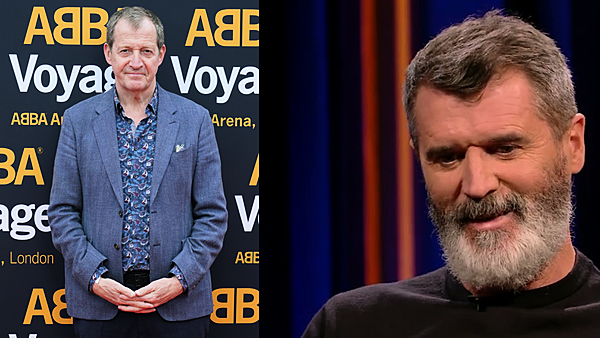 James Cox
Alastair Campbell has revealed he was once approached to ghostwrite Roy Keane's autobiography.
Mr Campbell, who was a close adviser to former British prime minister Tony Blair, was speaking on his podcast The Rest Is Politics.
The author co-hosts the popular podcast with former Conservative politician Rory Stewart, who is now president of the charity Give Directly.
The pair were discussing Prince Harry's memoir Spare, when the topic of ghostwriting came up.
Mr Stewart said listeners had asked if either of the hosts had acted as a ghostwriter before.
Mr Campbell replied: "I haven't, I came very close once with Dave Brailsford [British cycling coach]… and I was also once approached by Roy Keane's agent.
"For various reasons neither of them happened. I don't think I'd be a very good ghostwriter. You've hit the nail on the head on why it becomes very difficult to be a ghostwriter."
Keane wrote his first autobiography with journalist Eamon Dunphy while his second book, which was published after his playing retirement, was ghostwritten by author Roddy Doyle.
Dunphy and Keane fell out after controversy generated by Keane's first autobiography, over his description of intentionally injuring then-Manchester City midfielder Alf Inge Haaland.
In an interview on the Tommy Tiernan Show last week, Keane described working with Dunphy and Doyle. In hindsight, Keane said writing an autobiography when he was still playing was a mistake.
"The mistake I made with the first book with Eamon was I was still playing… that's not a good idea. I was still playing. I was talking before about distractions when you're a footballer.
"I had to meet Eamon every couple of weeks, he'd come over to Manchester… and you're obviously getting things off your chest, maybe.
"I was still playing, so you're obviously going to get in trouble with the FA, I was charged, and when you're playing top level sport you don't need the extra stress in your life. I brought that on myself really.
"With Roddy it was a lot different. I was retired, I had a lot more time on my hands, it was more relaxing.
"Roddy's a really good guy, I like spending time with him. The difference with Eamon, as I said, was I was a player. I said a few things in the first book. I spoke about players that might have irritated me when I was playing, when you go along those lines that you're looking to get back at players, then the FA are going to be all over it.
"I was charged by the FA, a big fine and that was hassle I didn't need."
Keane confirmed he was talking about the Haaland incident specifically when Tiernan asked.
However, Keane downplayed it, pointing out that the Norwegian played for his country a few days later. Haaland, the father of Manchester City star Erling, has claimed the tackle contributed to his premature retirement.
"It seemed a bit more dramatic than what it was really.
"He wasn't… I don't think he was injured. That was the story, but he played three days later… but why let the truth get in the way of a good story? He played three or four days later, and he was fine."