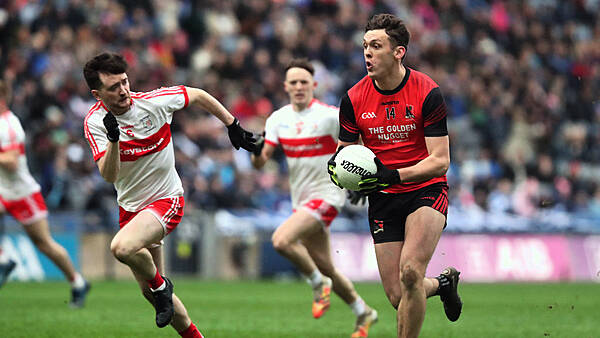 Kenneth Fox
With 11 points, David Clifford delivered once more in an All-Ireland final, but Fossa were made to work for this junior success in an ill-tempered final.
A doughty Stewartstown Harps, who held the lead at the interval, remained in touch until stoppage time when they lost their discipline and eventually ended with just 11 players. Substitute Anton Coyle was dismissed for an elbow on Paudie Clifford as was Gareth Devlin for a second yellow card soon after.
Both Clifford brothers were also sent to the line in ugly stoppage time scenes that also saw Kyran Robinson red carded. Darren Devlin had been sent off earlier in the second half.
As the Irish Examiner reports, Fossa had scored the first four points of the second half when Harps lost Devlin for an off the ball incident with Emmett O'Shea after the Fossa inside forward had just sent over a mark to put his side ahead.
It was a lead they didn't surrender but on a couple of occasions Stewartstown came within a point of them and it was only in the closing stages when David Clifford sent over a brace that they could breathe easy.
The Stewartstown triumvirate of Macauley Quinn, Dan Lowe and veteran Gareth Devlin were causing Fossa plenty of headaches in the opening half. Quinn's running from deep and the ability of Lowe and Devlin to make the ball stick in the full-forward line were key to their advantage at the break, 1-7 to 0-7.
David Clifford announced himself to the game with a couple of sweet points in the opening 10 minutes but his opposite number 14 Devlin was causing as much bother at the other end.
Three scores in a row, two of them from Devlin, pushed Stewartstown four points to two up after the 13th minute. Fossa hit back with a brace in quick succession, the second of them a Harry Buckley effort after they had pressed up hard on Harps' kick-out following a converted David Clifford free.
They were level at five points apiece in the 24th minute when a Dylan McElhatton shot dropped into the square and Shane O'Sullivan and Fintan Coffey's failure to clear the danger allowed Devlin to get his hand to the ball and find the net.
Paudie Clifford wasn't having as much on the game as he did in last weekend's semi-final, but Fossa were able to score two of the final three points in the half to bring them within a score of their Tyrone opponents.