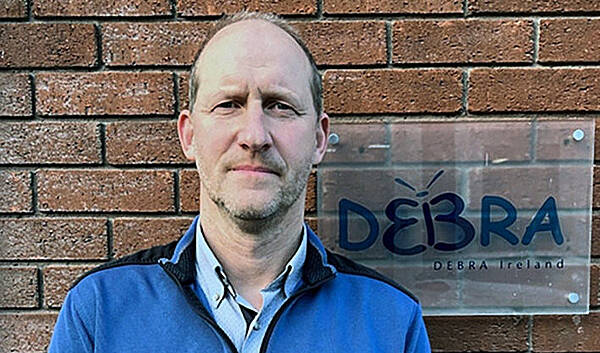 By Gráinne Ní Aodha, PA
A charity has welcomed positive reports of a gel therapy that helps treat an incurable skin disease, and is hoping that the Irish Government will make it available if it is approved for use.
Epidermolysis bullosa (EB), or "butterfly skin", is a rare skin condition that makes sufferers prone to blistering.
The wounds need to be dressed with bandages every 24 or 48 hours to prevent them from becoming infected. In extreme cases, bandages would need to be changed every three or four hours.
The genetic condition can be extremely painful; the slightest touch can cause blisters.
Last autumn, however, US researchers announced that a newly developed gene therapy gel can help heal the blisters much faster than without the treatment.
More than two-thirds (67 per cent) of patients who took part in clinical trials using Beremagene geperpavec, or B-VEC, reported that their wounds healed completely after six months – down from decades in some cases.
Debra Ireland, a charity that supports 300 people with EB and their families, welcomed the breakthrough.
"This is a fantastic breakthrough and fantastic news for everyone in Ireland diagnosed with the condition, and their families," chief executive Jimmy Fearon said.
"The whole process around changing of bandages for people with EB is massively distressing for patients and carers, therefore any treatment which helps to alleviate the awful pain that sufferers endure is welcome."
EB causes a mutation so that sufferers are unable to produce the collagen VII protein, which binds the middle and outer layers of the skin together.
Blisters and wounds are caused by the layers "sliding" across each other, and sufferers, who are vulnerable to infections and skin cancer, often die in early adulthood.
The new gel applies a copy of the collagen VII gene to strengthen the skin and prevents blisters forming on the surface.
Participants in the B-VEC trial reported that the treatment is a life-changer and large wounds they have had for years either disappeared or improved beyond recognition.
The research team at Stanford University in California hopes to have approval for the new drug from the Food and Drug Administration (FDA) in the US by May.
"I hope that when the drug receives approval for use in this country, the Government does everything in its power to make sure it is made accessible to everyone in Ireland who needs it," said Mr Fearon.
The Department of Health emphasised in a statement that the gel therapy is yet to receive authorisation.
It said: "The reported gene therapy gel, (Beremagene geperpavec or B-VEC), received orphan designation status from the European Medicines Agency (EMA) on April 16th, 2018.
"Designated orphan medicinal products are products that are still under investigation and are considered for orphan designation on the basis of potential activity.
"An orphan designation is not a marketing authorisation.
"The product is not a licensed medicinal product and as such cannot be marketed or supplied as such in Europe.
"If/when it is approved in the European market, all appropriate procedures for the approval of new medicinal products will apply."