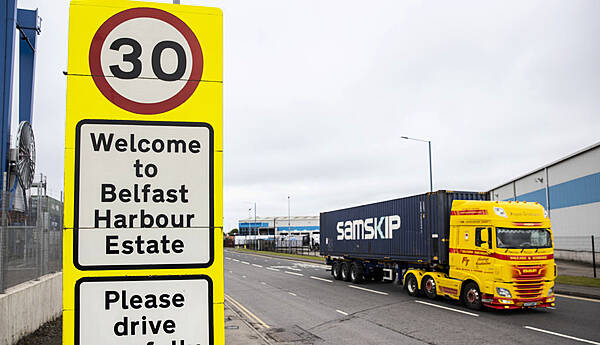 By Sam Blewett and Dominic McGrath, PA Political Staff
Britain and the European Union agreed to continue "scoping work" to solve the dispute over the post-Brexit Northern Ireland Protocol, as gaps in their positions remained despite talks.
European Commission vice-president Maros Sefcovic and British foreign secretary James Cleverly said they would continue to search for "potential solutions" in a "constructive and collaborative spirit".
There had been speculation ahead of their virtual meeting on Monday that the two sides were edging towards a breakthrough, but Downing Street said there are "still gaps".
DUP leader Jeffrey Donaldson said he believes Brussels and London are not close to striking a deal, describing the difference in viewpoint as "significant".
Thank you @MarosSefcovic for further talks with @chhcalling and I on the Northern Ireland Protocol.

Scoping talks will continue, so we can find a solution that works for the people of Northern Ireland and protects the Belfast (Good Friday) Agreement.https://t.co/MFWbQJFG3P

— James Cleverly🇬🇧 (@JamesCleverly) January 16, 2023
Following the talks, which Northern Ireland Secretary Chris Heaton-Harris joined, Mr Cleverly and Mr Sefcovic released a joint statement saying they had discussed a "range of existing challenges".
"They agreed that this scoping work for potential solutions should continue in a constructive and collaborative spirit, taking careful account of each other's legitimate interests," they said.
Officials could not confirm another meeting had been scheduled, but expected one soon. They did not say whether talks would enter a more intensive phase.
An announcement last week that a deal had been reached on sharing real-time data on goods travelling from Britain to Northern Ireland was seen as a step towards an overall resolution.
The focus on the controversial Northern Ireland Protocol Bill, which could break international law by overriding parts of the treaty signed by former prime minister Boris Johnson, has grown quieter since Rishi Sunak became British prime minister.
But on Monday Mr Donaldson said: "It was clear from our conversations with James Cleverly last Wednesday when he visited Belfast that there are still substantial gaps between the two sides.
"There is still a lot of ground to be covered. I don't think we are close to a deal at this stage.
"Our position remains unchanged. We need to get an agreement that restores Northern Ireland's place within the United Kingdom and its internal market."
Before news came that Monday's meeting had broken up, Mr Sunak's official spokesman said that "there are still gaps in our position that need to be resolved in order to address the full range of problems created by the protocol".
The protocol was agreed to by Mr Johnson as British prime minister in 2019 as a way of breaking the Brexit deadlock.
In order to avoid a hard border in Ireland, it moved customs and food safety checks and processes to the Irish Sea, creating economic and administrative barriers on the movement of goods between Great Britain and Northern Ireland.
The protocol is vehemently opposed by many unionists and the DUP is blocking the functioning of a devolved government in Stormont in protest at the arrangements.