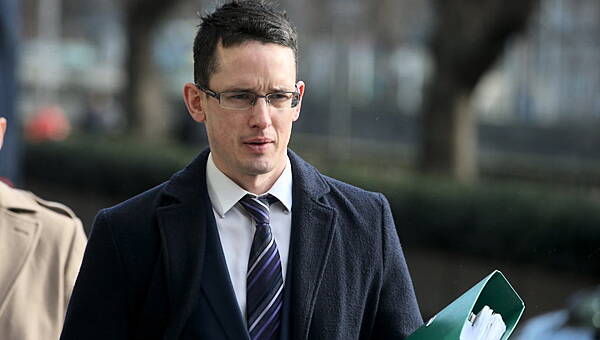 High Court reporters
The High Court will rule next week on an application to sequester the assets of teacher Enoch Burke over his ongoing refusal to comply with a High Court order not to attend at the secondary school where he is employed.
Wilson's Hospital school has asked Mr Justice Brian O'Moore to consider either sequestering or removing Mr Burke's assets, or fining him over his refusal to comply with an order made last September.
Mr Burke opposes the application, claims he has done nothing wrong, and says the granting of such a "preposterous" and manifestly flawed order against would breach his constitutional rights.
Mr Burke's refusal to comply with the order resulted in him being jailed for contempt for 108 days last year.
Release
He was released from Mountjoy Prison last December, without purging his contempt.
He was warned by Mr Justice O'Moore that his liberty depended on his compliance with the order to stay away from the school.
When the matter came before the court on Tuesday the school represented by Rosemary Mallon Bl, said it does not want Mr Burke sent back to prison at this time, because it wishes to progress disciplinary proceedings against him for alleged misconduct.
That process was put on hold following Mr Burke's committal to Mountjoy Prison, but is due to re-commence later this month.
Mr Burke and the school are awaiting judgment on a separate application aimed at halting the disciplinary proceedings, which is due to be handed down later on Tuesday.
Return to school
Seeking the order Ms Mallon said Mr Burke, in breach of both the school's decision to suspend him on full pay and the court order had returned to the school's campus on January 5th last following the resumption of classes after the Christmas vacation.
Mr Burke was told by senior staff at the school that he was in breach of a court order, and should not be there, counsel said. Mr Burke replied that he was "here to teach."
Counsel said that Mr Burke remained in a corridor in the school, and that the school's Principal and Deputy Principal set up a work station in the corridor to ensure that there was minimum disruption at the school.
Counsel said that the school was making the unusual step of seeking to sequester Mr Burke's assets, arising out of his "wilful refusal" to comply with the court's orders.
Alternatively, counsel argued, that the court has the jurisdiction to fine Mr Burke for his ongoing contempt.
In reply to the judge counsel said that while it did not know what assets Mr Burke has, it believes that he is paid a salary of approximately €48,000 per year form the Department of Education for teaching at the school.
Representing himself Enoch Burke opposed the school's application, adding that he should not be before the court on this matter, and rejected the claim he is wilfully disobeying an order that "should not have been made".
Transgender views
During his submissions he criticised the school's decision to instigate the disciplinary proceedings against him. He said that he had been asked by the school to call a student by a different name, and as a "they," which he said amounts to him participating in transgenderism.
He was also critical of the decisions made by judges of the High Court against him which he described as being in breach of religious rights enshrined in the Irish Constitution.
He said that the orders against him were an attempt to criminalise his religious beliefs including his opposition to transgenderism.
He said that the school had falsely applied the Equal Status Act as justification for its direction regarding the student who wished to transition.
He also said that he had made his comments about transgenderism at a service at the Church of Ireland school's chapel, where he says he spoke for two minutes held in May of last year.
His opposition to transgenderism he added had not been voiced at a meeting of an LGBT organisation, nor the Transgender Equality Network Ireland (TENI).
His alleged conduct at the service and a follow-up dinner at the school are the subject of the disciplinary proceedings against him.
During his submissions Mr Burke refused to answer questions put to him by the judge including if he had any submissions to make about the school's argument that the court is entitled to impose a fine, and about the teacher's assets.
Mr Burke described the questions as offensive and at one point asked the judge "to look at me when you are speaking to me".
Following the conclusion of submissions Mr Justice O'Moore said that the court had been given issues it has to consider and would give its ruling on the matter next week.
Mr Burke asked why it would take so long to come up with a judgement.
In reply the judge said that while he was not referring to Mr Burke per se but said that often persons who come to court without legal representation have "unrealistic views" of their cases and how long it takes to produce a decision.