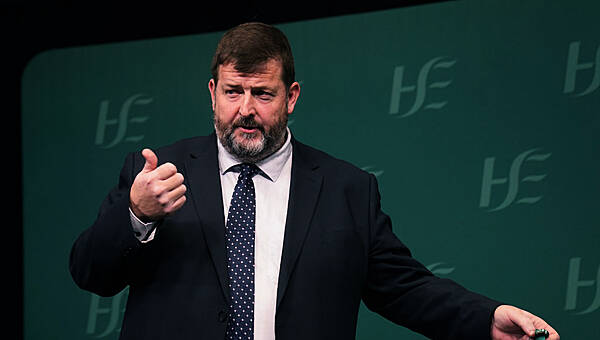 Gráinne Ní Aodha, PA
The HSE chief executive has said his preference was to encourage health workers to stay in the State rather than force them, "because that brings its own problems".
High demand for emergency care has prompted debate on how to retain staff.
A Canadian health minister is travelling to Irish cities this week as part of a recruitment drive to encourage its citizens to return – and answer questions Irish doctors may have about emigrating.
Fianna Fáil TD Cathal Crowe asked whether nurses and doctors "should be mandated" to stay after graduating from medical or nursing school, adding that he didn't want "a stick approach, I want more of a carrot approach".
The HSE's Stephen Mulvany responded: "Our preference, like yourself, is to encourage them rather than force them, because that brings its own problems.
"We know we are losing too many, we're not retaining sufficient numbers, and we're trying to work on how do you encourage staff to (stay), including by getting the staffing levels increased and by training more," Stephen Mulvany told TDs and senators.
"We don't always know who's at risk from COVID-19 and other viruses but we do know how to protect them.
Stay at home if you are unwell.#StaySafe https://t.co/exwkqHde9E pic.twitter.com/0xlq5YoBkZ

— HSE Ireland (@HSELive) January 17, 2023
The HSE's interim chief apologised to people who have been forced to wait on trolleys for hospital care this winter, while emphasising that similar pressures are in other countries due to the flu, RSV and Covid.
Mr Mulvany and other representatives of the HSE appeared before the Oireachtas Health Committee on Tuesday as the demand for emergency care surged to record highs in recent weeks.
As of Tuesday, the INMO said it counted 561 people waiting on trolleys, while the HSE recorded a 26 per cent increase in people waiting to be admitted to emergency departments compared to the same time last year.
Mr Mulvany said that flu trends were "giving indications that it's peaked", and that it would remain high for a number of other weeks before it starts to come down.
Dr Colm Henry, HSE chief clinical officer, told the committee the flu season this year "started earlier, it's been climbing for longer, and it's peaked higher than any for many years".
"Flu seasons can go on not just to February/ March, but sometimes to early April.
"So while it seems to have peaked now, and it'll take another week before we're certain that it's peaked, it will take some time before those flu figures fall down, along with Covid-19, to the levels where unscheduled-care pressures that we witnessed the past few weeks won't be nearly as severe."
Mr Mulvany said that while the pressure on GPs is bad every winter, it has been more severe this winter due to RSV and Covid.
When asked whether the HSE's response to the pressures in recent weeks was urgent enough, he said: "I wouldn't accept the response was lacklustre.
"In fairness, a number of other jurisdictions are experiencing very similar issues. We put in place a winter plan. What we are currently experiencing, as I said, is in excess of the most pessimistic modelling we had in our plan."
Mr Mulvany said he could not give a guarantee that no-one had died as a result of the recent pressures on hospital.
"I can't give you a certainty on that because I don't have certainty on that," he said, repeating previous comments on deaths as a result of the hundreds of people waiting daily for hospital admission.
"What we have certainly on is that health systems across the world, it can lead to patients suffering avoidable preventable harm, in some cases, death. And we also know that delays to admission are associated with excess mortality."
In response to Labour senator Annie Hoey's question on whether "a conservative" estimate of 50 people a week are dying as a result of admission delays, Mr Mulvany said those figures were based on a large NHS study that indicated for every 82 delays of over five to 12 hours for admission, it was associated with excess death.
"What could you say to anyone whose loved ones are caught up in it? What else could you say other than: 'It's just completely unacceptable'? But our words are going to be meaningless to anyone in that situation, in fairness," he added.
Mr Mulvany is in situ until the new HSE chief executive – Bernard Gloster, former chief executive of the child and family agency Tusla, takes up his role in the coming weeks.
Dr Henry had said the HSE had been emphasising advice for people to wear masks, but said that "people's acceptance of that advice has waned as the worst of the pandemic passed over".
"But what they've experienced in the past few weeks shows how important that public health advice is – that prevention is actually much more effective than the treatment of problems once they emerge."
Responding to questions from Green Party TD Neasa Hourigan, Mr Mulvany said he himself has "sat in Temple Street myself with young children for far too many hours, so we agree that's not acceptable".