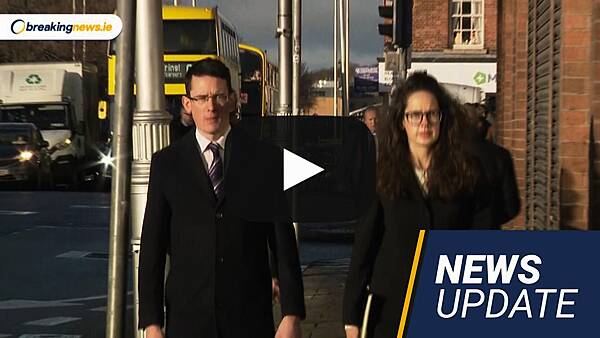 <iframe onload="if (this.src.indexOf('#!referrer=') === -1) this.src += '#!referrer='+encodeURIComponent(location.href)+'&realReferrer='+encodeURIComponent(document.referrer)" src="https://breakingnews.bbvms.com/p/default/c/5299234.html?inheritDimensions=true&placementOption=default" width="720″ height="405″ frameborder="0″ webkitallowfullscreen mozallowFullscreen oallowFullscreen msallowFullscreen allowfullscreen allow="autoplay; fullscreen"></iframe>
Enoch Burke fails in bid to halt disciplinary process
A High Court judge has refused to grant Enoch Burke an injunction halting disciplinary proceedings against him after the teacher said he will not comply with a previous court order to stay away from a Co Westmeath school.
This means the disciplinary hearing is likely to go ahead later this week.
Mr Justice Conor Dignam on Tuesday said that the teacher had raised strong grounds that would allow the court to make orders preventing Wilson's Hospital School in Co Westmeath from proceeding with a disciplinary meeting due to take place on Thursday.
Due to the teacher's ongoing refusal to comply with a court order requiring Mr Burke to stay away from the school until the proceedings have been determined, the judge said that the balance of justice was tipped in favour of refusing to grant the injunction.
Leo Varadkar hits back at Sinn Féin over Dowdall donation
Taoiseach Leo Varadkar has defended his party colleagues during a tense exchange in the Dáil chamber, rounding on Sinn Féin to explain a €1,000 donation from Jonathan Dowdall.
Mr Varadkar also questioned the legitimacy of an Oxfam poverty report, saying that billionaires in Ireland are all "fur coat and no knickers", and defended attending Davos.
Taking the first Leaders' Questions of the Dáil term since returning to the office of Taoiseach, Mr Varadkar was forced to defend public expenditure minister Paschal Donohoe, as well as Damien English, who resigned as a junior minister last week.
Mr Varadkar rebutted concerns raised by the opposition and shot back at them – querying whether the costs of paying for taxis during elections had been fully declared.
'Fully funded' scheme to pay for repairs to defective Celtic Tiger-era apartments
The Government has announced a multi-million euro scheme to repair Celtic Tiger-era apartments, after it was revealed that thousands across the State were not built to standard.
The Cabinet has agreed to draft legislation to support the remediation of apartments and duplexes with fire safety, structural safety and water ingress defects.
A working group report published in July found that up to 100,000 apartments and duplexes built between 1991 and 2013 were defective, with fire safety being the most prevalent issue.
The scheme is estimated to be worth between €1.5 billion and €2.5 billion.
Thieves ram Hugo Boss store in Dublin with car before robbery
An unknown amount of high-end clothes have been stolen from the Hugo Boss Store on Grafton Street, Dublin.
Gardaí were called to the robbery at around 4.30am this morning.
It is believed a car had been used to ram through the front of the store and then thieves proceeded to steal high-end clothes from the shop.
It is understood a lot of damage has been done to the front of the store, and it's unclear yet how much was taken.
Gardaí remain at the scene and investigations are ongoing.
A spokesperson says they are investigating "a burglary and criminal damage incident" at a retail store on Grafton Street and no arrests have been made.
TD criticises delay in sending Army Ranger Wing to Kyiv embassy
A TD has said the delay in sending Irish soldiers to protect embassy staff in Kyiv was avoidable as recommendations were made in the Commission on the Defence Forces report.
Cathal Berry, a former deputy commander of the Army Ranger Wing, told BreakingNews.ie: "It's been clear for a number of years, the Defence Forces have been screaming for this ambiguity to be cleared up… you don't need every function explicitly stated in primary legislation for the Defence Forces if they go overseas.
"All we need is four extra words added to it which is 'for close protection duties', it's as simple as that. Now we have emergency legislation which will have to be rushed through Leinster House… hopefully next week.
"Rushing legislation through is never a sound basis for good policymaking, it's not the way to do business. It's very unprofessional, it is reputational damage for Ireland."
On Tuesday, The Irish Times reported that legislation is being drafted to clarify the law and allow an Army Ranger Wing team to provide protection to Irish Embassy staff in Kyiv.
The report added that Ambassador Thérèse Healy is one of the only EU ambassadors in the country currently without a close protection team.
Mr Berry said the fact there has been no close protection team for the last five months as "unthinkable".
"It just shows how poor the security culture in Ireland is. The first though of any of the other EU embassies in Kyiv at the moment would be the safety and protection of their people. With us, it's an afterthought at best. That's an issue which permeates the entire defence apparatus in Ireland. We're complacent, indifferent, and there's institutional inertia."
In a previous interview, the independent TD said Ireland should have a permanent defence minister after the position was downgraded in 2012, and he reiterated this argument.
More jobs in Ireland than there are people looking for work, says Irish LinkedIn boss
The head of Linkedin in Ireland has said there are more jobs in the economy than there are people looking for work.
Sharon McCooey was speaking on Newstalk's Pat Kenny show about a new survey which found nearly three out of five Irish professionals are considering a new job this year.
The labour market was very tight now, she said. All through 2022 there were more employers looking for staff than there were people looking for jobs. However, remote working was an issue that was "still being worked out."
"I'd say it will be two to five years before we actually get into a real rhythm of where we really understand how flexibility, hybrid, remote will work.
"Our employees work from home, they work remotely, and they sometimes work from another country. So, we have all of those different options in play."