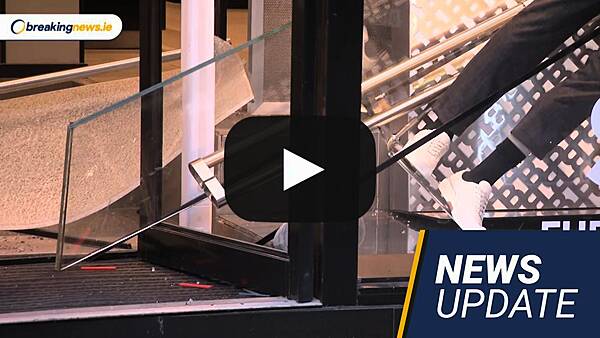 <amp-iframe sandbox="allow-scripts allow-same-origin" layout="responsive" src="https://breakingnews.bbvms.com/p/default/c/5298999.html?inheritDimensions=true&placementOption=default" width="720″ height="405″ frameborder="0″ allowfullscreen resizable referrerpolicy="unsafe-url"><div overflow tabindex="0″ role="button" aria-label="Expand player">Expand player</div></amp-iframe>
Government set to approve €2.5bn redress scheme
The Government is expected to approve of a €2.5 billion redress scheme to remedy defects in up to 100,000 apartments built during the Celtic Tiger.
Minister for Housing Darragh O'Brien is expected to bring a memo to cabinet on Wednesday, proposing a scheme which will cover the remedial costs of fire, structural safety and water-caused defects on apartment buildings and duplexes built between 1991 and 2013.
Between 62,500 and 100,000 housing units are affected by defects, it has been estimated, with the average cost of remediation standing at roughly €25,000. The potential cost to the State lies between €1.56 billion and €2.5 billion.
The Construction Defects Alliance, an advocacy group linked to more than 200 defective developments around the country, has called for retrospective payments when the scheme is introduced, given many affected home-owners have already paid for remedial work.
Paschal Donohoe to give Dáil statement
Public Expenditure Minister Paschal Donohoe is to give a short statement in the Dail on Wednesday over his failure to declare expenses for hanging election posters.
The Fine Gael TD is set to give a 10-minute statement at 5pm before taking questions from the opposition.
This follows a request from the opposition party whips for the minister to make a statement to Dail Eireann "at the earliest opportunity".
The statement marks a tumultuous beginning of the Dail term for the Government, after the resignation of a junior minister last week and as the senior Fine Gael minister comes under pressure to explain himself.
Over the weekend it emerged that Mr Donohoe had not declared a payment made by an individual to six people to hang up his election posters ahead of the 2016 general election.
TD criticises delay in sending Army Ranger Wing to Kyiv embassy
A TD has said the delay in sending Irish soldiers to protect embassy staff in Kyiv was avoidable as recommendations were made in theCommission on the Defence Forces report.
Cathal Berry, a former deputy commander of the Army Ranger Wing, told BreakingNews.ie: "It's been clear for a number of years, the Defence Forces have been screaming for this ambiguity to be cleared up… you don't need every function explicitly stated in primary legislation for the Defence Forces if they go overseas.
"All we need is four extra words added to it which is 'for close protection duties', it's as simple as that. Now we have emergency legislation which will have to be rushed through Leinster House… hopefully next week.
"Rushing legislation through is never a sound basis for good policymaking, it's not the way to do business. It's very unprofessional, it is reputational damage for Ireland."
On Tuesday, The Irish Times reported that legislation is being drafted to clarify the law and allow an Army Ranger Wing team to provide protection to Irish Embassy staff in Kyiv.
The report added that Ambassador Thérèse Healy is one of the only EU ambassadors in the country currently without a close protection team.
Mr Berry said the fact there has been no close protection team for the last five months as "unthinkable".
"It just shows how poor the security culture in Ireland is. The first though of any of the other EU embassies in Kyiv at the moment would be the safety and protection of their people. With us, it's an afterthought at best. That's an issue which permeates the entire defence apparatus in Ireland. We're complacent, indifferent, and there's institutional inertia."
In a previous interview, the independent TD said Ireland should have a permanent defence minister after the position was downgraded in 2012, and he reiterated this argument.
Thieves ram Hugo Boss store in Dublin with car before robbery
An unknown amount of high-end clothes have been stolen from the Hugo Boss Store on Grafton Street, Dublin.
Gardaí were called to the robbery at around 4.30am this morning.
It is believed a car had been used to ram through the front of the store and then thieves proceeded to steal high-end clothes from the shop.
It is understood a lot of damage has been done to the front of the store, and it's unclear yet how much was taken.
Gardaí remain at the scene and investigations are ongoing.
A spokesperson says they are investigating "a burglary and criminal damage incident" at a retail store on Grafton Street and no arrests have been made.
Abortion safe access zones must not 'identify individual providers'
Legislation to allow for safe access zones at abortion clinics must not "identify individual providers", according to the Department of Health.
Assistant secretary, Dr Muiris O'Connor, has told TDs and senators he would prefer to allow clinics to operate in a private and confidential capacity.
The introduction of safe access zone has been delayed to date due to legal concerns.
Dr O'Connor said gardaí will have the powers to prosecute.
Ukraine's interior minister among 18 killed in helicopter crash near Kyiv
A helicopter crash in a Kyiv suburb on Wednesday killed 18 people, including Ukraine's interior minister and three children, Ukrainian authorities said.
Interior Minister Denys Monastyrskyi, his deputy Yevhen Yenin, and State Secretary of the Ministry of Internal Affairs Yurii Lubkovych were among those killed, according to Ihor Klymenko, chief of Ukraine's National Police.
Mr Monastyrskyi is the most senior Ukrainian official to have died since the start of the war with Russia almost 11 months ago.
Nine of those killed were on board the emergency services helicopter that crashed in Brovary, an eastern suburb of the capital, Mr Klymenko said.
Kyiv Regional Governor Oleksii Kuleba said three children were also killed.
Earlier, officials and media reports said the helicopter crashed near a nursery school.