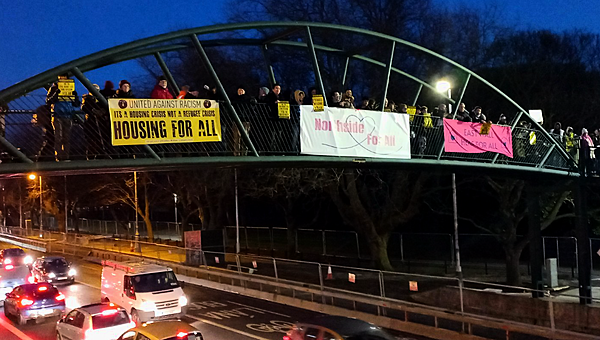 Kenneth Fox
Over 200 people took part in a demonstration in Dublin on Thursday evening, as part of a solidarity rally for refugees.
The Northside Welcomes Refugees demonstration was organised in response to recent anti-immigration demonstrations in East Wall and Ballymun.
The rally was attended by local residents, politicians and refugees.
One of the organisers, Kate Mooney, says the shortage in refugee accommodation is not the fault of people arriving here:
"We have a dire housing situation and a horrendous inability for people to rent or buy homes. People are living in hotels, it is an absolutely atrocious situation."
She said people are legitimately furious about it, but they should direct their anger at the Government and not people seeking shelter and safety.
It comes as People Before Profit TD Gino Kenny vowed to continue to stand against anti-refugee rhetoric, after far-right figures threatened to come to his family home.
The threat followed his attendance at a counter demonstration in Clondalkin.
In a statement on Tuesday, Mr Kenny said far-right figures have been "targeting me and my family. They have spread lies about me and threatened to come to my home".
Speaking to BreakingNews.ie, Mr Kenny vowed to continue to stand against anti-refugee protests and intimidation of people in Direct Provision centres.
"I think it's important that this is challenge if individuals or far-right parties post your address or a picture of your house to incite people to come up to it. That's incitement, and it completely crosses the Rubicon in relation to intimidation," he said.
Hundreds of people from across the Northside gathered together on #Fairview footbridge this evening to send a message of love & solidarity to people seeking safety on these shores. Any problems we face as a society have been caused by FF FG & their banker & developer friends. pic.twitter.com/OSCvcyMUlE

— John Lyons (@CllrJohnLyons) January 18, 2023
Fantastic turn out at the #northsideforall #RefugeesWelcome demonstration. Tonight more than 300 people wanted to tell refugees in this country that they are welcome here! 💞 pic.twitter.com/OMMNVBCpkN

— Ellen Cunningham (They/Them) 💖💜💙 (@ephemerellen) January 18, 2023