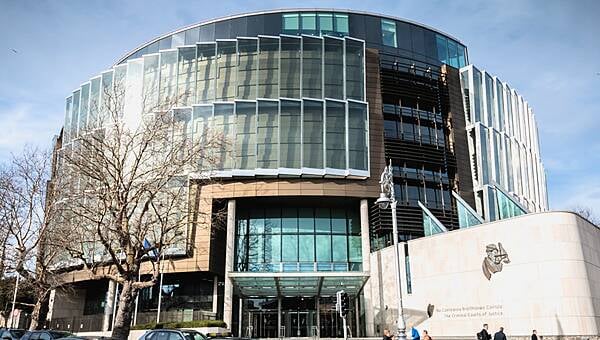 Eimear Dodd
A teenager who caused "severe injuries" to a supermarket security guard after he threw a plastic bottle at his face has been told by a judge he would be given "one chance".
Imposing sentence at Dublin Circuit Criminal Court on Wednesday, Judge Martin Nolan told Leon Wilson (19) that he should have known that "throwing a bottle at someone in close proximity is a reckless act".
Judge Nolan said Wilson's actions had caused an "innocent man to suffer severe injuries". The victim sustained a fracture to his orbital bone and nose as well as bruising to his cheekbone and eye.
This man could have lost the sight in his eye.
"The man could have lost the sight in his eye," Judge Nolan said, adding that he would give Wilson a chance, which he hoped Wilson would take advantage of.
Wilson of Tabor House, Seville Place, Dublin pleaded guilty to assault causing harm at Lidl, Moore Street on March 11th, 2020. He has no previous convictions.
Judge Nolan imposed a two-year prison sentence suspended on strict conditions, including that Wilson place himself under the supervision of the Probation Service for 12 months.
Garda Amy Bartley gave evidence that gardaí were called to the supermarket following reports that a security guard had been injured.
When gardaí arrived, they spoke to the victim who said that a group of youths had caused a disturbance in the supermarket. The injured party and a colleague were escorting the group to the door when a male pushed the victim's colleague and threw a yellow cone at him.
The injured party intervened and got into a struggle with this male, when he felt his face struck by a plastic bottle, which had been thrown by Wilson. The victim's left eye, nose and mouth were swollen, and he was taken to hospital.
Victim impact statement
In his victim impact statement, the injured party said he had suffered a financial loss of over €1,000 due to medical bills and replacement glasses. He said he suffers from ongoing double vision and image distortion, which affects his ability to carry out some of his duties in work.
Wilson was identified using CCTV footage. A search warrant for his home was executed on August 18th and gardaí seized items of clothing which matched those seen in the CCTV footage.
The accused was arrested and nothing of evidential value was obtained during interview.
Garda Bartley agreed with defence counsel that Wilson was 16 at the time of the incident and the co-accused was 17. She agreed there had been a delay in bringing the case to court, which meant the accused had lost the benefit of the Children's Act.
The investigating Garda said Wilson has not come to any recent negative Garda attention and had expressed remorse.
Defence counsel said her client wished to apologise for his actions and a letter of apology was handed into court. Her client has been in care since a young age and had a difficult upbringing. A psychological report was also handed into the court.
Her client is in a stable relationship and has one child.
Judge Nolan said Wilson's actions had serious consequences for the injured party and the incident would have caused upset and distress. He said there were "impressive" mitigating factors in Wilson's favour including a guilty plea and his lack of previous convictions.