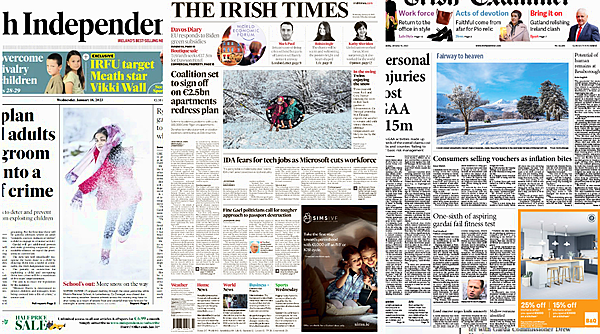 Wednesday's front pages carry stories about tech sector cuts, a redress scheme for defective apartments, and photographs of wintry scenes.
The Irish Times reports that the Government is preparing to sign off on a €2.5 billion redress scheme for defective apartments built during the Celtic Tiger. Also covered is the news that Microsoft intends to lay off 5 per cent of its workforce, potentially affecting Irish jobs.
Eamon Ryan will be assigned a pedalling protection officer at times when he is cycling around Dublin on ministerial duties, according to the Irish Independent.
Good morning, here's the front page of today's Irish Independent pic.twitter.com/QQeR8nYYn5

— Independent.ie (@Independent_ie) January 18, 2023
In the Irish Examiner, new figures show that personal injury claims have cost the GAA up to €15 million over the last five years.
A new pension scheme could potentially leave women worse off than men, an Oireachtas committee will be told on Wednesday — that's according to the Irish Daily Mail.
New pensions scheme by the Government could see women even worse off once they hit pension age. pic.twitter.com/L4fivOribF

— The Irish Daily Mail (@irishdailymail) January 18, 2023
In the Irish Sun, a viral prank played on BBC presenter Gary Lineker is the lead story.
Today's front page of The Irish Sun pic.twitter.com/tMo7GXw8RB

— The Irish Sun (@IrishSunOnline) January 18, 2023
In the UK, the mastheads focus on strikes, UFO sightings and the workplace dangers of cake.
The Guardian describes a "clamour" for an inquiry into the officers who allowed a sexual predator colleague to stay in the Metropolitan Police.
Guardian front page, Wednesday 18 January 2023: Clamour for inquiry into officers who allowed rapist to stay in Met pic.twitter.com/NBFJDBq4KJ

— The Guardian (@guardian) January 17, 2023
Health Secretary Steve Barclay writes in The Independent that patients will suffer if ministers meet the pay demands of nurses, who are on strike today.
INDEPENDENT DIGITAL: You take the money and your patients will pay the price #TomorrowsPapersToday pic.twitter.com/V8j6aVvKYS

— Neil Henderson (@hendopolis) January 17, 2023
The Daily Mirror says agency nurses are today being offered £40 an hour by "idiotic" bosses to cross the picket line.
Wednesday's front page: Idiotichttps://t.co/WOWgt2bnW1#TomorrowsPapersToday pic.twitter.com/ZkFL6TsI6d

— The Mirror (@DailyMirror) January 17, 2023
Rail, teachers and civil servant unions are all set to strike on February 1, reports Metro.
Tomorrow's Paper Today 📰

IT'S ONE OUT ALL OUT

🔴 Rail, teachers and civil servants unions set to walk out together #tomorrowspaperstoday pic.twitter.com/pcJgijOg5d

— Metro (@MetroUK) January 17, 2023
Meanwhile, i quotes Business Secretary Grant Shapps as telling the Commons he is "very concerned" about energy companies being granted the right to forcibly install devices that leave families without power.
Wednesday's front page: Stop forcing families on to prepay meters, Shapps warns#TomorrowsPapersToday

Latest by @deankirby_: https://t.co/F2NjjbqhG4 pic.twitter.com/oPuMAEgjKQ

— i newspaper (@theipaper) January 17, 2023
The Daily Telegraph says Equalities Minister Kemi Badenoch will write to all Tory MPs and insist a ban on trans conversion therapy must not criminalise parents, in what the paper calls a "highly unusual move".
The front page of tomorrow's Daily Telegraph:
' Trans law 'could turn parents into criminals' '#TomorrowsPapersToday

Sign up for the Front Page newsletterhttps://t.co/x8AV4Oomry pic.twitter.com/8mqmw7PoJz

— The Telegraph (@Telegraph) January 17, 2023
Prime Minister Rishi Sunak has pledged to finish "cutting 4,000 pieces of red tape from Brussels" to speed up the UK's economic recovery, a source tells Daily Express.
Front page – Rishi: Bonfire of EU laws will help boost growth#TomorrowsPapersToday https://t.co/6onYtLHgtG pic.twitter.com/dBj4UXj8D4

— Daily Express (@Daily_Express) January 17, 2023
Britain's top food watchdog claims bringing cake into the office should be seen as harmful to colleagues in the same way as passive smoking, according to The Times.
THE TIMES: Don't let them eat cake #TomorrowsPapersToday pic.twitter.com/7voGKQcqsN

— Neil Henderson (@hendopolis) January 17, 2023
The Financial Times reports adjustment to the war in Ukraine, China dropping Covid controls and the launch of a US green investment boom have prompted business and government leaders to express economic optimism about the future.
Just published: front page of the Financial Times, UK edition, Wednesday 18 January https://t.co/ISiPqYn2d3 pic.twitter.com/IjfS4Ji2Tk

— Financial Times (@FinancialTimes) January 17, 2023
The Sun covers "match of the wahey" where Gary Lineker was pranked during FA Cup coverage by the sound of a porn movie being played in the background as he presented.
On tomorrow's front page: BBC One's live FA Cup coverage hit by 'porn noises' as YouTube pranksters hide mobile on the set of Wolves v Liverpoolhttps://t.co/g12CSuqmbQ pic.twitter.com/Mb5PXR0dqF

— The Sun (@TheSun) January 17, 2023
And the Daily Star says a "totally sane" Republican congressman has accused US President Joe Biden of covering up UFO sightings.
Wednesday's front page: The truth is out there and there and there and there.#TomorrowsPapersToday https://t.co/KuHlOd0yDC pic.twitter.com/YOz0SPcmfS

— Daily Star (@dailystar) January 17, 2023