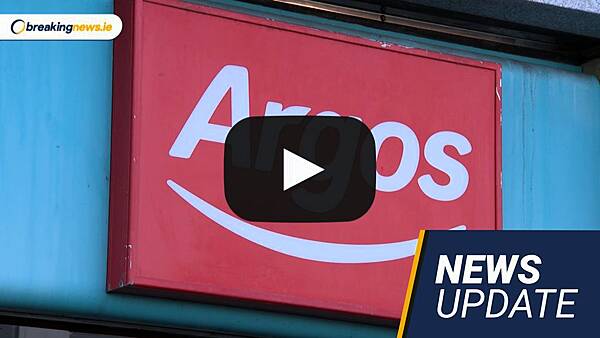 Argos closures
Argos will close all of its stores in the Republic by June, the company has confirmed.
The retail firm said it decided to end operations here following a "long period of careful consideration and a thorough review of its business and operations in the country."
Argos employs 580 people across 34 stores in the Republic. There will be no change to its operations in the North.
Stores will remain open until June 24th at the latest, and customers will no longer be able to pay for orders via the Argos website or place orders via its home delivery service after March 22nd.
Donohoe expenses
Minister for Public Expenditure Paschal Donohoe has said he intends to make a further Dáil statement regarding controversy over his 2016 election expenses.
Mr Donohoe's announcement comes after he made a statement to the Dáil on Wednesday evening when he apologised over the issue.
When the Minister appeared for scheduled questions in the Dáil on Thursday morning, Sinn Féin TD Mairead Farrell repeatedly attempted to raise matters related to the expenses controversy, insisting it could not be "business as usual" in the chamber.
The minister told TDs he would make another statement to the Dáil at the "earliest opportunity" so the information he was providing was as "accurate as possible".
Bafta nominations
Martin McDonagh's The Banshees of Inisherin has been nominated for 10 Baftas, which bodes well ahead of the Oscar nominations next Tuesday.
The film has also earned Colin Farrell his first Bafta film nomination in the leading actor category, for his role in the black comedy-drama in which he stars alongside Brendan Gleeson.
Its other nominations include outstanding British film, best director, best original screenplay and best supporting actor for Gleeson.
Arden to step down
Jacinda Ardern has announced her shock resignation as New Zealand prime minister, saying she "no longer has enough in the tank" to do the role justice.
Ms Ardern told reporters on Thursday that her last day would be no later than February 7th.
In an emotional speech at the New Zealand Labour Party's annual caucus meeting, the 42-year-old said it was "time" to step down.
"I'm leaving, because with such a privileged role comes responsibility. The responsibility to know when you are the right person to lead and also when you are not."