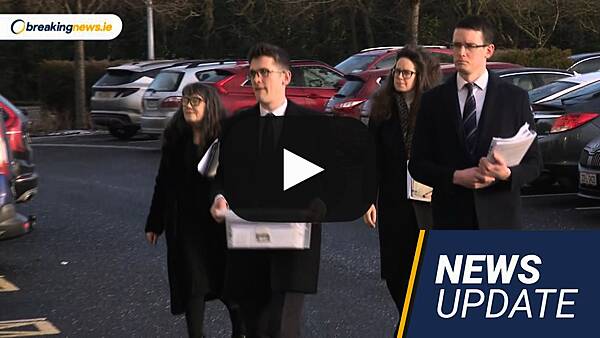 Burk
e disciplinary meeting
Enoch Burke and other members of his family disrupted the suspended schoolteacher's disciplinary meeting held in Mullingar on Wednesday.
The Burke family reportedly took issue with the fact that the chairman of Wilson's Hospital School's board of management, John Rogers, was not present at the meeting. It is believed Mr Rogers was ill and could not attend the meeting.
Local gardaí were called to the Mullingar Park Hotel on two occasions, following repeated chanting and protestations from the Burke family.
Argos closures
Argos will close all of its stores in the Republic by June, the company has confirmed.
The retail firm said it decided to end operations here following a "long period of careful consideration and a thorough review of its business and operations in the country."
Argos employs 580 people across 34 stores in the Republic. There will be no change to its operations in the North.
Stores will remain open until June 24th at the latest, and customers will no longer be able to pay for orders via the Argos website or place orders via its home delivery service after March 22nd.
Michael Scott trial
The jury in the trial of a farmer accused of murdering his aunt in a land dispute has been shown "distressing" photographs of the deceased lying on the ground with tractor tyre marks across her legs.
Garda Geraldine Doheny told prosecution counsel Conall MacCarthy BL that she took photos of the scene where the body of 76-year-old Christine 'Chrissie' Treacy had been found outside her home on a farm in Co Galway.
It is the prosecution's case that Ms Treacy was run over deliberately by her nephew, Michael Scott, following a long-running dispute over land.
Mr Scott (58), of Gortanumera, Portumna, Co Galway, has pleaded not guilty to her murder on April 27th, 2018. The jury heard on Thursday that the defence says her death was a "tragic accident".
EV charging
Minister for the Environment Eamon Ryan has unveiled a €100 million plan to install thousands of electric vehicle (EV) charging points across the State.
Charging points will be placed at 60km intervals along motorways and taxi ranks, tourist sites, hospitals, hotels and sports clubs. There are also plans for charging systems to serve apartment blocks and neighbourhoods.
The strategy stated the number of charging points could increase from some 1,700 to between 2,540 and 4,850 within three years.
The Government hopes that by 2030 nearly one-third of private cars will be electric.