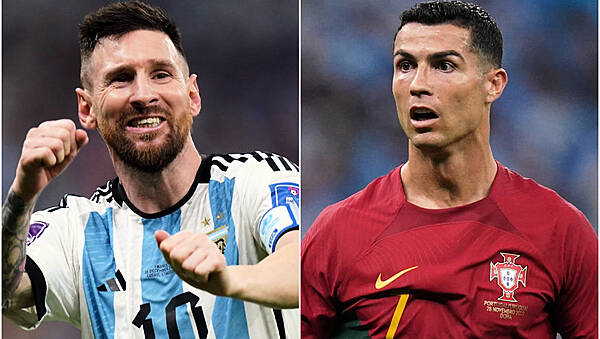 By Jamie Gardner, PA Chief Sports Reporter
An exhibition match featuring Cristiano Ronaldo and Lionel Messi in Saudi Arabia is evidence of the country's sportswashing strategy still being at "full throttle", according to human rights group Amnesty International.
Portuguese superstar Ronaldo, who recently moved to Saudi club Al Nassr, will feature in a Saudi All-Star XI taking on Messi's club Paris St Germain in a match in Riyadh on Thursday.
The match has generated a great deal of attention and it has been reported that a Saudi businessman has paid around £2million for an 'Ultimate Pass' for the match which allows him to meet the two global stars.
A great welcome for our Parisians upon arrival in 𝐑𝐢𝐲𝐚𝐝𝐡! 🙌❤️💙#PSGQatarTour2023 | @qatarairways pic.twitter.com/aMn4KKxkuk

— Paris Saint-Germain (@PSG_English) January 19, 2023
Amnesty has long criticised what it sees as Saudi Arabia's attempts to gain legitimacy through sport in a bid to turn the focus away from the country's "appalling" human rights record, and it sees this match as further evidence of that approach.
"This match is a reminder that Saudi Arabia's sportswashing efforts are still operating at full throttle," Peter Frankental, Amnesty UK's economic affairs director said.
"Ronaldo's big-money transfer to Al Nassr and Messi's engagement by the Saudi authorities as a tourism ambassador are both part of Riyadh's aggressive sportswashing programme, with the authorities seeking to exploit the celebrity appeal of elite sport to deflect attention from the country's appalling human rights record.
Thank you Riyadh for the warm welcome! Look forward to seeing you at the stadium tonight💛💙 pic.twitter.com/0AsT4wLdYq

— Cristiano Ronaldo (@Cristiano) January 3, 2023
"On a single day last year, the Saudi authorities executed 81 people – many after grossly unfair trials – while heavy prison sentences are being handed down to human rights defenders and women's rights activists, and there's still been no justice for Jamal Khashoggi's terrible murder.
"Saudi Arabia's extensive use of sport as an exercise in soft power is well-known, but with Qatari-owned PSG appearing in Riyadh we effectively have two sportswashing superpowers – Saudi Arabia and Qatar – flexing their muscles.
"Footballers like Ronaldo and Messi have huge profiles and we'd like to see them resisting being used as the famous faces of sportswashing, including by speaking out about human rights issues in both Saudi Arabia and Qatar."