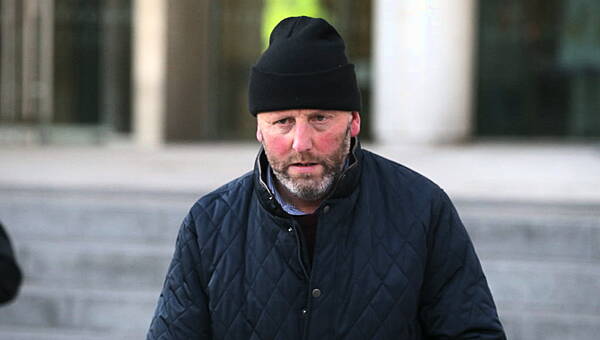 Eoin Reynolds
A farmer who is accused of murdering his aunt following a long-running dispute over land took a shotgun from his SUV and repeated, "I can't deal with this" after he ran over the 76-year-old in his agricultural teleporter, the Central Criminal Court has heard.
Francis Hardiman told prosecution counsel Dean Kelly SC on Thursday that he grabbed the gun after the accused man Michael Scott tripped over a tyre. He said the accused was hysterical, roaring and crying and saying: "I can't live with what happened to me."
It is the prosecution case that Michael Scott deliberately ran over his aunt Christine 'Chrissie' Treacy following a long-running dispute over land.
Mr Scott (58) of Gortanumera, Portumna, Co Galway has pleaded not guilty to her murder on April 27th, 2018 outside her home in Derryhiney, Portumna. The defence says that Ms Treacy's death was a tragic accident.
Mr Hardiman told Mr Kelly that he was a neighbour and cousin of Ms Treacy. He also knew the accused well all his life and had worked for him many times. They would often talk and were friendly to one another, he said.
Phone call
The day of Ms Treacy's death the witness was in Eyrecourt, about 10 to 12 miles away, when he received a phone call from Mr Scott at 3.26pm. Mr Scott told him that he was "setting back out with the teleporter" and he "hit Chrissie". The accused was clearly upset and asked Mr Hardiman to "come down to me quick".
Mr Hardiman made his way to Derryhiney and straight to Ms Treacy's house. There he saw the deceased lying face down on the concrete near her home close to the teleporter.
Mr Hardiman checked her wrist but found no pulse and said the act of contrition into her ear. Her hands were "pretty smashed up," he said and there were tyre marks on her trousers. There was blood around her legs and face but not a lot. He knew she was dead.
Mr Hardiman called gardaí and emergency services and went looking for Mr Scott. He said he found him "in a hysterical way of crying and shouting" inside a shed.
Mr Scott "just cried more" when Mr Hardiman told him that he had said a prayer over Chrissie and that she had had passed away. The witness recalled Mr Scott then "jumped up and went for his jeep and he pulled out a gun, a double barrel shotgun."
He heard Mr Scott repeating, "I can't deal with this" as he stepped backwards with the gun while Mr Hardiman shouted at him. The witness said: "He was getting near where the tyres were on the ground, and he tripped over a tyre and lost his balance. I grabbed the gun and took the cartridge out."
He said Mr Scott continued "roaring and crying" saying: "I can't live with what happened to me."
Photos
Earlier on Thursday Gda Geraldine Doheny told prosecution counsel Conall MacCarthy BL that she took photos of the scene where Ms Treacy's body had been found.
In one photograph Gda Doheny said the deceased can be seen lying on a concrete pavement with the tractor or teleporter that had been driven by the accused behind her.
The witness said tyre impressions can be seen on Ms Treacy's blue slacks.
Det Sgt David Conway told Mr MacCarthy that he also took photographs at the scene including a photo of the clothing the deceased was wearing which showed the tyre impressions on her trousers. Under cross-examination, Det Sgt Conway agreed with defence counsel Mícheál P O'Higgins SC that one of the images was a "distressing photo" of the lower half of Ms Treacy's body.
He further agreed that the windows of the tractor driven by the accused were "very dirty".
Before the first witness was called this morning, Ms Justice Caroline Biggs told the jury that the defence case is that Ms Treacy's death was a tragic accident while the prosecution says it was murder. She said that what makes a killing murder is the intention at the time and "that is what the focus of the case is".
For a killing to be murder, she said a jury must be satisfied that the accused killed the deceased and that at the time they intended to kill or cause serious injury.
Ms Justice Biggs said she wanted certain legal principles to be at the forefront of the jurors' minds throughout the trial. The accused, she said, is entitled to the presumption of innocence and that stays with him "until such time, if it arises, that you find him guilty".
She said it follows that the prosecution has the burden of proving every aspect of the case including that the accused committed the act of killing and his intention at the time.
She added: "They must prove each and every ingredient to the standard of proof beyond reasonable doubt."
The trial continues in front of Ms Justice Biggs and a jury of seven men and eight women.