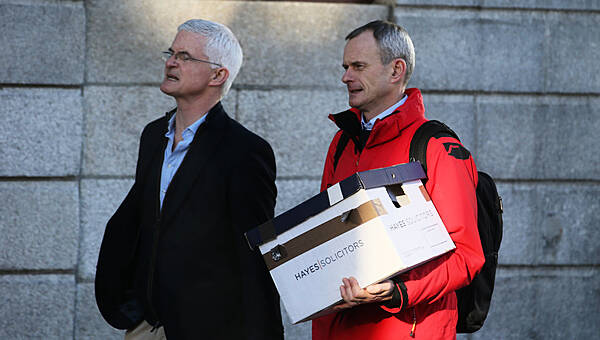 High Court reporters
A man claims he and his wife had to abandon their beautiful new home in Dublin's Ballsbridge because of noise problems allegedly caused by the omission of a gap and party wall with the neighbouring property.
Daniel Hoban and his wife did not return to their Pembroke Lane home after his wife, following the birth of their first baby, refused to go back because he claimed she was traumatised by the noise problems from next door.
The court heard that similar homes in this area can fetch up to €1.5 million, but the noise problem affected value and meant it took seven years to sell the Cassin property which sold last year for €910,000.
Mr Hoban, a medical sales rep, and his father Joseph, are suing property developer brothers Frank and Mark Cassin, who built the adjoining property. Both houses were built at the same time on the sites of a former mews and a coach house.
Second wall
The Hobans seek orders requiring the Cassins to put in a second wall and gap on their side and are also seeking damages for nuisance.
The Cassins, who built the house as an investment, deny the claims and say it was built in compliance with regulations.
They say they lost their entire €400,000 investment after a receiver took over the house in 2015 and sold it last year for €910,000.
Mr Hoban also sued his own architect, Frank Elmes of St Laurence Park, Stillorgan, for allegedly failing to properly supervise the building works. That action was settled.
The court heard both new houses were built by the same contractor following an agreement between the Cassins and Mr Hoban in 2008.
Mr Hoban and his wife moved into their home on completion while, following a short period renting it out, Mark Cassin moved into their house with his partner and young child between 2009 and 2013.
Mr Hoban claimed the Cassins decided at some time during the construction to omit an air gap and dividing wall, a claim strongly denied by the Cassins.
He claimed the Cassins attached a concrete staircase and electrical wiring and fittings to the party wall resulting in serious noise nuisance. He claimed speech from the Cassin side was audible and intelligible and did not meet minimum sound insulation requirements.
Invasive sounds
Visitors to the Hoban house were unable to carry on normal conversations without being overheard by next door, he claimed. Sleep and general amenity of the house were disturbed by the invasive sounds from the adjoining property, he claimed.
The court heard a bespoke kitchen/living area in the Cassin property, with a television on the wall, immediately abutted the wall where the Hoban master bedroom was located.
When the Cassins, now of Percy Lane, Dublin 4, moved a family with three children into their house as tenants in 2013, the problem became much worse. Following the birth of Mr Hoban's first child, in December 2013, his wife was so upset she refused to return to the house, he said.
They moved into Mr Hoban's father's house for a time before renting another property locally and now live in Wellington Road.
"We were very traumatised and my wife was very upset. We had to abandon our house," he told his counsel Eanna Mulloy SC, with Tim Dixon BL, instructed by Joanne Hoban of Hoban Boino Solicitors.
Surveyor
When he got a report from a surveyor he employed to look at the problem, he became suspicious there was a more serious issue. Further inspection revealed there was no air gap between the two properties, he said.
Under cross-examination by Mark Cassin, who defended the case personally on his and his brother's behalf, Mr Hoban denied he had not raised the noise problem before 2013.
He disagreed the wall was built in accordance with planning permission because, he said, there was no air gap between the properties.
Mark Cassin gave evidence that there was an agreement with Mr Hoban to build a common party wall and the plans in the joint tender clearly show there was only one wall.
If there had been an agreement to build a wall on their side they would have done so because it would have cost relatively little, but there was no agreement, he said.
The case resumes next week before Mr Justice Alexander Owens.