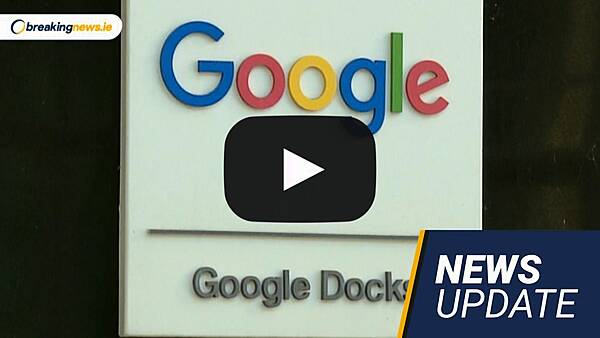 Google job cuts
Google's parent Alphabet is eliminating about 12,000 jobs, or 6 per cent of its workforce, the company confirmed in the latest cuts to shake the technology sector.
Sundar Pichai, Alphabet's chief executive, said in a staff memo that the company had rapidly expanded headcount in recent years "for a different economic reality than the one we face today."
"I take full responsibility for the decisions that led us here," he said.
The cuts come days after rival Microsoft said it would lay off 10,000 workers.
Alphabet's job losses affect teams across the company including recruiting and some corporate functions, as well as some engineering and products teams.
The layoffs are global and impact US staff immediately. It is not yet clear how the cuts will impact Ireland – Google employs 7,000 people in the State and occupies several buildings in Dublin.
'A new low': Refugees face homelessness
A charity boss has described the possibility of newly arrived asylum seekers sleeping on the streets as "a new low" for Ireland.
John Lannon, the chief executive of Doras, the migrants rights organisation, said urgent action was needed from the Government, not just the Department of Integration.
On Thursday, Minister for Integration Roderic O'Gorman said the Citywest transit hub, where refugees are taken after arriving in Dublin, is likely to close due to weight of numbers in the coming days, with a third major accommodation crisis in prospect.
At that point some people arriving into the country may be given vouchers for food, and be effectively left by themselves until they are contacted with a place when it becomes available.
Paschal Donohoe controversy
Fianna Fáil TD Barry Cowen has said Minister for Public Expenditure Paschal Donohoe "should not be hounded out of office".
"I don't believe he should be sacked," the ex-minister told RTÉ radio's Today with Claire Byrne.
Mr Donohoe has been under pressure over his failure to declare 2016 election expenses paid by a friend, businessman Michael Stone.
The Fine Gael politician gave a statement in the Dáil on Wednesday, after which he did not take questions, and on Thursday morning said he was seeking another opportunity to make a further statement regarding election expenses.
Julian Sands still missing
Authorities say there is still "no hard deadline" for calling off the search for Julian Sands, one week after the British actor was first reported missing in the southern Californian mountains.
San Bernardino County Sheriff's Department said the incident was still being classified as a search and rescue operation, though snow, sleet and fog continued to hinder operations on foot.
As of Thursday evening visibility at high altitudes in the Mount Baldy area remained poor, with searches planned to continue when conditions permitted.
"We will schedule another ground search when the weather improves, and it is safe for our ground crews," a spokesperson from the department told the PA news agency.