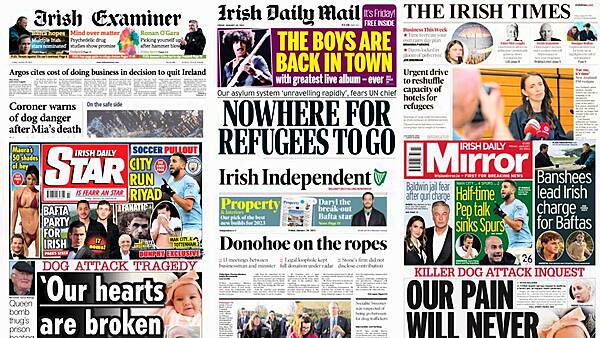 Refugee accommodation and the tragic death of a three-month-old baby make the front pages on Friday.
The Irish Times and the Irish Daily Mail report on the sever shortage of accommodation for refugees, after Minister for Integration Roderic O'Gorman said the Citywest transit hub is likely to close due to weight of numbers in the coming days.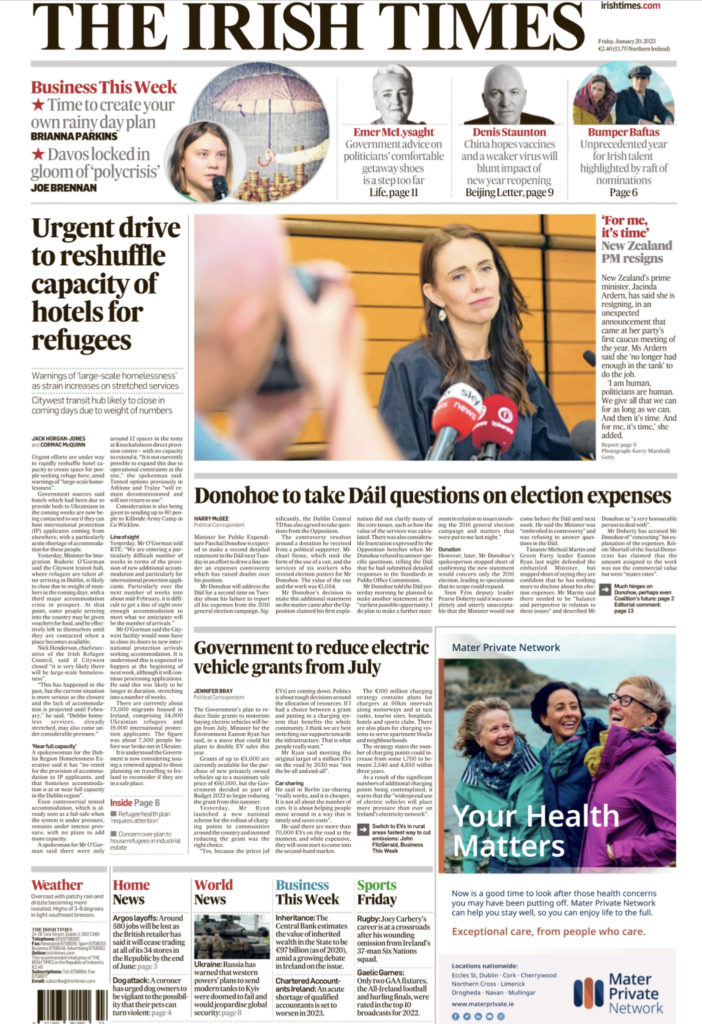 The Irish Examiner, the Irish Daily Mirror and the Irish Daily Star cover the tragic mauling of a three-month-old baby by a dog. The inquest into the death of baby Mia O'Connell took place in Cork yesterday.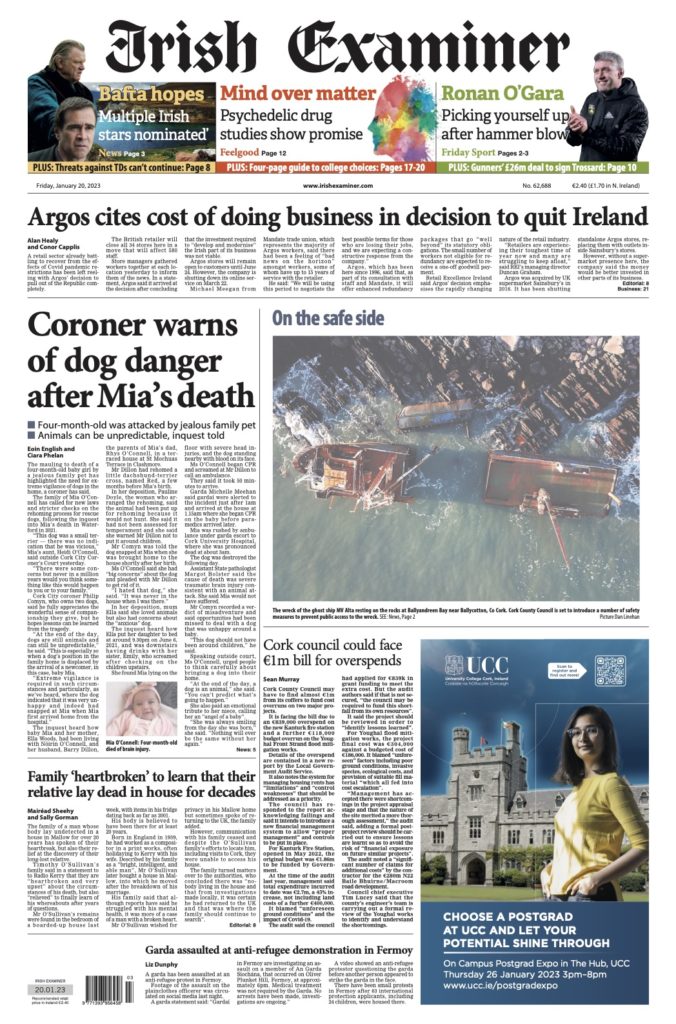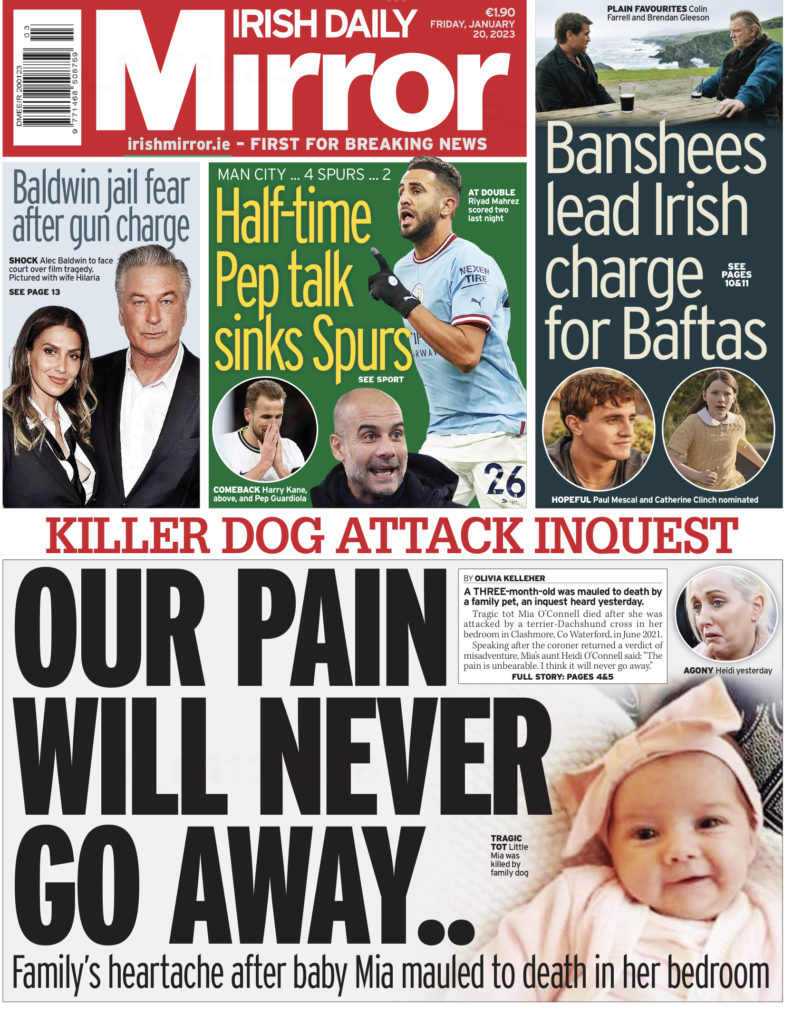 The Irish Independent says Paschal Donohoe is fighting for his political career, as new revelations about his relationship with businessman Michael Stone pile on further pressure.
The British papers cover paedophile police, economic developments and a criminal charge for a Hollywood star.
There has been anger at UK prime minister Rishi Sunak using "yet another" taxpayer-funded private jet flight to promote levelling up, reports Metro.
Metro: Level up, up and away #TomorrowsPapersToday pic.twitter.com/BUBnj66gs4

— George Mann 🫧⚒️🫧 (@sgfmann) January 19, 2023
Analysis by The Guardian has found Tory constituencies have been awarded significantly more money per person from the levelling-up fund than areas with similar levels of deprivation.
Guardian front page, Friday 20 January 2023: Tory areas allocated more cash from levelling up fund pic.twitter.com/G34WrLdlVW

— The Guardian (@guardian) January 19, 2023
The Bank of England's governor has said Britain has "turned a corner" on inflation, according to the Daily Express.
Front page: It's official! We are winning inflation battle #TomorrowsPaperToday

Bank of England response: https://t.co/M8B83RBzN9 pic.twitter.com/B4wsM2IFzq

— Daily Express (@Daily_Express) January 19, 2023
Turning the corner means Mr Sunak is under fresh pressure to cut taxes, says the Daily Mail.
Mail: Britain's 'turned a corner'…so now cut taxes!
#TomorrowsPapersToday pic.twitter.com/eMYTwPSzoG

— George Mann 🫧⚒️🫧 (@sgfmann) January 19, 2023
The Times has been told British finance minister Jeremy Hunt wants the 5p fuel duty cut to run for another year, amid concerns not doing so could be "politically toxic".
Times: Britain boosts Ukraine defences with 600 Brimstone missiles #TomorrowsPapersToday pic.twitter.com/UBzghDK8FR

— George Mann 🫧⚒️🫧 (@sgfmann) January 19, 2023
The Financial Times reports from Davos that central bankers on both sides of the Atlantic have vowed to "stay the course" on interest rate rises until inflation is tamed.
Just published: front page of the Financial Times, UK edition, Friday 20 January https://t.co/MSIdDe8o9N pic.twitter.com/3dJBK9jcqN

— Financial Times (@FinancialTimes) January 19, 2023
European politicians at Davos have backed Keir Starmer to be the next British PM, says the i, following the Labour leader's appearance at the summit.
Friday's front page: EU wants Starmer to become British PM

From @LeoCendro: https://t.co/fyVV8mH3fP#TomorrowsPapersToday pic.twitter.com/ms4oHrXORQ

— i newspaper (@theipaper) January 19, 2023
Britain and the US are leading Nato nations in pressuring Germany to allow tanks to be supplied to Ukraine as it fights Russia's invasion, reports The Daily Telegraph.
🗞️The front page of Friday's Daily Telegraph:

'Stop stalling tanks deal, Nato allies tell Germany' #TomorrowsPapersToday

Sign up for the Front Page newsletterhttps://t.co/x8AV4Oomry pic.twitter.com/LJx2VVPjLa

— The Telegraph (@Telegraph) January 20, 2023
The Daily Mirror says a London police chief inspector and two retired officers have been accused of being in a paedophile ring.
Friday's front page – POLICE IN CRISIShttps://t.co/SJIaV2kDlC pic.twitter.com/hjk8nspR9O

— The Mirror (@DailyMirror) January 19, 2023
The Sun splashes on Alec Baldwin being charged over the 2021 Rust movie shooting which resulted in the death of cinematographer Halyna Hutchins.
On tomorrow's front page: Alec Baldwin charged with involuntary manslaughter for the fatal shooting of Halyna Hutchins on set https://t.co/SBowiov40d pic.twitter.com/jFmb1ks4X7

— The Sun (@TheSun) January 19, 2023
And the Daily Star continues its coverage of retired bus driver Dave Black and his search for stardom as an Elvis impersonator.
Friday's front page has us all shook up!https://t.co/8u5JugLK7A#tomorrowspaperstoday pic.twitter.com/8wLukRc3Ob

— Daily Star (@dailystar) January 19, 2023