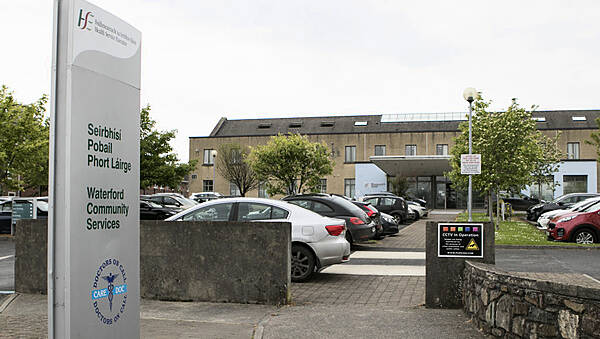 Paul Neilan
The State has failed in a bid to increase the sentence imposed on a "troubled" young woman jailed for the manslaughter of her own new-born baby, who she put in a bin after giving birth in a toilet.
Court of Appeal President Mr Justice George Birmingham said on Friday that Caitlin Corcoran was a "terribly troubled young woman" at the time of the pregnancy and that she "needed help, not punishment".
Waterford woman Corcoran was 18 years old when she became pregnant in 2017 and had concealed her pregnancy from her family by diluting her pregnancy tests.
Corcoran, her mother and grandmother attended Waterford Caredoc at 2.17am on April 22th, 2018.
Corcoran was complaining of back pains and constipation. A urine sample was required and Corcoran went to the toilet cubicle for around 13 minutes during which time she gave birth to a baby girl, Sophie Elizabeth.
The baby entered the toilet bowl on arrival and Corcoran picked her out and held her for a few minutes before wrapping her and placing her in a plastic lined bin, where the child was later found dead among the bloodied tissues.
Garda search
Corcoran had denied to medical staff at University Hospital Waterford that she had given birth saying she must have had a miscarriage and that she had given birth and claimed she must have had a miscarriage and that she had been only 25 weeks pregnant.
However, an examination revealed that she had indeed given birth and a search was carried out by gardaí who found the baby, deceased, in the bin at the Caredoc.
At Waterford Circuit Criminal Court in October 2021, a jury found her unanimously guilty of the manslaughter of the child and delivered a majority guilty verdict of child neglect at Caredoc, Cork Road, Waterford, on April 22nd, 2018.
Corcoran, formerly of Mount Suir, Gracedieu, Waterford, had pleaded not guilty on both counts.
In sentencing Corcoran in July 2022, Judge Eugene O'Kelly identified a pre-mitigation headline sentence of four years' imprisonment on both charges.
The sentences were to run concurrently.
In mitigation, Judge O'Kelly reduced the headline sentence by nine months and then suspended three years of both sentences. He jailed Corcoran for the remaining three months, of which Corcoran served five weeks' imprisonment.
Judge O'Kelly said the baby had been neglected and was left to die by the one and only person who knew of her birth. The judge added that the baby was born healthy and was denied the chance of a long and happy life.
State appeal
The State appealed the sentence, describing it as being unduly lenient with too much weight placed on mitigation.
At the Court of Appeal on Friday, Eilis Brennan SC, for the State, said that while the case was an "extraordinary" one, Corcoran's culpability meant a higher headline sentence should have been fixed by the trial judge.
Ms Brennan said Corcoran knew the baby had been born alive, even though she claimed she thought it was dead. The barrister said the baby was born weighing eight pounds and two ounces and was "healthy" before being placed in the sanitary bin.
She said the trial judge, by fixing four years as a headline sentence, had put the offence "at absolutely the lowest" point of the mid-range.
Mr Justice George Birmingham said Corcoran was a "terribly troubled young woman" at the time of the pregnancy and that she "needed help, not punishment".
'Tragic'
Ms Justice Isobel Kennedy said the "tragic" case will "live with this young woman for the rest of her life".
Ms Brennan agreed it was a "tragic" case but said that a limited understanding of the situation did not mean that Corcoran had very limited culpability.
Ms Justice Kennedy noted that the DPP also appealed on grounds of deterrence but responded: "Is there general deterrence in a case like this?"
In delivering the court's judgement dismissing the appeal today, Ms Justice Kennedy said Corcoran had denied her pregnancy even after she gave birth.
The judge said it was significant that Corcoran had the support of her mother and grandmother but had refused their assistance, "which tells its own story".
Ms Justice Kennedy said Corcoran was a "troubled young woman" with a "very limited understanding of her position" at the time.
The judge said that it was hard to see how increasing the sentence in the interests of general deterrence would apply in such an unusual case, which went "so much against the natural instinct of any parent".
Ms Justice Kennedy said the court agreed with the trial judge regarding mitigation, which cited Corcoran's personal circumstances, psychological issues, her co-operation with gardaí, remorse, her letter of apology, her good work history and lack of any previous convictions.
Ms Justice Kennedy said the nature of the "rare and exceptional" case would have long-term effects on Corcoran.
She said the trial judge imposed a nominal custodial sentence and did not err in fact or principle when sentencing Corcoran.
Ms Justice Kennedy said the court had "no hesitation" in dismissing the DPP's application.