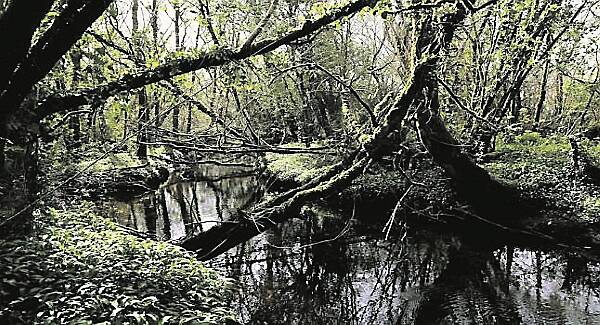 James Cox
A deal between Irish forestry business Coillte and British investment firm Gresham House has been labelled "scandalous" and a "land grab" by critics, who include forest owners, farmers and opposition politicians.
But what does the deal involve?
Coillte's deal with Gresham House
Gresham House has announced a €200 million Irish forest fund, accepted by Coillte.
The fund is set out to plant an average of 700 hectares of new forests over the next five years. The deal could see up to 123,000 acres of land and forest being sold to Gresham House.
Coillte, a semi-state agency, has pledged to plant 10,000 hectares of new forests by 2050, the British investors would account for 3.5 per cent of these new forests.
Patrick Lawless, managing director, Gresham House Ireland, has claimed the new fund will "create a platform for enhancing Ireland's forestry sector, delivering real change and momentum and making a meaningful contribution to Ireland's crucial afforestation ambitions".
The fund is supported by the Ireland Strategic Investment Fund (ISIF) which is managed and controlled by the National Treasury Management Agency (NTMA).
Imelda Hurley, chief Executive of Coillte, said: "Coillte is pleased to work with Gresham House and have ISIF as a cornerstone investor in this important initiative. There is an urgent need for Ireland to meet stretching Climate Action targets and creating new forests is integral to the achievement of these targets. The Government's national afforestation target is 8,000 ha per annum and the long-term target is to achieve 18 per cent forest cover. Currently, forest cover in Ireland is 11.6 per cent compared to an EU average of 40 per cent.
"The new Irish Strategic Forestry Fund represents an important first step towards accessing the capital required to enable the creation of new forests which will deliver the multiple benefits of forests for climate, nature, wood and people."
Opposition to the deal
Environmentalists and farmers have spoken out against the deal, arguing that the Government should be the financial backer than Gresham House.
However, Coillte has defended the deal. The semi-state agency has claimed the €200 million in funding is required to plant and acquire forests for its strategy.
Opposition TDs have widely condemned the plans.
Social Democrats TD Holly Cairns argued that the Department of Agriculture should be should be helping farmers to develop forestry, as an alternative to beef and diary farming.
People Before Profit TD Richard Boyd Barrett said: "This proposed deal between Coillte and an investment fund is yet another attempt by the State to sell off Ireland's land and forests. It is a shocking move and will be resisted by People Before Profit and other groups, including environmental groups and local community groups.
"It is imperative that the State and public money are not used to facilitate and finance a corporate privatisation of huge swathes of land and forestry. These forests are part of Ireland's natural heritage and history… and they belong to the people of Ireland, not private corporate interests.
"Coillte should be acting as guardians of Ireland's forestry and supporting small farmers to make a living from a new sustainable forestry model.
"Instead they are facilitating investment funds who only see forestry as an opportunity to make profit.
"Ireland's forests, instead of being sold off, should be invested in by the State, so that they can contribute to Ireland's climate action and biodiversity targets. For this to happen the Government must change the way they view forests and instead view them as a public and environmental asset."
Sinn Féin spokesperson on Agriculture Matt Carthy said State funds must not be used to facilitate the deal.
"Now, in an all-too-familiar story, the answer of this Government appears to be to facilitate the sale of thousands of hectares of Irish land to a British investment vehicle.
"We are told that the Green Party Minister of State knew as far back as March 2021 of Coillte plans to use such a private vehicle to acquire lands. Yet, following the recent formal announcement by Coillte of their proposed arrangement with the Gresham House fund, Ministers have pretended that they are somehow observers.
Government can and should state categorically that will not permit the use of €2 billion of Irish taxpayers' money to be used to facilitate this land grab.
"But the Minister for Agriculture is the shareholder, on behalf of the Irish people, in Coillte. He can, and he should, instruct Coillte to immediately stall this plan.
"Government can and should state categorically that will not permit the use of €2 billion of Irish taxpayers' money to be used to facilitate this land grab.
"The joint venture is not about climate, it's not even about forestry, Gresham House has confirmed that 8,000 hectares of their Irish portfolio will be existing forestry land, as little as 3,000 hectares will be bare land for new tree-planting. For Gresham House, this venture is simply about corporate profit."
What is the Government response?
Taoiseach Leo Varadkar has said the controversial deal was not signed off on by Cabinet.
Replying to a query from independent TD Denis Naughten in the Dáil, Mr Varadkar said: "I confirm it was not signed off by Cabinet. Coillte is a State-owned enterprise, and its board makes its own decisions. There was no memo for information to Cabinet at any point."
He said he was aware of concern up and down the country on the matter.
Mr Varadkar added: "I have heard what farmers, the Irish Wildlife Trust and others have to say about it, and I am sure we can make time available through the Business Committee, whether here in the Chamber or in the relevant committee, to discuss this matter."
Tánaiste Micheál Martin insisted there will be no privatisation of public land.
"Coillte will not sell out any existing publicly owned forests to the fund, nor will any other public body sell land to the fund," said Mr Martin. "Any land purchased by the fund will already be in private ownership and no private landowner will be forced to sell land to the fund."
He stressed that Coillte is a semi-state agency, and not run by Government.
Minister for Agriculture Charlie McConalogue and Minister of State Pippa Hackett met with senior representatives of Coillte on Thursday.