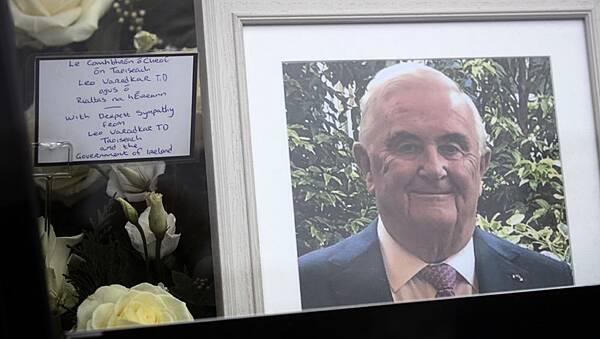 David Raleigh
Former Chief Justice and Attorney General, John L. Murray, was a champion of legal rights and protections for ordinary people, and a "dedicated" purveyor of public service, his funeral mass heard, Monday.
The Limerick City native, (79), died in St Vincent's Hospital, Dublin, last Wednesday, January 18th, after he suffered injuries in a tragic fall.
In a sterling tribute, friend, and former Attorney General, Paul Gallagher, said Mr Murray was an "extremely gifted" lawyer, whose "belief in democracy and in the institutions of society informed all he did and motivated him to a life of public service that is remarkable by any standards".
"John was kind, thoughtful, compassionate, he was devoted to public duty, and he believed in honour and truth."
Arms Trial
Murray, a former prosecutor in the criminal courts in Limerick, who later defended the late Independent Fianna Fáil TD Neil Blaney in the 1971 Arms Trial, rose to the highest rank in the Irish judicial system, serving as Chief Justice, from 2004 until 2011, and retiring as a judge of the Supreme Court in 2015.
As well as serving twice as attorney general between 1982 and 1991, he also carved out an international career as a judge in the European Court of Justice, which Mr Gallagher said "was marked by (Murray's) involvement in many important cases" that improved the lives of citizens.
"In particular, he was involved in cases that extended the protections in European law that removed barriers to the internal market; that extended rights of equal pay; and that created the environment in which the future development of the Europeans union could prosper."
European roles
John Murray served other important chairperson roles, including that of an anti-fraud committee attached to the European Central Bank, on advocacy committees on Ethics and Elections at the European Commission and European Court of Human Rights.
"When he retired, John spoke with gratitude of the opportunity he had to serve the public – that was so typical of him, and so modest, because it was his contribution that we valued – he didn't owe any gratitude."
Mr Gallagher said Murray was "a "deep thinker" who "developed ideas". "He believed in freedom, he believed in rights, he understood obligations, and he saw the law not as restrictive, but as empowering, as a means of improving the lives of citizens."
Murray represented the State in opposing the action by Independent Senator David Norris aimed at decriminalising homosexuality, and in his first term as AG, he drafted the wording of what became the 1983 anti-abortion amendment, the Eight Amendment, to the constitution.
In 1982, he became "the most wanted man in France" while holidaying there with his family, his son Brian joked, "urgently sought by the French police at the request of the Irish government, Dad returned to become Attorney General".
Taoiseach Charlie Haughey had sent for Murray after the then AG, Patrick Connolly, resigned after a friend and murder suspect, Malcom McArthur, was found in Connolly's home, and arrested and later confessed to two murders.
Today, Aide-de-camps representing President Michael D Higgins and the Taoiseach; Chief Justice Donal O'Donnell; other members of the judiciary; Attorney General, Rossa Fanning SC; acting Minister for Justice, Simon Harris, members of the Oireachtas, joined Mr Murray's family, friends, neighbours, for the funeral service at The Holy Rosary Church, Greystones.
Munster fan
In a touching tribute Brian Murray, described his Munster rugby-mad father as a "fundamentally kind, caring, and deeply empathetic" man whose sense of humour was fueled by comedy duos Laurel and Hardy, Abbot & Costello, Marx Bothers, and Phil Silvers.
"Over everything, he was a deeply devoted family man, everything he did-he did for us, our childhood was uncomplicated, carefree and really happy."
Brian Murray said his father, who raised his family in Greystones, Co Wicklow, was a "very proud Limerick man" who loved nothing more than going back to the mid west and spending family holidays at Kilkee, as well as Achill Island and Dubrovnik, Croatia.
He drew laughter from the congregation as he recalled how his father who was a "strong swimmer" could also be sometimes found showcasing his dexterity "swimming in the sea while at the same time be puffing on a Havana cigar".
Mr Murray thanked doctors and nurses at St Vincents Hospital for caring for his father in his final moments, as well as Fr Gerard Tyrell CC Greystones "who travelled to the intensive care unit at Vincent's and sat and prayed with us".
"Dad loved his family, he gave us everything, and there is nothing more that we could have asked for, except, more time.," he concluded to applause from the congregation.
Mr Murray, survived by his wife Gabrielle, and children, Catriona and Brian, brothers Michael, Hugh and Eugene, was laid to rest in Priestnewtown Cemetery, Kilquade, Co Wicklow.