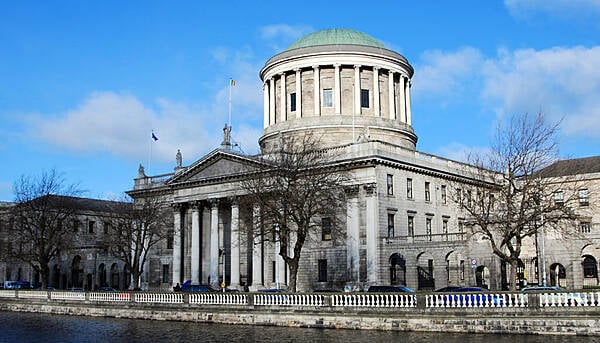 High Court reporters
A personal insolvency arrangement (PIA) has been approved by the High Court which allows a separated couple to write off over €2.8 million of debts owed.
Mr Justice Alexander Owens on Monday approved PIAs for Bernadette Canning, of Monknewtown, Slane, Co Meath, and Graham Canning, of Ledwidge Hall, Slane, Co Meath.
The court heard that couple got into financial difficulties after businesses which they had obtained loans for from Bank of Ireland (BOI) in the early 2000s failed.
The then couple, who are both aged in their mid-50s, have four children and had given personal guarantees in respect of the loans.
In total the Cannings had debts of some €3.2 million, mainly to BOI, €2.8 million of which was unsecured.
Arising out of their debts they entered into the personal insolvency process.
Mr Canning works as a self-employed food consultant, while Mrs Canning is a carer for her elderly father.
At the High Court on Monday, Keith Farry BL for the Cannings' Personal Insolvency Practitioner (PIP), said that in Mrs Canning's PIA it was proposed that in order to deal with the secured debt of €390,000 the family home is to be sold with the proceeds going to BOI.
It was proposed that the house, at Monknewtown, would be sold to an approved housing body, and that Mrs Canning would rent the property back from that body.
Lump sum payment
She would also make a lump sum payment of €5,000, of which €1,000 is to go to the unsecured creditors, and the remainder towards the costs of the personal insolvency process.
In Mr Canning's PIA it was proposed that he would make a contribution of €18,000.
Again, under the terms of the PIA, some €4,000 from that lump sum will go towards the costs of seeking a PIA, while the remainder is to be paid to his unsecured creditors.
In his PIA Mr Canning was agreeable to the family home being sold to the housing body and rented back to Mrs Canning.
An additional six acres of forestry in Co Meath owned by the couple are to be transferred to BOI and sold.
In each case the creditors would do better from the PIAs being approved than if the Cannings were adjudicated as bankrupts, counsel said.
There were no objections to the PIAs, both of which are 24 months in duration, being approved.
Mr Justice Owens, who noted that the applications arose out of the recession from 2008, said he had no hesitation in approving the PIAs.