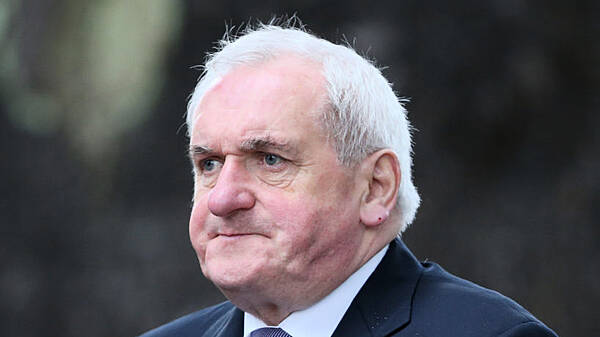 By Rebecca Black, PA
Dealing with concerns around the Northern Ireland Protocol "isn't rocket science", and a solution must be found, Bertie Ahern has said.
The former taoiseach said the current stalemate which has plunged the Stormont Assembly into flux is "beyond comprehension".
He emphasised that with a bit of flexibility it could be resolved. "I really, really believe that this isn't rocket science," he said.
"When you think of the things that we resolved, we got the IRA to decommit their arms, we released prisoners … we reformed the old RUC to now a very competent international PSNI."
He said yet now "we can't find a way of working out how sausages and rashers" can move between Britain and Northern Ireland.
"It's beyond comprehension, there has to be a solution that is unique to Northern Ireland," he said.
Mr Ahern was speaking to MPs in London as he gave evidence to the Northern Ireland Committee at Westminster around the workings of the Belfast/Good Friday Agreement.
He emphasised that compromise is the only way that Northern Ireland will work.
Mr Ahern served as taoiseach during the Good Friday/Belfast Agreement negotiations in 1998.
Chairman Simon Hoare said Mr Ahern was the first either former or serving taoiseach to give evidence to the committee.
Talks remain ongoing between the UK and EU over concerns around the Northern Ireland Protocol.
The DUP has insisted it will not re-enter government at Stormont until unionist concerns are dealt with.
Mr Ahern said compromise is needed to find agreement.
"I do not believe that's impossible, it does require some compromise," he said, rejecting reports that a deal is close. "There are still difficulties."
Mr Ahern said unionist concerns "cannot be railroaded" but also said the demands of unionists "can't be fully adhered to".
"If we don't get compromise … then we run into a position where for the longer term … we haven't got a solution and we don't have [Stormont] institutions.
"In the absence of compromise, we're building a future that will be on quicksand, and that's my concern.
"I am 100 per cent for compromise, 100 per cent for trying to accommodate the concerns of people but I don't think we can long finger this into the dim and distant future."
Mr Ahern also emphasised that he "has heard nobody on the island of Ireland say the solution to this is to ignore the concerns of unionism".
"People might take issue with whether these things are constitutional or whether they're not, but the issue is that we must find an accommodation moving forward that puts everyone in a win-win position," he said.
Mr Ahern extolled the benefits of the Good Friday/Belfast Agreement, particularly on the economies of both Northern Ireland and the Republic, but expressed disappointment at how often the political institutions have been down.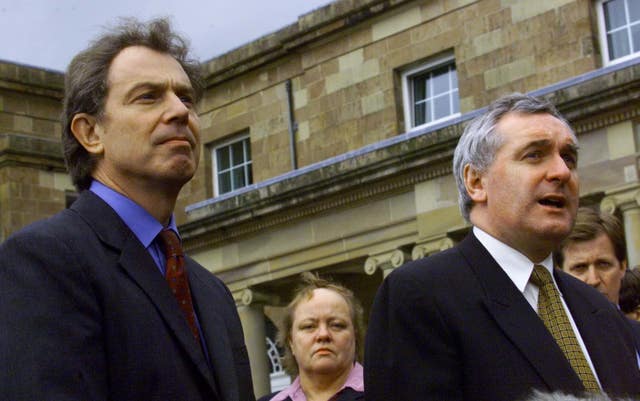 The Assembly could not function for three years from 2017-2020 following the resignation of then deputy first minister Martin McGuinness, and is again in flux since last spring following the resignation of first minister Paul Givan.
Mr Ahern said it is "disappointing and unsatisfactory" that the institutions have been down so often.
"Let's blame nobody and and blame everybody, but we haven't been able to run it," he said, agreeing that a review of the working of the institution is due.
"I can't think of another country in the world that has had institutions have been up and down as much, and that's not good, it's not good for investment, it's not good for the people."
Closing the session, Mr Hoare said the horrors of the war in Ukraine has "contextualised" the size of the problem.
"If the sophisticated, mature statecraft of Brussels, Westminster and Dublin can't solve this, then I think we all have to begin to wonder what the hell are we all doing," he said.