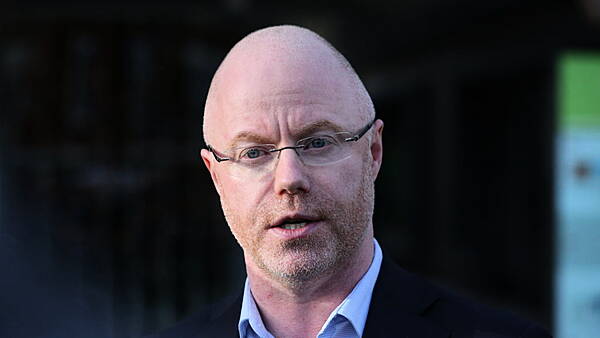 Vivienne Clarke
Updated at 10:17
Minister for Health Stephen Donnelly has said that the Irish Medical Organisation and the Irish Hospital Consultants Association can help solve problems within Child and Adolescent Mental Health Services (Camhs) if they accept the new consultants' contract.
Speaking on RTÉ radio's Morning Ireland and Newstalk Breakfast, Mr Donnelly said that both organisations "can help get more consultants by taking this on board."
The Minister said the contract was attractive and that both organisations had "negotiated hard, they got a lot". Their endorsement would help the health service achieve more, he added.
The new consultants' contract had gotten the balance right – it included a generous remuneration package and the need to move away from the 9 to 5, Monday to Friday model.
The new contract would help in terms of hiring consultants to address the issues within Camhs said Mr Donnelly.
Among the plans to address the difficulties with Camhs was the appointment of a national clinical lead who would bring "a national lens" to ensure consistency across the country and that services were fully integrated.
Governance and capacity issues had been identified as part of the problem in the Mental Health Commission's interim report.
Open cases
Mr Donnelly said he and Minister of State Mary Butler were determined that those issues would be addressed and responded to.
A review was being conducted of all open cases in Camhs that would be completed within six months, he said.
Change was already happening, added Mr Donnelly, but the implementation of the consultants contract would make that easier.
It comes as the medical director of the Irish College of General Practitioners, Dr Diarmuid Quinlan said the lack of capacity in Camhs unacceptable.
Speaking to RTÉ Radio's Morning Ireland, Dr Quinlan said, as a GP, when he makes referrals for young people up to 60 per cent of cases are rejected by Camhs.
If the patient does manage to get on the list, they then face a long wait, he added.
Dr Quinlan's comments follow the Inspector of Mental Health Service report, published on Monday, which found young people accessing mental health services have been "lost" to follow-up care.
In one Community Health Organisation, there were 140 "lost" cases within the Camhs team, and the report also found evidence that some teams were not monitoring antipsychotic medication, in accordance with international standards.
Reform
Tanya Ward of the Children's Rights Alliance has called for a root and branch reform of Camhs "starting at the top". The system was outdated and needed to be multidisciplinary, she argued.
Ms Ward said the UN recommended seven years ago that an independent advocacy service for children should be established with regard to mental health services.
The recommendation had not been followed up, she said, adding that if such a service had been established the current difficulties within Camhs would have been documented and publicised at a much earlier stage.
She said the Children's Rights Alliance hears from worried parents all the time, but also from professionals within the system who are concerned about waiting lists, the huge workloads and the children who go 'missing' within the system "and no one knows where they are".
Ms Ward said there were also concerns that Camhs had become very narrow in its specialities and many cases were rejected as they did not fit a narrow definition.