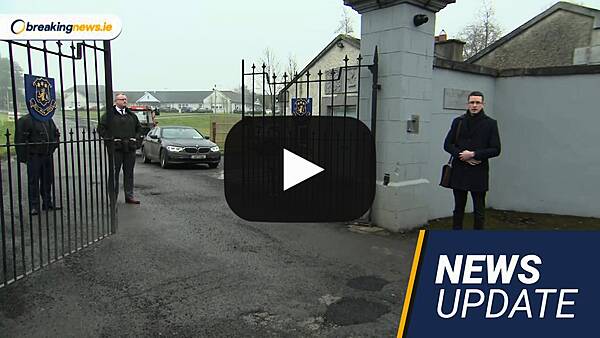 <iframe onload="if (this.src.indexOf('#!referrer=') === -1) this.src += '#!referrer='+encodeURIComponent(location.href)+'&realReferrer='+encodeURIComponent(document.referrer)" src="https://breakingnews.bbvms.com/p/default/c/5307324.html?inheritDimensions=true&placementOption=default" width="720″ height="405″ frameborder="0″ webkitallowfullscreen mozallowFullscreen oallowFullscreen msallowFullscreen allowfullscreen allow="autoplay; fullscreen"></iframe>
Kenneth Fox
Enoch Burke arrest
In defiance of court orders and a formal dismissal from his teaching position, Enoch Burke returned to Wilson's Hospital School on Tuesday morning.
He was arrested by gardaí under public order legislation, then returned again following his release from Mullingar Garda station.
On arriving to the school following his arrest, Mr Burke was denied entry to the school grounds by principal Frank Milling.
The school gates were eventually closed, but reopened some time later to allow a bus to drive into the premises around 3.20pm. Mr Burke then walked back onto the school premises, but did not enter any school building.
Donohoe statement
Minister for Public Expenditure Paschal Donohoe has said that he was unaware that people were paid to put up posters before the 2016 and 2020 general election when making official declarations.
He also told the Dáil that an "unauthorised" corporate donation of commercial vans used to hang up posters, worth €434.20, was "unknowingly" received by the Fine Gael branch in his constituency of Dublin Central.
Mr Donohoe said that the amount over the limit has been refunded to the firm in question and the breach has been notified to the ethics watchdog Sipo.
Irish Oscar nominations
Irish talent has shone in the nominations for this year's Academy Awards, taking 13 nods across 11 categories.
Colin Farrell secured his first Oscar nomination for best actor for his role in Banshees of Inisherin, which was also nominated for best original screenplay, best original score, best film editing and the all important best motion picture of the year.
Brendan Gleeson and Barry Keoghan picked up nominations for best actor in a supporting role, as did Kerry Condon in the best actress in a supporting role category.
Credit Union manager
A credit union manager who stole from the organisation in an effort to help save her husband's failing business has been jailed for two years.
Anne Butterly (66) stole €875,405 over seven years by four different methods including getting authorised signatures on blank cheques, taking funds from members' share accounts, unauthorised transactions on members' deposit accounts and buying a vehicle for her husband using credit union funds.
Butterly, of Channel Road, Rush, Dublin, previously pleaded guilty to stealing €34,496 which was the property of Rush Credit Union.
German battle tanks
Poland has formally requested permission from Germany to transfer a number of battle tanks to Ukraine to help the fight against Russia's invasion.
The delivery of an expected 14 Leopard 2 tanks from Poland appears to be a foregone conclusion, with the main outstanding question being when it will happen.
Germany builds the high-tech armour and Warsaw needs Berlin's permission to send them to a non-Nato country.