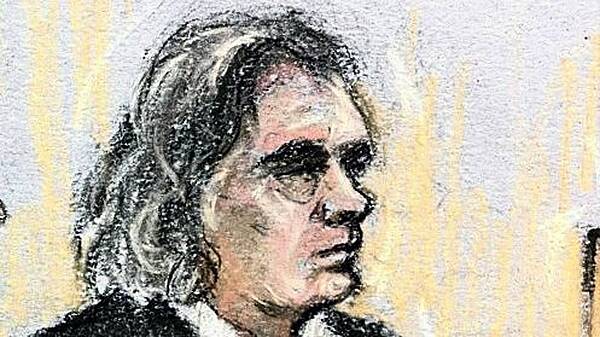 Alison O'Riordan
Gerard 'The Monk' Hutch was one of two gunmen disguised in tactical gear who shot Kinahan Cartel member David Byrne in a "brutal and callous execution" as the victim scrambled on the ground of the Regency Hotel amongst "complete carnage", and should be convicted of murder, a prosecution barrister has told his trial at the Special Criminal Court.
Fiona Murphy SC for the Director of Public Prosecutions completed her closing speech to the three-judge, non-jury court on Wednesday.
She said portions of a secretly recorded 10-hour conversation between Mr Hutch and ex-Sinn Fein councillor Jonathan Dowdall clearly showed the accused was "the man in charge". Ms Murphy said the covert recordings show Mr Hutch had authority over the AK-47 rifles used in the attack and was seeking someone to assist in diffusing the aftermath.
Movement of weapons
Counsel also submitted that Mr Hutch was talking about the movement of the weapons at a crucial time in which they ultimately ended up in transit and seized by gardaí from IRA man Shane Rowan just two days later.
Ms Murphy said there was "no denial or pushback" from Mr Hutch in the audio against implications that he was centrally involved in the Regency attack.
Counsel also submitted it "is apparent a plan is being formed as a way to hand over these three 'yokes'," she added.
In the audio recording, Mr Hutch was heard telling Dowdall that "these three yokes we're throwin' them up to them either way", in what the prosecution has said is a reference to giving the three assault rifles used in the Regency Hotel attack to republicans in the North.
The trial has heard that three AK-47 assault rifles were found in the boot of a car following "an intervention" by gardaí just a month after Mr Byrne was fatally shot in the Regency Hotel.
Mr Hutch could also be heard saying in the audio: "There's a present them three yokes" and that he wanted "to throw them up there to them as a present".
Ms Murphy said Mr Hutch's responses to Dowdall in the audio showed at worst a tacit acceptance of Mr Hutch's central involvement in the Regency, but in truth it was almost an expression of pride in the choice of the weapons. She added that what isn't in the audio is any denial.
The barrister referred to Gerard Hutch telling Dowdall in the audio clip: "Well he, he was on the telly there, Williams talkin' and he was sayin', they came in with them and people looked at them and thought they were cops coz anyone with cop on would know immediately that cops don't use them".
She also referred to Dowdall saying in the audio "we never admitted that that was anythin' to do with yous at the Regency' but obviously we did by givin' them the yokes" and Mr Hutch replies "yeah he knows, yeah".
Ms Murphy went on to say: "There is no reaction from Mr Hutch [in the audio] to deny what is being alleged and it points to an acknowledgement that he was part of the team at the Regency and it doesn't demure from the fact that it would be a lie to say he never did the Regency".
Beyond reasonable doubt
Counsel argued that it showed beyond reasonable doubt that Mr Hutch was one of the three men dressed in tactical gear at the Regency Hotel on the day and that he should be convicted of the offence of murder.
Referring to Dowdall, Ms Murphy said the prosecution accepted that the State's witness was a man who had a "serious conviction" for a "disgusting" separate crime, but this did not mean the judges could not believe his claim that the accused had confessed to the killing.
Gerard Hutch (59), last of The Paddocks, Clontarf, Dublin 3, denies the murder of Mr Byrne (33) during a boxing weigh-in at the Regency Hotel on February 5th, 2016.
Mr Hutch's two co-accused – Paul Murphy (61), of Cherry Avenue, Swords, Co Dublin and Jason Bonney (52), of Drumnigh Wood, Portmarnock, Dublin 13 have pleaded not guilty to participating in or contributing to the murder of Mr Byrne by providing access to motor vehicles on February 5th, 2016.
Jonathan Dowdall, a former co-accused of Mr Hutch who facilitated Mr Byrne's murder and turned State's evidence, has said that Mr Hutch told him in a park several days after the Regency attack, in or around Monday February 8th, 2016, that he and another man had shot Mr Byrne at the hotel.
The ex-politician testified that Mr Hutch said he "wasn't happy about shooting the young lad David Byrne and David Byrne being killed".
'Two big lies'
Brendan Grehan SC, representing Mr Hutch, opened his cross-examination of Dowdall by telling him the defence position was that the witness had told "two big lies" to the court in his direct evidence, namely that his client had collected keys cards for a room at the Regency Hotel from him and his father on Richmond Road on February 4th, 2016 and that Gerard Hutch had "confessed" to him in a park several days later.
The State's case is that Mr Hutch had asked Dowdall to arrange a meeting with his provisional republican contacts to mediate or resolve the Hutch-Kinahan feud due to the threats against the accused's family and friends.
The Special Criminal Court has viewed CCTV footage of what the State says is Mr Hutch making two separate journeys to Northern Ireland with Dowdall on February 20th and March 7th, 2016, just weeks after Mr Byrne was murdered.
The prosecution has played a 10-hour audio recording of a conversation between Mr Hutch and Dowdall while they were allegedly travelling north to a meeting in Strabane in Co Tyrone on March 7th, 2016 in Dowdall's Toyota Land Cruiser, that had been bugged by garda detectives.
Mr Byrne, from Crumlin, was shot dead at the hotel in Whitehall, Dublin 9 after five men, three disguised as armed gardaí in tactical clothing and carrying AK-47 assault rifles, stormed the building during the attack, which was hosting a boxing weigh-in at the time. The victim was shot by two of the tactical assailants and further rounds were delivered to his head and body.
Mr Byrne died after suffering catastrophic injuries from six gunshots fired from a high-velocity weapon to the head, face, stomach, hand and legs.
Prosecution's closing
Ms Murphy began her closing speech on Wednesday by saying that the prosecution case against Mr Hutch is that he is one of the three men who entered the Regency Hotel "disguised and covered almost entirely in tactical gear". One shot Mr Byrne and moved on while another took aim and shot him again as he was "scrambling on the floor" before firing again.
They, she said, were part of a six-man hit team at the hotel that committed the murder of Mr Byrne and the State's case is that Mr Hutch was one of the two men who discharged firearms in Mr Byrne's direction in what was a "brutal and callous execution".
She described the "horrific events" that unfolded over the next couple of minutes as "complete carnage".
Addressing the three judges on Wednesday, Ms Murphy said that the ingredients of a criminal organisation must be proven and that it is a structured group with three or more people which is not randomly formed.
She referred to the senior garda who gave evidence during the trial and testified that the "Hutch Criminal Organisation" emanates from "intergenerational familial bonds and close family associations" in Dublin city centre and operates on a patriarchal system of loyalty based on monetary gains.
Ms Murphy submitted in her closing speech that Detective Superintendent David Gallagher's evidence was cogent and coherent as to existence of the Hutch criminal organisation and was only admissible against the charges facing Mr Bonney and Mr Murphy.
"Even if we didn't have that evidence, the court could satisfy itself from the meticulous evidence of the attack and the manner in which it was executed that the criminal organisation was in existence on the very day," she said, adding that it is "crystal clear" that this was a detailed, planned and organised venture.
Referring to the alleged admission made by Mr Hutch to Dowdall about murdering Mr Byrne, Ms Murphy said the prosecution case is that this meeting took place on February 7th, 2016.
She said the court had heard that Dowdall gave an account of it occurring on February 7th or 8th but that ultimately it was on the same day that the accused's brother Eddie Hutch was killed. She said it is clear Dowdall is unsure about the day this took place but that he linked the date with the Sunday World photo from the Regency Hotel attack.
During his lengthy cross-examination, Dowdall told the court that the meeting took place on either February 7th or February 8th and that he was not "a hundred percent sure which day it was".
She said the court knew the photo was pixelated which might affect Dowdall's credibility but that the photo was unpixelated within weeks of being published. Of note, she said, was that Dowdall's statement was taken six years later, but this does not mean that the court should give him a pass.
Agitated
Ms Murphy described Dowdall's account of Mr Hutch as being panicked and agitated on the day they met and how Mr Hutch was looking for mediation to stop the escalation of the feud. "Tensions were heightened and we know Eddie Hutch was killed within a day of the meeting," she said.
She drew the judges attention to Dowdall's account of the very important evidence of admission which came from the mouth of Mr Hutch as to his involvement in Mr Byrne's murder. They are not the only admissions by Gerard Hutch, she said, and indicated that the court could look to other admissions such as the conversation on the audio between Dowdall and Mr Hutch.
She said there had been a suggestion from Brendan Grehan SC, for Mr Hutch, that Dowdall had "combed" through the disclosure and book of evidence in an effort to marry his story with independent facts. "If Dowdall was such a keen and careful examiner, how could he have got the date and time on the meeting so wrong, why wasn't he rock solid," she said. She suggested to the court that the details in Dowdall's account had been lost to the passage of time.
Even more persuasive, Ms Murphy said, was the true account of what happened afterwards, when Mr Hutch travelled up north to meet with persons "to curry favour". "If the case is that he [Dowdall] is a careful skeemer, wouldn't it be the easiest thing in the world for this admission to have happened on February 20th," she said.
The Special Criminal Court has heard that Mr Hutch's journey to Northern Ireland with Dowdall on February 20th was not bugged.
Counsel said Mr Hutch "went and held up a building as one of three men in tactical gear" and he was "now arranging for the onward transport of the items that were used".
"It shows beyond reasonable doubt that he was one of the three men dressed in tactical gear at the Regency on the day of the shooting of David Byrne and should be convicted of the offence of murder," she concluded.
The trial continues this afternoon before Ms Justice Tara Burns sitting with Judge Sarah Berkeley and Judge Grainne Malone, when defence counsel Mr Grehan will give his closing speech.
Slane stop
The court has heard that Shane Rowan, last of Forest Park, Killygordan, in County Donegal was stopped in his car outside Slane in Co Meath at 7.12pm on March 9th, 2016 and three assault rifles modelled on original AK-47's and ammunition were found in the boot of the car. Evidence has been given that bullet cases found at the Regency Hotel murder scene were fired by the three AK-47 assault rifles.
In July 2016, Rowan was jailed for seven and a half years for possession of assault rifles and ammunition. He was also sentenced to a concurrent sentence of four years in prison for IRA membership, backdated to March 9th 2016.
It is the prosecution's case that a silver Ford transit van containing six people left the Regency Hotel after the shooting and drove towards Charlemont Estate, where the vehicle was abandoned and burnt out.The State say the six included a man wearing a wig and dressed as a woman, Kevin Murray who was wearing a flat cap, a driver and three persons dressed in tactical garda clothing. The raiders then made good their escape by using a number of parked vehicles at St Vincent's GAA club.
The prosecution case is that the late dissident republican Kevin Murray was the man seen wearing a flat cap when Mr Byrne was killed and that he cooperated with the "tactical team" that raided the Regency Hotel on February 5th. Mr Murray died from motor neurone disease in 2017 before he could be brought to trial.