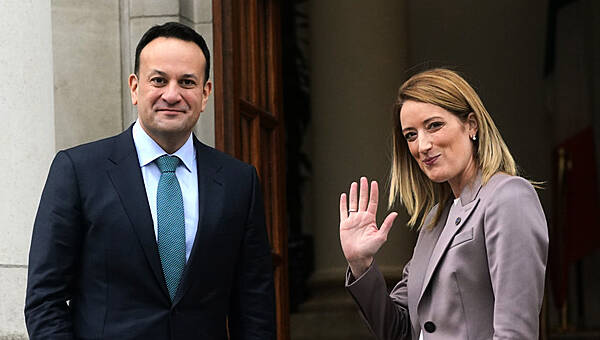 Kenneth Fox
The Taoiseach has said he is extremely concerned about the rise of the far-right in this country, adding that anti-refugee protests are "not the Irish way".
As the Irish Examiner reports, Leo Varadkar said scenes witnessed at a number of protests in recent days and weeks are not acceptable, but admitted that robust systems must be put in place to ensure people who arrive here have genuine reasons to seek international protection.
"I'm very concerned about the rise of the far right and the rise of racism in Ireland.
"Refugees are welcome here," he said. Mr Varadkar confirmed that the refugee crisis and the war in Ukraine were raised during a meeting with European Parliament president Roberta Metsola in Government Buildings.
Speaking after the meeting, Mr Varadkar said: "It's important that we have robust systems in place to make sure that we welcome those who are genuinely fleeing war and oppression and return those who are not. I want people to be sure that that is what we will do.
"But the scenes that we've seen in recent days and in recent weeks really aren't acceptable. It is not the Irish way.
"Irish people understand migration. All of our families have been shaped by it. We've been welcomed all around the world and in some parts of the world, we've been mistreated. As a country, we should know better."
He condemned protests organised by the far-right, again stating it is "not the Irish way of doing things".
Addressing a joint sitting of the Oireachtas, President Metsola said the war in Ukraine has reminded us all that progress and justice cannot be taken for granted.