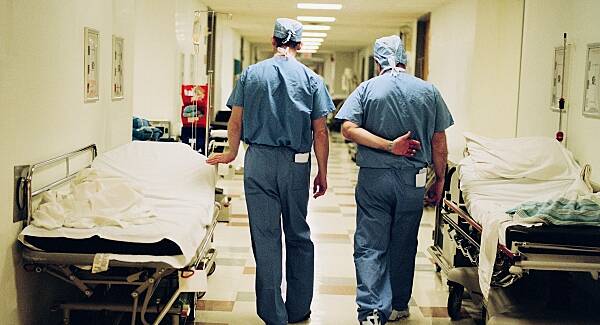 Vivienne Clarke
A report by the Royal College of Surgeons (RCSI) has recommended a network approach for emergency surgical care which will improve outcomes for patients.
Professor Deborah McNamara, vice president of RCSI, told RTÉ radio's Morning Ireland that at present most hospitals in the country (with an emergency department) provide emergency surgical care on a seven-day basis.
If a patient presents through the emergency department they're cared for by a tier of doctors eventually getting specialist care. A proportion of patients will end up needing an operation, she explained.
The RCSI is recommending a networked approach to emergency surgical care "so that patients have an improved number of resources available to them at their first point of contact with the service".
"That can be done through a surgical assessment in units that have senior decision makers and better diagnostic tools available to them. That's going to enable us to treat most of those closer to home.
"But it's also going to help us to identify those patients who have high risk conditions faster. With a networked approach when a patient has a high risk condition and needs access to specialist services, we can avoid delays by having better coordination of care."
Regionalised service
Prof McNamara said it was important that the proposed network service be regionalised. "The government plans for regional health areas are really important in this context because the vast majority of patients can be cared for safely close to home, and there are a small number of emergency operations being done out of hours, and it's probably wise that they would be consolidated.
"There's really clear evidence that operating in the middle of the night is not best practice and should be avoided unless the patient needs it. And often operations in the middle of the night are happening because the service is poorly organised and not because the patient needs an operation at that particular time. And there's very clear evidence internationally that surgery is safest if it is performed during the daytime by fully trained staff."
When asked how many regional network units would be required, Prof McNamara said it was the RCSI's job to advise not to design the health service.
"Obviously that's the responsibility of the HSE, the Department of Health. What we're saying is that the professional opinion on this is that it's safe for us to deliver care at a smaller number of sites for very highly complex care in the middle of the night.
"And so each region is going to be different, and that's going to vary depending on geography. It is going to vary depending on road networks and transportation, and it's also going to be important to have capacity so that the patients can be cared for."